Vu Cao Dam – Jeune Femme à l'Éventail. 1951
This painting marks a significant change in the artist's work. It was created in 1951 when the artist just arrived in Vence (south of France) after living a long time in Paris (since 1931) then in Vanves and a short time in Béziers. In Vence, on the Côte d'Azur, Vu Cao Dam lived with his family in a villa called Les Heures Claires ('Bright Hours') surrounded by a large garden planted with orange trees. It was a place where the painter could find a serenity that allowed him to give a new connotation to his style: « My father commit his work in a new style of expression to reflect his deepest aspiration and and share fervently his dreams of a "better life" he had for us », recalled his son Michel Vu in a personal interview. Let's mention that Vu Cao Dam, passionate (by family tradition) about Chinese culture, places in the hands of this young woman a fan whose Chinese ideogram is homophonic of "shan" (« what is good »), it symbolizes the good and disperses the evil.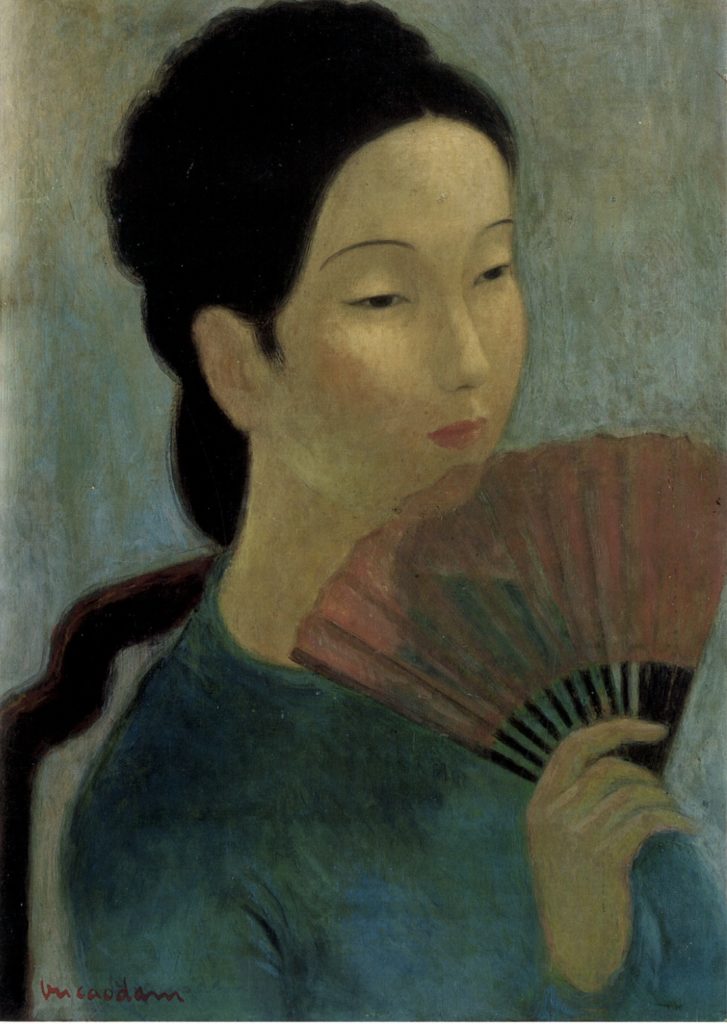 This was, also, a time of encounters. Matisse lived not far from there in a villa named 'The Dream' and the chapel that he decorated was nearby. Chagall lived very close by and Dubuffet had his atelier in the area. At that time, the Alphonse Chave Gallery was a place of direct and indirect exchange, visual and interpersonal, where artist were mutually enriched.
That is where Vu Cao Dam came to elaborate a new style. His in-depth training at the School of Fine Arts in Hanoi, his long stay in Paris, capital of the art world, the weighty questions elicited by the tragedies of the Second World War and the future of Vietnam everything came together on the new soil leading to the elaboration of a new style.
Picasso, Braque, Matisse, Rouault, Chagall in turns or simultaneously influenced the artist's style. This period is best summed up by his son Michel in the same personal interview « I believe that, in Vu Cao Dam's painting, the Vence period is the most interesting of his working life, as it expresses a moment inspired by discovery, of early maturity, enthusiasm and sincerity… In this period of profound metamorphosis, while the final personality was being built, he was able to preserve an essential nature and remain himself, when so many consciences and sensitivities from traditional cultures were ground to nothing by modern Occidental civilisation. »
Of course, the technique of gouache and ink on silk, the format (46 X 33 cms), the subject of the elegant Tonkinese – her bun, ao dai, the back of her Vietnamese hardwood seat – are classics in the painter's work. Can also be added the plucked eyebrows, the lipstick, the harmoniously held fan, this charm, this elegance so typical to Vietnamese women. But the difference here and what makes this period a new one is the depth of facial expression. We are far from the interchangeable faces of previous works: the face is that of a determined woman who, far from suffering (even if the situation can be gratifying), will no longer quibble but dominate her destiny. The artist chooses to illuminate this face – with a rather bright light from right to left – which is the heart of the painting.  The artist chooses to illuminate this face – with a rather bright light from right to left – which is the heart of the painting.   
Signature and stamp around 1930

Signature and stamp in 1940

Signature in 1984
No stamp, no signature in Chinese characters. These were already abandoned during the war even if the artist signed some of his works on the back in Chinese characters, during his Findlay period. Only the four syllables, in Roman letters: Vu Cao Dam chose, beyond the style, a destiny. And he does not adapt to old-fashioned particularities.
Jean-François Hubert