Le Thi Luu (1911-1988) or is reverence worth reference ?
Le Thi Luu was born on 19 January in Tho Khoi which was the today province of Ha Bac, North Vietnam. Her father, Le Van Que was a civil servant and because of his position, he traveled extensively in Tongkin, bringing his family along with him. Being very traditional, Le Van Que would insist that his daughters keep their hair long, wear black trousers and lacquer their teeth, all of which were age-old Vietnamese customs.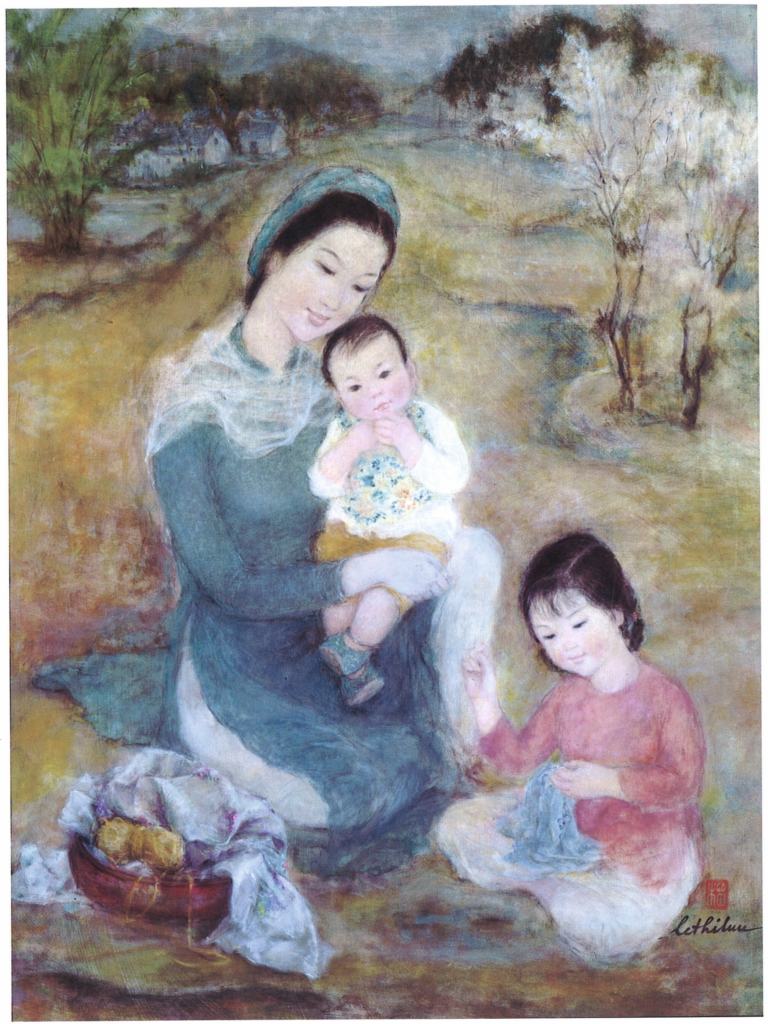 With such austere upbringing, Le Thi Luu grew to be a very delicate child and a good student as she finished her primary education at the age of 14. She did not care much for a conventional academic education but wanted very much to be a painter and at the tender age of 14, made the decision of preparing for the entrance examinations of the L'Ecole des Beaux-Arts de l'Indochine, the school of Fine Arts started by the French painter Victor Tardieu in the year 1924.
Le Thi Luu herself recalled two incidents in her early age which contributed to her vocation as a painter. She had once, by chance, saw a photograph of a young Laotian girl in a book, and lying beside it was the enlarged version of the same photograph. Quite puzzled, Le Thi Luu asked her teacher about this strange alchemy before her, and she was completely taken aback when the teacher explained the science of photography, of which duplication and enlargement were part and parcel of this marvelous art.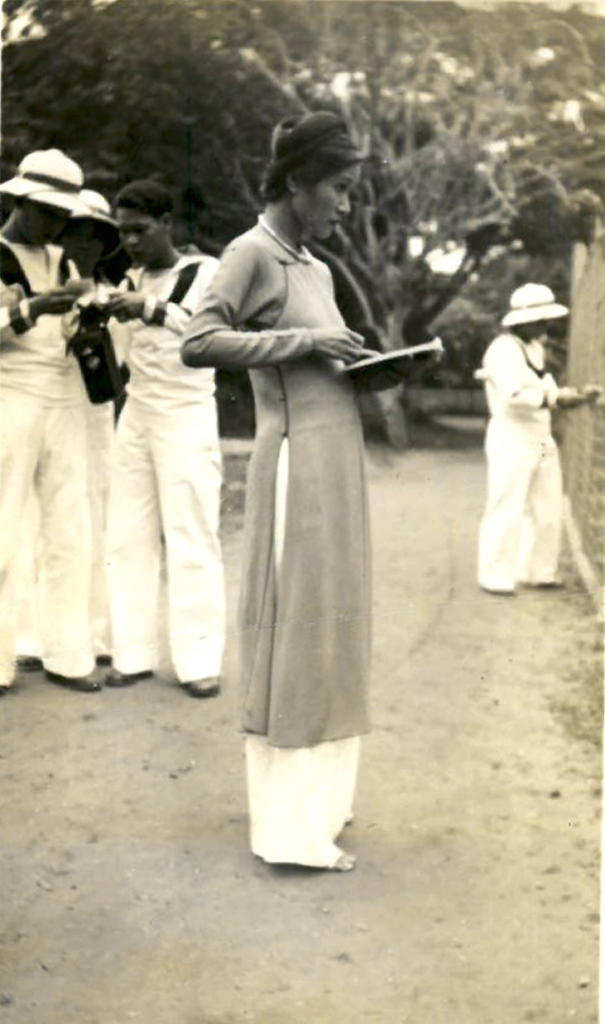 The second incident occurred while she was visiting a friend in a theater in Hanoi. On that occasion, she saw, on the stage, a man laying patches of colour with a brush on a canvas. Rather amazed, the curious 14 year old asked "What are you doing?" To that, the man answered " You would understand better if you take a step further and look at it again" As Le Thi Luu retreated, she discovered, much to her amazement that what previously seemed to be a formless riot of colours took the shape of the magnificent landscape depicting the Hoan Kiem lake as well as the Den Ngoc Son temple in Hanoi. From that moment, Le Thi Luu decided that she would dedicate her life to the pursuit of the translation of reality through painting and more importantly, an advocation for the power of imagination.
Hanoi of 1925 was highly conservative and the only options for a young girl were to be a filial daughter, dutiful wife and a good mother. Undeterred by the societal pressures exerted on her, Le Thi Luu bought a book on perspective in art, some painting materials, requested her boy servant to be her model and henceforth began her preparation for the entrance examination for the year 1926.
In 1926, almost 80 students competed in an examination which was simultaneously held in Hanoi, Hue, Saigon, Phnom Penh and Vientiane but with only ten seats available. Le Thi Luu was ranked 13th with her results and was admitted into the preparatory year but only entered the school (3rd class) in the following year. She would then meet Victor Tardieu (1870-1937), Joseph Inguimberty (1896-1971) who were her main teachers and would develop a friendship with Le Van De, Mai Trung Thu, Nguyen Phan Chanh, Le Pho, Tô Ngọc Van, Vu Cao Dam and Nguyen Gia Tri. This group was essentially the crucible where 20th century Vietnamese painting would develop.
Le Thi Luu received a rigorous training in school and students were obliged to submit two works for exhibition which was always held at the beginning of each term. Le Thi Luu recalled her fretful experience of having only one work ready on the eve of the exhibition, which was an oil on canvas, titled « La Petite fille dans le jardin des bananiers » (The little girl in the banana garden). Out of desperation, she asked her uncle, Mr. Hai to sit for a portrait painting which she executed hurriedly and was eventually submitted with the paint still wet.
The positive response towards the paintings surprised the artist herself. Within ten minutes after the inauguration, both paintings were sold. One was bought by the governor general and the other went into the possession of the director of the journal « L'Avenir du Tonkin ». Both Tardieu and Inguimberty were immensely proud of her and the latter was noted, standing in front of the portrait of Mr. Hai, asking his favourite student To Ngoc Van "And how long do you think you would need to paint something like this?"
The tremendous success of this exhibition would appear as an ironic contrast to the eventual happenings to the artist's career.She would eventually because of her scarce production, turn down the offer of promoting her work from the Wally Findlay Gallery (1963). That would be the gallery instrumental in introducing her fellow schoolmates Le Pho and Vu Cao Dam to the American collectors.
She remained, however, a phenomenon in a society where woman did not enjoy the equal status of man. Artistic training for a woman, if not unprecedented was unique in Hanoi then. The Phu Nu Tan Van (Feminine Gazette) published an article and illustrated her photography work. She was even invited to draw for that particular issue which she interestingly took on the pseudonym of Van Dao. She graduated from the school in the year 1932. Despite her poor health, she took on teaching positions in the various schools of Fine Art in Hanoi, Saigon and Gia-Dinh till the year 1940.
She was, however, very much attracted to Paris for various reasons. A trip to " La ville lumière" (the town of light) was considered a pilgrimage too many Vietnamese artists of that generation. Indeed, Paris was the place of origin for the development of the many important art movements of the 20th century which, these artists were deeply influenced. The liberal environment of Paris was an added incentive as Le Thi Luu suffered the intense oppression as a female artist in a male-dominated society. Furthermore, the presence of her 3 very good friends Le Pho, Vu Cao Dam and Mai Trung Thu who had been in Paris for more than 3 years was a definite reason for her visit.
Le Thi Luu and her husband (since 1934) Ngô Thê Tân arrived at the great port in Marseilles. She was pregnant and her husband was contributing to the war through the group » L'effort de Guerre » (Help to the War). The couple arrived in Paris on June 1940, just after the Phoney war between France and Germany. They found themselves in a highly intense city where frequent bombings and the exodus of its inhabitants were daily routines.
Le Thi Luu and her husband then went back to Marseilles as they planned to go back to Vietnam, however, the Suez Canal was blocked due to the ongoing war and the route back home was not possible. The couple then went to meet up with their friends Le Pho and Mai Trung Thu who had both volunteered to join the war earlier but were demobilized very shortly after, as the Germans advanced in France. Ngô Thê Tân, the husband of Le Thi Luu was eventually appointed as the director of the botanical garden of Kindia (Guinea).
The couple, joined by their baby Duc, on 1st January 1941, finally settled down in Kindia (Guinea), in 1942 till the end of the war in 1945. It was during this period that the French governor asked Le Thi Luu to execute 10 drawings depicting the way of life of the young ladies in Guinea. The family came back to France in 1945 and it was during this time that Le Thi Luu began questioning and searching the objectives of her life.
Reverence or reference ?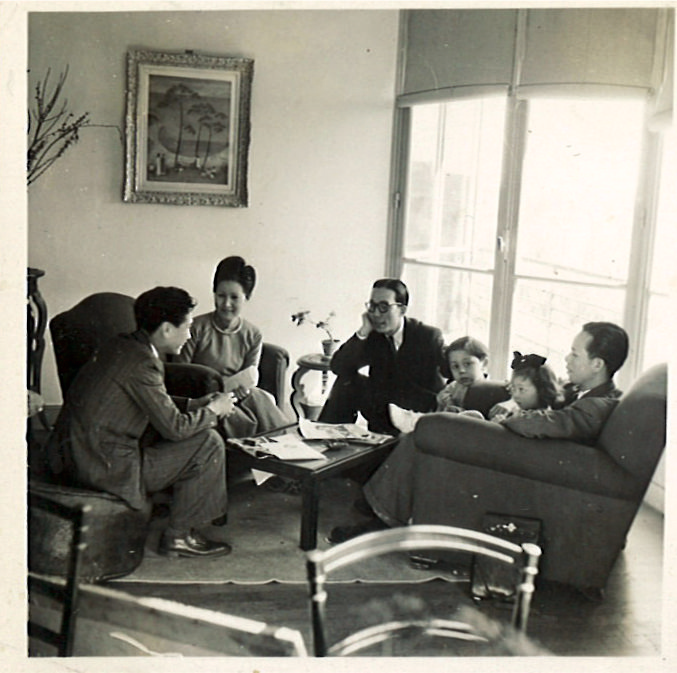 Reverence to the independence of Vietnam, to his native country or to his French masters who gave him everything, painting, emancipation, modernism? Reference to the « country of his ancestors », to « his own », to « « independence » or to this cosmopolitan France which has always cherished national and foreign artists? All of these terms pounding in the head of a militant but resonate in the head of a true artist. Who will remain the true revolutionary in Le Thi Luu's existence?
Victor Tardieu or Ho Chi Minh?
Her friends pointed different directions to her, some would urge her on as a talented artist and others would encourage her to fight for the independence of Vietnam, a role which was already assumed by her husband.She enthusiastically welcomed Ho Chi Minh during his. visit to Paris in 1946. She finally supported the movement of Independence of Vietnam till 1954 when the Accord of Geneva would be concluded.
In 1953, after 8 years in Vanves then Paris, she settled in Gentilly then in 1971 at Spéracédes in a beautiful village near the Mediterranean Sea where she would enjoy the abundance of light and a pleasing serenity. She would eventually refer to the house affectionately as « An Trang » (Quietness). The blend of personality and objectives were becoming more obvious; she was a feminist but not an activist and a resident of France while supporting the Nationalist movement in Vietnam…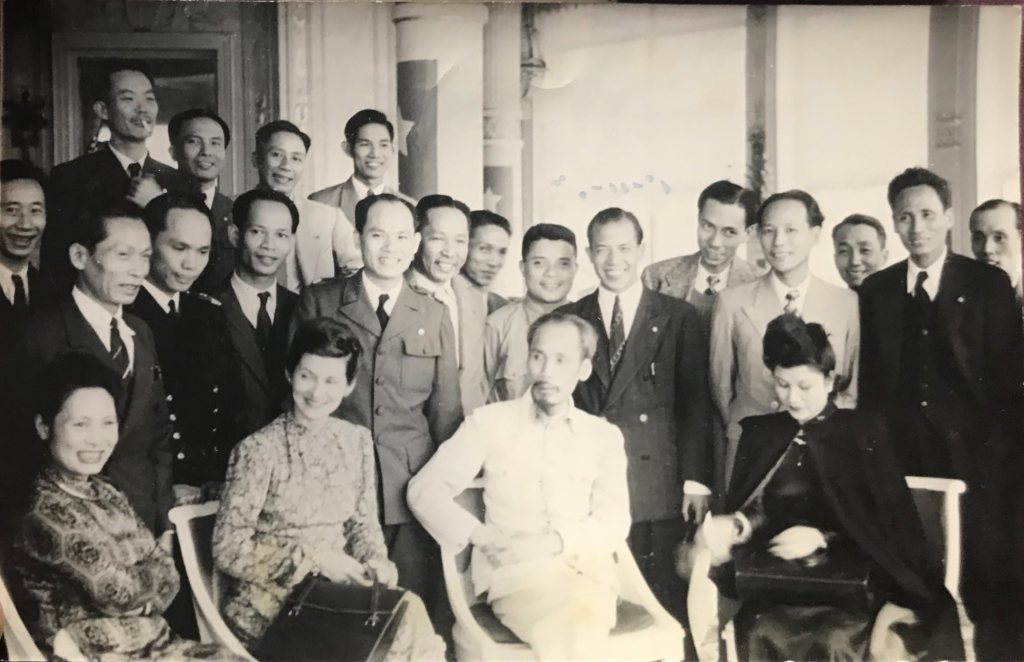 Le Thi Luu, however, did not forget her first passion in life: She left the practice of oil painting and devoted exclusively to painting on silk. Her favourite subject was women, which to her, were the embodiment of the highest form of humanity, by virtue of their roles as the moral and material keeper of the family. She painted idealized women, beautiful and happy in a sophisticated landscape. Painted with a soft, chromatic palette, her paintings were often mistaken as pastel because of the soft hues of colours she created. Her portrait works were very rare.
In 1975, after the fall of Saigon, she was commissioned by the Fine Arts Association of Hanoi for a painting and she executed a work titled, « The Young Girl in front of the flowers » which was a subtle reaction to the communist regime in her native land. In response to the American War, she had also painted « The little orphan » which again bore evidence of the artist's sensitivity to the sufferings of the world.
« Femme et enfants » (Woman and children) is a major and large (95 X 70 cms) work of the artist , datable around 1960-65 which testifies convincingly to her originality and creativity as an artist.
Le Thi Luu passed away in France on 6 June 1988. She was considered as the best female Vietnamese artist of this century.
Jean-François Hubert