Joseph Inguimberty – « Woman in a Hammock ». 1940
Joseph Inguimberty had been teaching at the Fine Arts School of Hanoi for fifteen years when he started on this painting in 1940. He was teaching the decorative arts but also favoured teaching lacquer.
It is under his aegis that the native masters of Vietnamese painting bloomed. While Le Pho, Vu Cao Dam, Mai Trung Thu and Le Thi Luu were closer to Victor Tardieu, To Ngoc Van and Nguyen Gia Tri developed a closer relationship with Joseph Inguimberty.
Madly in love with Vietnam, Inguimberty was a demanding teacher as well as a keen observer who left behind a body of works that were almost ethnological in detailing the land and the people.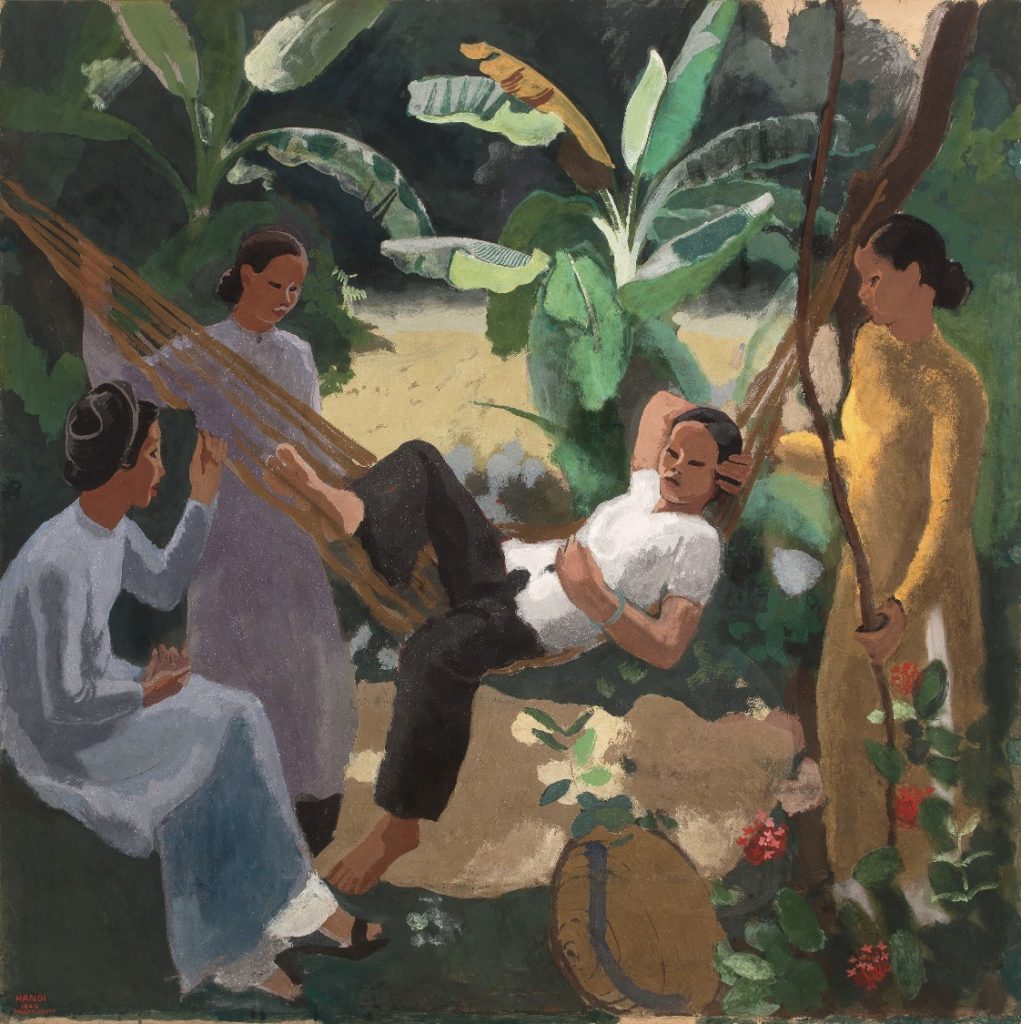 The work presented here, Femme au hamac (Woman in a Hammock) subscribes to a somehow different logic in its methodology: a very large format work the artist has painted with models posing for him instead of painting directly from a scene observed.
The five Vietnamese models, over many hours, posed somewhere on a piece of land not far from the Western Lake in Hanoi. It is believed, and arguably so, that Inguimberty is the only painter who was able to capture shades of green so specific to Vietnam. He also managed to mix green with a luminous white in a way that enhanced the chromatic strength of both colours on a large flat surface.
Four women are wearing the traditional ao dai while the central figure, in appropriate contrast, is wearing a plain outfit of peasant trousers but paired with an urbane city shirt. Her pose on the hammock is breaks from the code of Tonkinese propriety.
She is an emancipated woman showing no shyness, lascivious to the point of arrogance in the way she returns the gaze onto the painter.
Vietnam moves on, its codes are changing and the artist retains a wonderful ability as soothsayer able to anticipate the future; not even the timeless bucolic environment, or nature, represented by the abundance of the banana tree manages to soften the this prophetic vision.
Jean-François Hubert