« Mother and Child » – Le Thi Luu
Let us imagine the scene: the year is 1992, Le Pho, his wife Paulette and I are in a beautiful apartment in the 15th arrondissement in Paris.
As always, I brought with me paintings, photos, and letters related to Vietnamese Art to share and discuss for the purpose of gathering new information from the very source.
The atmosphere was gentle, punctuated with elegance and serenity; a balanced touch which the painter and his wife were so adept at.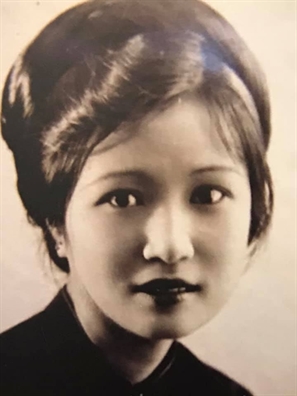 On that day, I had with me a photo of young Le Thi Luu, taken when she was in her preparatory class at the Hanoi Fine Arts School. Le Pho looked at it at length and said, « She was so beautiful ! ». Just at that moment I caught Paulette's expression and understood how much Le Thi Luu had cast her almost supernatural charm on him.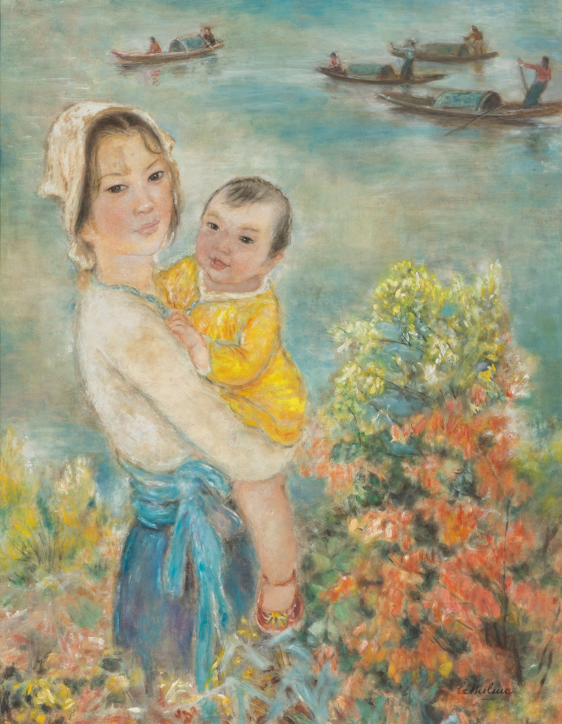 This same supernatural charm can be found in her paintings. This is despite the fact that within the golden quartet, constituted of Le Pho, Vu Cao Dam, Mai Thu and Le Thi Luu, she still stands slightly behind compared to her classmates. If we eliminate the usual excuse of misogyny, the fact is that Le Thi Luu is less prolific, and has yet to be fully discovered. Of all the Vietnamese painters, male and female, and of all the generations, she was the most successful in expressing faces filled with softness, trust and – dare we say – goodness.
This mother and child is explicitly situated by the painter in a Vietnamese environment, as illustrated by the brushes in the background. The subtle tones of gouache applied on the silk and the well-executed composition demonstrate the talent of the painter at her highest level.
Jean-François Hubert