Le Pho, « Maternité », 1940 : from the European sacred to the secular pluriversal
The first time Le Pho had a glimpse at the Madonna and Child was probably in Vietnam, in a church, a school or a monastery.
But the real artistic impact hit him during a visit to France in 1931, when he went as an assistant to Victor Tardieu – then head of the École des Beaux-Arts of Hanoi – for the Colonial Exhibition. He visited cities like Moulins where he was impressed especially by a triptych attributed to a XVth century painter only known by the title: « The Master of Moulins ».
He also travelled to Italy, Germany and Belgium, where he paid numerous visits to cathedrals and monasteries and admired their treasures of sacred art. Le Pho particularly marveled at the works of Botticelli (1444–1510), Ghirlandaio (1449-1494), and Memling (1435-1495). 
The trip was no doubt a profound eye-opener for the artist who personally experienced and felt his spirit being elevated. Indeed, subject matters relating to European sacred art became a prevailing feature in Le Pho's future works. Le Pho's early ink and gouache on silk interpretations of the Madonna and Child became arguably one of the artists most fascinating subject matters, not only because of their rarity and executed technique, but also because of their uniqueness.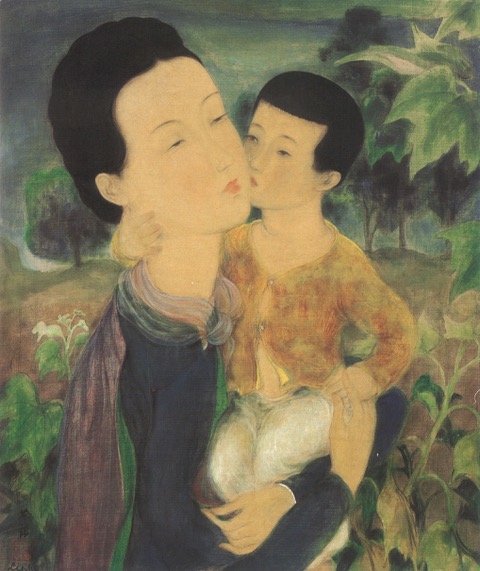 Although clearly inspired by religious-themed paintings, Le Pho re-interprets subjects like Maternité as representation of a Vietnamese mother and a child rather than that of the Virgin Mary and the infant Jesus.
Le Pho delved into portrayals of motherhood repeatedly, he always had different a visual interpretation for each work and as a result, each composition is filled with its own spirits.
As a student (1925-30) but also as a teacher at the École des Beaux-Arts (Hanoi, since 1934) one of his first achievements was to perfect the technique of silk painting: a piece of Japanese pongee silk is placed on a light cardboard card. "Remy glue" is then spread onto the silk in a crisscross pattern and the glue bubbles are carefully eliminated by pushing them towards the edges of the silk, which is then put to dry overnight. As the final step, gouache and ink are applied on the silk.
The present painting stands out among Le Pho's other works in this series because here the artist illustrated the child's strong affection for his mother. In Le Pho's other explorations of the theme, it is usually the mother's affection towards the child that is demonstratively shown. In this rare and unusual composition, the toddler conveyed his expression of filial love by lovingly drawing his mother towards him. Then, with his small hand around her neck, he kisses her cheek. In response, the mother's tender and serene smile speaks of the reassurance and unconditional love that embody the very essence of motherhood. Having lost his mother when Le Pho was only two years old, this portrait of maternity and fundamental humanity seems to take and even more poignant significance.
Le Pho's mastery of the silk painting technique expresses here both delicate translucent and brilliance in texture and palette. 
But perhaps most importantly, the soul with which he imbues his painting articulates the richness and complexity of his work, which is clearly layered with themes of divinity, motherhood, loss, hope, western influence and Indochinese identity. 
Jean-François Hubert