La Guerre, 1968, by Mai Thu: A Scream for Humanity
Mai Thu is mostly recognized for his representations of a happy world, gentle and idealized filled with beautiful women dressed in their native ao dai and their lovely children, even if the subliminal message is never far away.
In the present painting, the subject is not as what appears and the date of creation, 1968 explains a momentous time in history.
1968 was a decisive year in the Vietnam War. The Têt Offensive was a military defeat for the Americans but also a media coverage victory for the Northern Vietnamese. The coverage over the intrusion of the Vietcong within the Saigon Embassy, the destruction of Hue as a martyr-city, the Khe Sanh battle, reached the world and started operating a fundamental shift internationally but especially so in the American public opinion, weakening public support and eventually leading to the end of the war.
In this way, Mai Thu follows the general current but he offers a work of extreme power: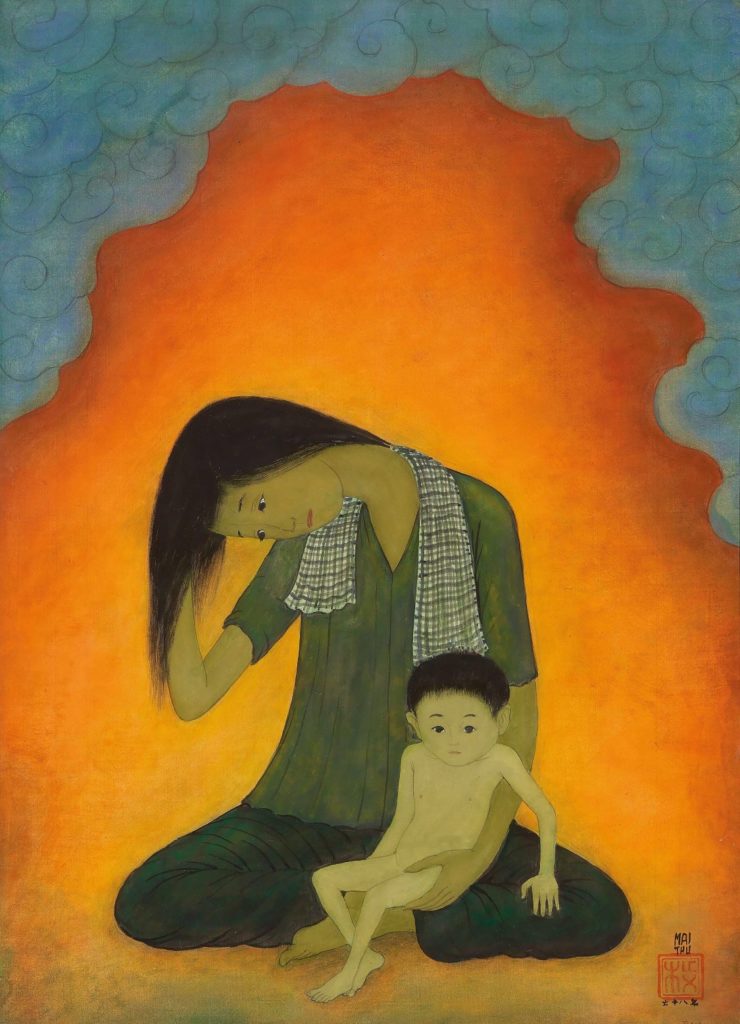 The lady at the forefront with her hair down, her southern Vietnamese style scarf and her sorrowful eyes is very telling. She and the child she holds in her left hand, naked and hungry, illustrate the horror and impact of the war. The softness of the child's look alone depicts hope but is rapidly subdued by the redness of the bombardment, a halo of death, the devastation of all. The sky, generally neutral in Mai Thu's work, is here overrun and seems to be a place of chaos, and demonstrates the intense emotion of the artist.
There is a sense of emotional turmoil present, but the mother's hand cradling her child's thigh gently preserves a piece of humanity, giving forth and evoking an emotional response, and gives one a sense of underlying hope.
Jean-François Hubert