Christie's Hong Kong: May 24 & 25, 2021: The "white gloves", "Mona Lisa," and Bui Xuan Phai's restored honor
A new "white glove" sale was held at Christie's in Hong Kong on May 24th (evening sale) and 25th (day sale). Our Anglo-Saxon friends use the term "white gloves" to describe a sale where everything was sold.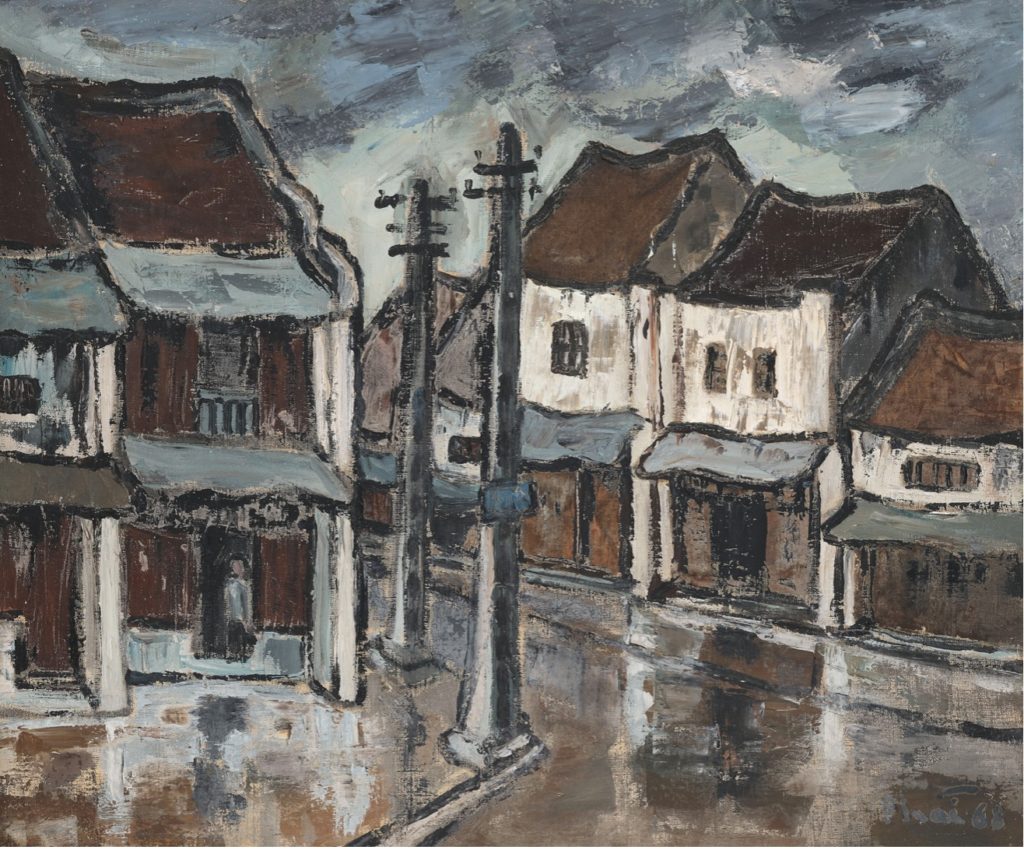 The 31 lots offered to the sagacity of the collectors were received in a euphoric atmosphere. The total amount was 53,075,000 HKD (about 6.8 M USD and about 5.7 M €) or an average of 1.71 M HKD per work (respectively 220,000 USD and 180,000 €).
11 artists were represented, most often by several works: Nguyen Phan Chanh (1 work), Le Pho (10), Mai Thu (8), Vu Cao Dam (4), Hoang Tich Chu & Nguyen Tien Chung (1), Alix Aymé (3), Inguimberty (1), Bui Xuan Phai (1), Dang Xuan Hoa (1), Nguyen Trung (1).
The ensemble offer a variety of facets to Vietnamese pictorial production, and we can agree on the nomenclature: 'Vietnamness' referring to the painter's nationality of origin or where the work was created, or even to an identity extension necessary to the analysis of the painter's work. For example, the inclusion in the Vietnamese section of two lacquers by the French artist Alix Aymé executed in France as they allow a better understanding of the evolution of an artist who, during her stay in Vietnam, played an important role in disseminating lacquer technique. The pictorial 'Vietnamness' would require a long development, which we will address later. Let us simply note – for example – that Vu Cao Dam arrived in France in 1931 and died there in 2000 as a Frenchman without ever returning to Vietnam. Thus to evoke a "repatriation" as often mentioned in the Vietnamese press seems absurd.
Four materials were used by the 11 artists: "gouache and ink on silk" (15 works), "oil on canvas" (12), "lacquer" (3) and "pastel" (1).
The execution dates of the works ranged from 1930 (silk by Alix Aymé) to 2005 (canvas by Dang Xuan Hoa).
The excellent prices obtained testified to the strong appeal of Vietnamese painting to a growing number of collectors in a particularly healthy market.
Confirming its status as the world's leading auctioneer of Vietnamese art, Christie's added two new world records (Bui Xuan Phai and Dang Xuan Hoa) to its already impressive tally of world records (Le Pho, Nguyen Phan Chanh, To Ngoc Van, Luong Xuan Nhi, and many others).
We could comment on each of the works.
Le Pho and his "Jeune fille attachant son foulard " (lot 37), an exquisite gouache and ink on silk from 1938, fetched US$1,112,534, confirming the painter's definitive ease in surpassing the million dollar mark. His beautiful « Femme au Panier" (lot 109, 483,000 USD). 
A small disappointment, however, for the Nguyen Phan Chanh "Les teinturières" (lot 36) from 1931, a sumptuous gouache and ink on silk – and for me the most beautiful work of the sale – which deserved much more than the 572,536 USD obtained. It seems that – for a while – new collectors will prefer to admire on their walls the bright, warm tones of Le Pho's large "Findlay" (post-1963) formats such as these bucolic Young Women and Bouquets in Vases (lots 107, 120 and 121 for example).
Mai Thu's "Mona Lisa" (lot 39), such a subtle testimony to the dual French-Vietnamese acculturation and its mirror effect, at the heart of the Vietnamese pictorial problematic, was hotly contested, reaching US$725,000.
A great general craze for Mai Thu as confirmed by the fine reception of his "L'Aube Nouvelle" (515,500 USD, lot 112).
A large (1.63 m wide) and powerful Inguimberty (lot 119) attracted a lot of interest ($225,500), while Alix Aymé's talent is increasingly recognized, even for late lacquers executed in France (lots 116 and 117, $88,600) with Western subjects.
Dang Xuan Hoa (lot 126) and Bui Xuan Phai (lot 125) obtained their world records.
This large (66 X 78.5 cm) Bui Xuan Phai gives me a particular emotion. Its seller, the Hong Kong-based journalist Frederik Balfour – I am revealing his identity because Frederik had decided to communicate himself on the net about his painting – he acquired at Sotheby's on April 8, 2008 (our Asian friends will identify the lucky "8"…). The painting then belonged to Phillip Ng from Singapore, whose magnificent collection was entitled – for the first time – to a special catalog. The HKD 235,500 paid in 2008 became HKD 1,525,000 (USD 210,277) on May 25, 2021, more than 7 times the original sum. The response, in the room, on Christie's Online, on the phone, with bidders from Hong Kong, Singapore, Texas, Indonesia and Vietnam, was phenomenal. A world of real collectors willing to acquire a major work of the artist who finally gets a price worthy of him, well announced by the small (13 X 19 cm) oil on panel of 1983 from the Collection Jean-Marc Lefèvre ("The Quang Chuong Gate in Hanoi") sold (lot 215) 325,000 HKD at Christie's on December 3, 2020 had initiated the work of reconquest. 
A restored honor.
After so many years of fighting against the fake industry in Vietnam, methodical, influential, institutional and… family-run, this dark street of Hanoi brought me back to Paul Eluard:
"And vain, I am surprised I have to live
My desire like it was not much sun on cold water".
Jean-François Hubert