Alix Aymé : Le Marché, circa 1935 or a reconstruction of reality
The art of lacquer was a very successful art since the 1920's in France. When Jean Dunand (1877–1942), first an expert in copper-ware, exhibited the most magnificent lacquers (including screens) in Paris, he reached a phenomenal success that followed him no matter where, in Paris or elsewhere, whether in public or private exhibitions. Media also contributed to such a phenomenon by their enthusiastic response.
As early as 1912, Dunand met Seizo Sugawara, a Japanese master, specialized in lacquer living in France since 1900. Both artists will eventually share their secrets: metalwork versus lacquer techniques. In 1921, Dunand presented a large lacquer, using wider and larger format for the first time: he will impose lacquer in its modern form. Lacquer is no longer used as decoration but used to specifically describe subjects.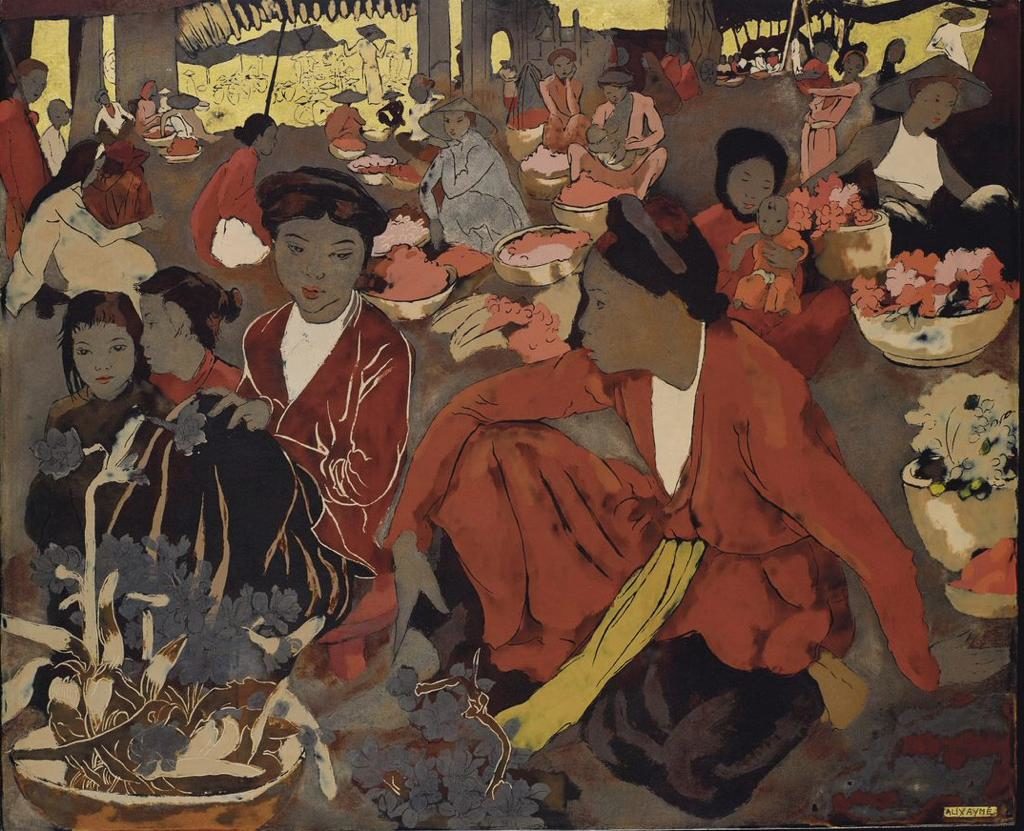 Late in the 1920s, Joseph Inguimberty will be at the center of an artistic revolution by introducing lacquer as a major subject to be taught in Hanoi School of Fine Art. To succeed, he received the support from his students, Le Pho, Tran Quang Tran, Tran Van Can and the craftsman Dinh Van Thanh.  
Alix Aymé will become a teacher at the Hanoi School of Fine Arts and will join this group with her passion. Her main artistic contribution will be her status as a student of Maurice Denis, who with Paul Sérusier and Paul Gauguin founded the Nabis group, a spirit she will always remain true to. She refuses artistic imitation, she is not afraid of colorization or exaggeration. She claims her own symbolism.
Let's not omit to mention the technique :
« If there is a technique that demands everything from the painter it is truly lacquer » (L'Illustration, 1949) Alix Aymé.
We can notice in our lacquer that the characters are described in an almost ethnographic way (clothing, headdresses, postures …) while the fruits and vegetables are not. A deliberate choice of the artist: reality can be imagined in her eyes. In the same way the deep and rich colorization is voluntarily unreal. The artist persists in this unreality by using a thick gold lacquer to simulate the light outside our covered market.
The artist knows how to use all the facets of Rhus Succedanea harmonizing the three reds of cinnabar, yellow (cadmium sulfide), a little green (chromium oxide) and white (barium sulfate). The gold in thick leaves incised here completes the chromatic range.
With our lacquer can be found preparatory studies by the artist that offer many clues to better understand her work. The attentive eye will identify some of the main characters present in the work.
Preparatory study by Alix Ayme

Preparatory study by Alix Ayme

Preparatory study by Alix Ayme
Jean-François Hubert