Nguyen Trung: grace against dogmastism
Certainly, the history of 20th century Vietnamese painting must be clearly described – in artistic terms – by referring to the influence of the Hanoi School of Fine Arts which started in 1924.
Two main groups of painters marked their time with their talent and choices as artists. It is necessary to differentiate those who have set out to conquer the West, that is to say namely France and Paris and those who have remained in the country, privileging the place of their birth. Le Pho, Vu Cao Dam and Mai Thu, for example, were in the quest of the first group. Nguyen Phanh Chan and Nguyen Gia Tri are the two leading figures in the second group.
Nothing can be understood in Vietnamese painting if these two visions of beauty, one dynamic, the other static, are not evoked. Everything flows from this double movement which dawned the evolution of important artists that are today recognized around the world as artists of pure and exceptional talent.
However, this theoretical vision tend to underestimate the Southern school of artists – overlooked in some ways was an important school with defining characteristics.
Nguyen Trung was born in 1940, in Soc Trang, in the Mekong delta, and was a member of this Southern School of thought whose members were often first trained at the Gia Dinh's High School – which was founded even earlier in 1913, and from where Nguyen Trung graduated in 1962.
To understand the context in which these artists painted, we must first differentiate the period before and after 1975. After the Vietnam War and the reunification of the country, the bases of the official art of socialist-realism took over in the South. In this doctrine, art must come closer to the people, must testify everyday realities, must valorise its courage during the war and must praise every achievement in the reconstruction.
Even artists must serve the socialist cause, the obligatory themes were men as heroes, as soldiers, as peasants and workers, all striving towards the same socialist goals for the country. Ho Chi Minh would be upheld as the mythical figure par excellence.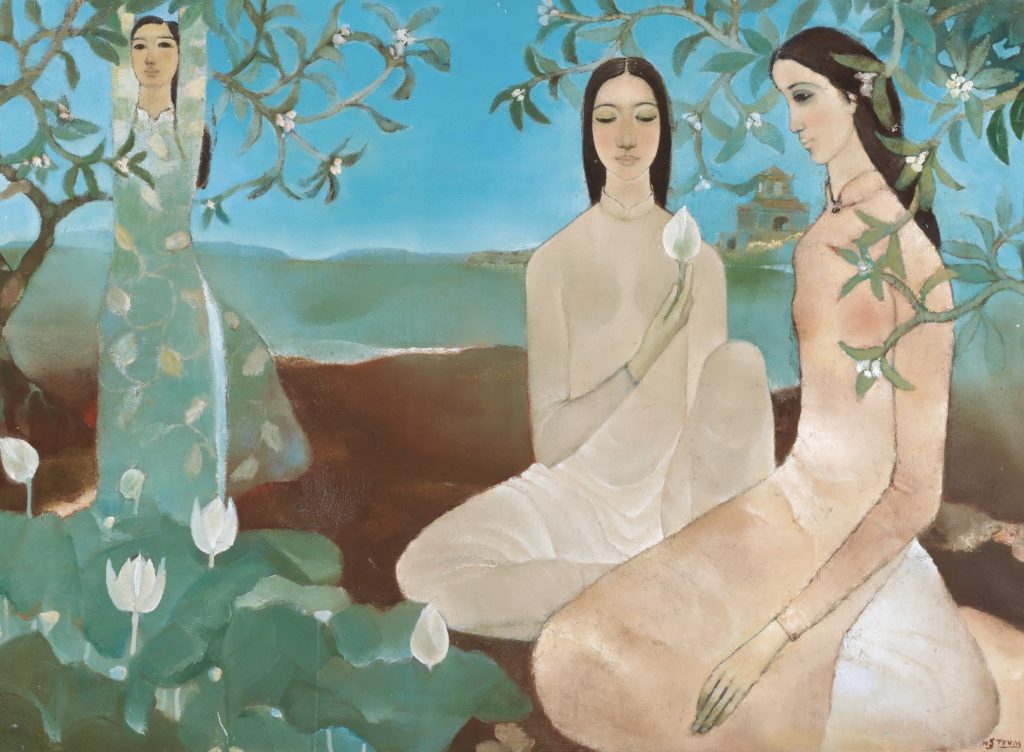 However Nguyen Trung sought expression in different forms and became well known for his figurative realist expressionist paintings. The immense talent of the artist appears in the beautiful, distant Vietnamese woman almost vanishing in an environment surrounded by flowers and fruits in their freshness; distinguished women, elegant and conveying a sense of evocativeness and dream-like quality to the works. The two graceful lots presented here, Hue Ladies and Lady with Pomelos presented here reflects life back to us with simplicity and truth, and which subtly illustrates the answer to the dogmatic mentioned above.
The painter can master both oil on canvas and work on lacquer but more rarely used the latter, a more demanding and complex process needing a high level of diligence.
Jean-François Hubert