Vu Cao Dam, 1952, « Maternité » (Maternity), or the sweetness of life as a principle of existence
When our painting was executed in 1952, Vu Cao Dam recovered his health; his son Michel, who had been so ill that he was unsure whether he would survive, was now out of danger. Together with his family, the painter left Béziers, where they had spent two unhappy years, and moved to Vence in July, first to the villa "Les Cadrans Solaires" on the road to Saint-Paul de Vence, then, in November, to the villa "Les Heures Claires", near the Matisse chapel, not far from the villa "Le Rêve" where Matisse himself lived and the villa "Les Collines" where Chagall was staying at the time.
The house offered him a beautiful view of the old town of Vence and its ramparts, which he painted a number of times.
His work was influenced by Chagall and the artists of the École de Paris. He also discovered Art Brut with Dubuffet and, later, Malaval – with whom he developed a close friendship and whose talent he particularly admired – who, like him, exhibited at the Galerie Chave.
He felt, therefore, that a new life was beginning, full of promise: his painting reflects the feeling of confidence and even enthusiasm that he was indeed experiencing then.
It was a time in which people were finally putting behind them the period of deprivation caused by the war. It was possible to be light-hearted once again. Vence was then a place "blessed by the gods", where it was wonderful to live, among a colony of artists who gave themselves over to creation, convinced, each and every one, that they were/had to transform the world through their art.
This euphoria, however, did not lead Vu Cao Dam to forget who he was. He followed with fervour his guiding star, the one that he followed all his life: with the exception of a few portraits and a small number of landscapes, the theme of all of his works is Vietnam.
He constantly drew his childhood and adolescence, since throughout his life, his subjects were based on childhood memories.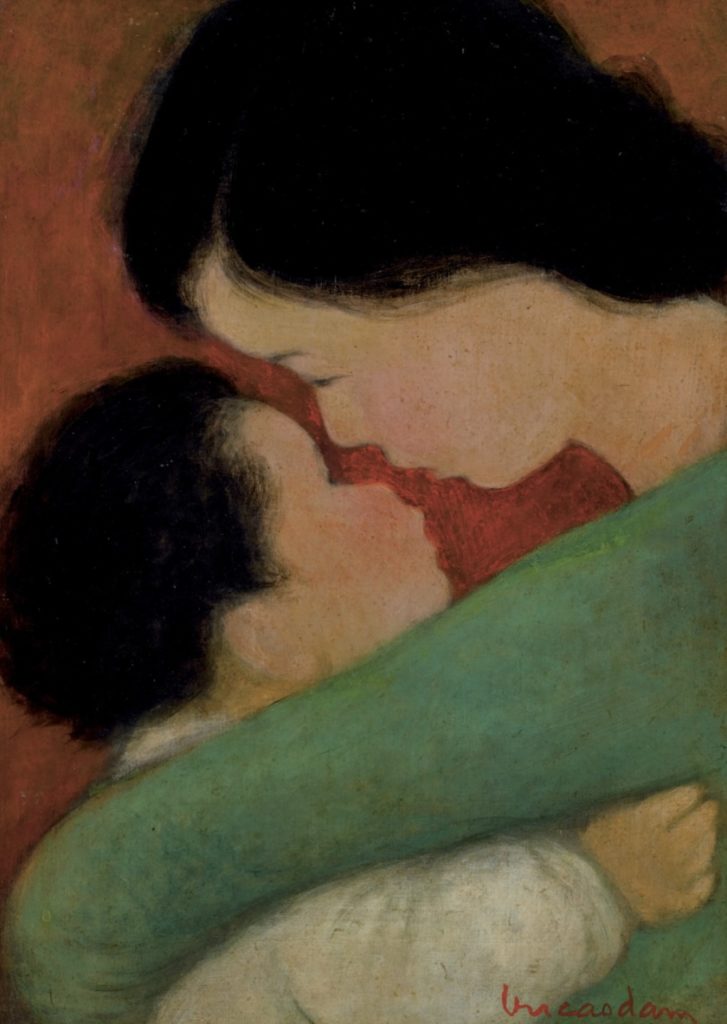 The memory…
Without knowing it, he discovered the secret of eternal youth. A perpetual freshness of vision that feeds his paintings with a gentle, almost wondrous sparkle, a tenderness tinged with innocence, the hopeful dimension of youth.
A striking contrast with most of his contemporaries who, more often than not, express all the torments of their era, frequently with deep pessimism and the sentiment of absurdity in their works.
Quite the opposite, the theme of the mother and her child is par excellence the foundation itself of the dimension of pure love, perfect happiness and confidence in life, that was Vu Cao Dam's most personal creed. Here, in an audacious oblique composition, in his choice of warm tints, he expresses the quintessence of love: that, unequalled, which unites a mother and child, with the majestic sobriety that is the undisputed sign of his genius.
To paint "Maternity ", Vu Cao Dam used a new technique of egg-based paint. Until then, he painted with gouache, but upon arriving in Vence, he felt the need to use a medium with a more "plastic" dimension.
A quest different from that of Paris. For one, he often saw his Vietnamese friends, particularly Le Pho and Mai Thu (his close neighbour in Vanves, a Parisian suburb close to the city) ; secondly, the light in Paris, infinitely softer than that of the Côte d'Azur, allowed him to paint flowingly, in continuity with Chinese tradition, painting that is said to be by nature the balance of empty spaces, in opposition to Occidental painting that is considered to be the balance of masses.
Ready for a fresh start.
In the new environment of Vence, Vu Cao Dam discovered the magic of the plastic dimension in painting and began extensive research, of which egg-based paint (borrowed from the Renaissance masters) was only a first phase. With the technique of painting on silk of which he was one of the masters, before the medium of oil paints to which he devoted the last part of his life, here in using egg-based paint M"aternity" (33X 24 cms) being the first of these works – Vu Cao Dam explored the resources of his talent.
With joy and confidence.
The sweetness of life as a principle of existence.
Jean-François Hubert