Joseph Inguimberty: The Founding Father In Love With The Vietnam Land
Joseph Inguimberty was born in Marseille on January 18th, 1896.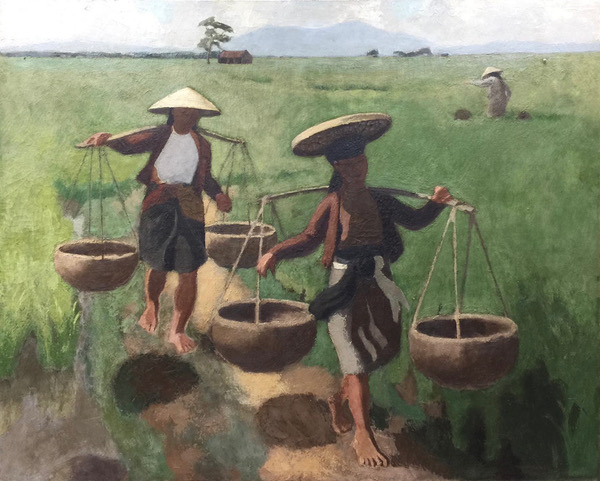 When it came to painting he always found inspiration in his father's native hometown in Provence and his mother's in Franche-Comté. As a student of Marseilles' École des Beaux Arts, he vacillated between Architecture and Painting but eventually selected the latter. 
In 1913, the artist was admitted into the École Nationale Supérieure des Arts Décoratifs in Paris. Conscripted in 1915, he was wounded in 1917 and subsequently received the Croix de Guerre. As with all men of his generation, the war profoundly marked him.
Once the war was over, Inguimberty continued his study at the Arts Décoratifs under Eugène Morand. He travelled to Holland in 1920 and 1921, as well as Belgium in 1921-1922. These trips inspired him to paint large canvases depicting the life of miners, particularly those from Charleroi.
In 1922, he received the Blumenthal prize. Inguimberty moved back to Marseilles leaving Belgium where he painted works such as: « Les Débardeurs de Marseille », dated 1924 but in fact completed in 1922. The work was awarded the Prix National de Peinture as well as « Les Débardeurs du Plâtre » and « Les Débardeurs des Arachides », these were triptychs honoring the port of Marseilles, commonly known as the « Door to the Orient ».
In 1924 a travel bursary enabled Inguimberty to visit Italy, Greece and Egypt. It was that same year he heard about the reopening of the Hanoi's École des Beaux-Arts de l'Indochine under the direction of a fellow compatriot Victor Tardieu. He applied for a teaching position and was assigned the post of Professeur of Decorative Arts. 
The year 1925 marked the beginning of a twenty-one years old love affair between the artist and Vietnam. During his stay in Vietnam, Inguimberty fully lived his multiple roles as an art teacher, a pupil of the local custom, and a promoter of Vietnam's indigenous lacquer technique. For all his achievements, he was described as a « Vietnamese painter of French origin » in the official Vietnamese art history (Quang Phong, Vietnamese Contemporary Art, Hanoi, 1996).
For all his twenty one years in Vietnam, Inguimberty exerted considerable influence on the students under his tutelage. He taught not only the Western techniques of oil and perspective, he also taught and promoted Vietnam's traditional lacquer technique. Beyond teaching, he never stopped painting and left behind an impressive and original body of work.
The list of Inguimberty's prized students is impressive: Mai Thu, Le Pho, Nguyen Phan Chanh, To Ngoc Van, Vu Cao Dam, Le Thi Luu, Nguyen Gia Tri, Nguyen Khang, Nguyen Sang, Bui Xuan Phai and Nguyen Tu Nghiem; many of them are considered as Vietnam's best painters which was a real testimony to Inguimberty's importance both as a teacher and as an artist. 
All these painters benefited from a rigorous formal training as well as from a convivial closeness with their teacher. Inguimberty believed in demonstration rather than explanation. Even if he did not fully liked artists such as Matisse, Rouault and Dufy he still encouraged his students to study their works and advised them to analyse them without necessarily copying them.
For Inguimberty, Vietnam was to remain the source of his inspiration.
He encouraged his students to follow him in outdoors painting sessions to depict the landscape and capture the effects of natural light  and shadow.  As a practitioner of the École Pleinairiste, Inguimberty worked in a similar way to Corot, Courbet, Rousseau and Millet. These artists were immersed in the aesthetics of Realism and Impressionism, aiming at genre painting. Rice paddies, peasants, sky, rain, humidity of the tropics, as well as the sensual and solid beauty of his human subjects, were the captivating qualities Inguimberty considered. 
While Tardieu gave precedence to studio work, precision, use of model and a return to indigenous practices (painting on silk), Inguimberty, on the other hand, favored the study of light. If Tardieu was inspired by nation and history, Inguimberty, however, turned to nature and geography. It is from these complimentary approaches that the genius of the XXth century Vietnamese Painting emerged.
It is interesting to note that most Victor Tardieu's best students Le Pho, Mai Thu, and Vu Cao Dam, Le Thi Luu left Vietnam for France in search of new challenges, whereas Inguimberty's favourites, To Ngoc Van, Nguyen Tu Nghiem and Tran Van Can remained in Vietnam.
He particularly liked working in the village of Kim Lien near Hanoi and, in 1927 he submitted two paintings to the Salon de la Nationale: « Tonkin » and « Femmes de l'Annam ». Later, in early 1929 (26 January – 2 February) he held his first solo exhibition in Hanoi « Paysages et Figures du Delta Tonkinois ». He also kept sending paintings to France as he was exhibiting works depicting Marseilles and Tonkin in the Galerie Charpentier in Paris.
In the meantime, Inguimberty's interest in lacquer developed into a passion. He sought to propel lacquer away from its decorative function to a more creative one: lacquer became a medium of expression as the artist explored its range of colors.
Inguimberty's students took to the medium with alacrity. To name just a few examples, Le Pho, Nguyen Khang and Tran Van Can proved to be particularly talented as he presented his work « To Salute the moving of the candidate to the Mandarinat Exams ». He was clearly ahead of Nguyen Gia Tri who submitted a silk painting later on regarded as Vietnam's best lacquer painter. 
Assuming the roles of teacher, promoter, but above all, painter.
This is how Inguimberty was remembered by his friend, the French anthropologist Pierre Gourou (1900-1999) : « Inguimberty was not only interested in the rice paddies, trees, tufts of bamboo and shelters that he depicted; he was interested in how the rice was sown, transplanted and watered ». 
Let us study one of Inguimberty's paintings:
A thatched cottage? A greyish-yellow form, indeed, but underneath a frame of horizontal and vertical strokes, the building's structure. His subject's clothing? Inguimberty was keen to investigate weave, seams… The stance of a peasant carrying the ganh, the steps of a buffalo… Rice paddies: in Kim Lien, Inguimberty observed the paddies in August when the rice was newly planted; he looked again in November when the plants were half grown: yellows, tender greens against the stronger greens of the bamboo and the trees.
Skies are a heavy grey, weighted down by moisture, or burning white. The artist's original use of flat areas of impasto and his admirable tonal subtlety (notice the greens and whites) combine to give his works a unique compositional grandeur.
Because of the American bombing of Hanoi in 1943, the school moved to various outlying centres: Georges Khanh and Bui Tong took their « Objets d' Art » classes to Phu Ly; Evariste Jonchère took the architecture department as well as most of the sculpture department to Dat Lat and Inguimberty, Nam Son and To Ngoc Van took the painting department and what was the remaining sculpture department to Sontay.
After the Japanese occupation of 1940-45, crippled by the « Coup de Force » of 9 March 1945, the École des Beaux Arts was forced to close down.
The « École des Hautes Études des Beaux Arts » was decreed on 8 October 1945 by the Ho Chi Minh's government.
But teaching will not resume. On December 28th 1950 was created « l'École secondaire des Beaux-Arts », more commonly called « School of Fine Arts of the Resistance ». The first rector To Ngoc Van and main teachers Tran Van Can, Nguyen Van Ty, Nguyen Khang, Nguyen Sy Ngoc and Nguyen Tu Nghiem… all former students of Joseph Inguimberty. Propaganda and greater « social involvement » became the new viaticum.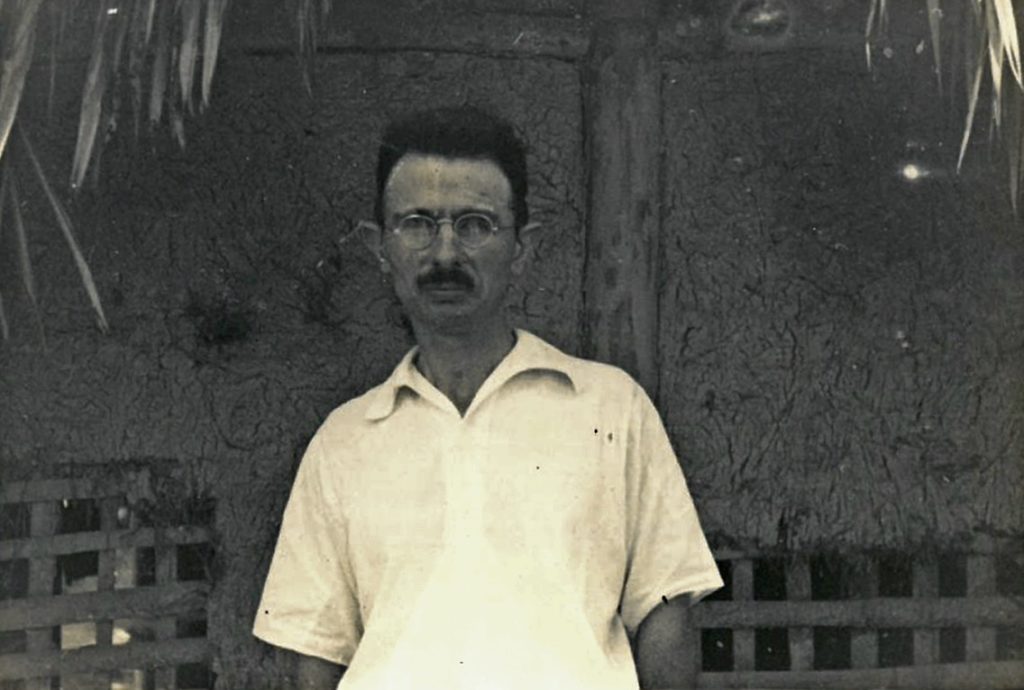 Joseph Inguimberty left Vietnam in November 1946, returning to Menton in the South of France. A number of galleries continued to exhibit his work, in France, mixing his Vietnamese landscapes with his evocations of Provence and Franche-Comté.
The artist passed away in Menton on 8 October 1971.
He and Victor Tardieu are the founding fathers of Vietnamese painting.
Jean-François Hubert