« The Betel Nut Seller » – Nguyen Phan Chanh. 1931
Considered icons of Vietnamese art, the early works of Nguyen Phan Chanh were critically acclaimed, widely published, and avidly collected in the years 1931-1932, quickly becoming synonymous with the best of Vietnamese painting.
These refined inks on silk, published and applauded, were purchased early by dedicated French collectors such as Sir Mass, Drs Montel and Morax, and Resident Auguste Tholance, the first owner of « La vendeuse de bétel » (The Betel Nut Seller).
Nguyen Phan Chanh was born on 21st July 1892 in Trung Tiet in the Ha Thinh Province at the centre of Vietnam and was educated by his father, a Confucian scholar. When his father passed away when he was 7, he helped his mother selling his drawings in the markets as well as drawing from photos presented to him. Later on, he taught Chinese writing and in 1922, he entered the Hue Pedagogy School. He graduated in 1923 and started teaching in Dong Ba Primary School in Hue, Central Vietnam.
He was the only candidate from the central region of Vietnam to be admitted in the first batch of students at the Indochina Fine Art School. As early as 1928, a stamp designed by Nguyen became the first French Indochina stamp.
At the same time, encouraged by Victor Tardieu and Nam Son, he developed an interest in silk painting. The chief technical challenge in silk painting is that gouache and ink cannot be altered after the first application on a silk crepon laid down on thick paper.
This technique, along with the technique used in lacquer, are the two major contributions offered by Vietnamese painters to world art. Silk painting is hence central to the identity of Vietnamese art and Nguyen Phan Chanh is one of its most recognisable practitioners.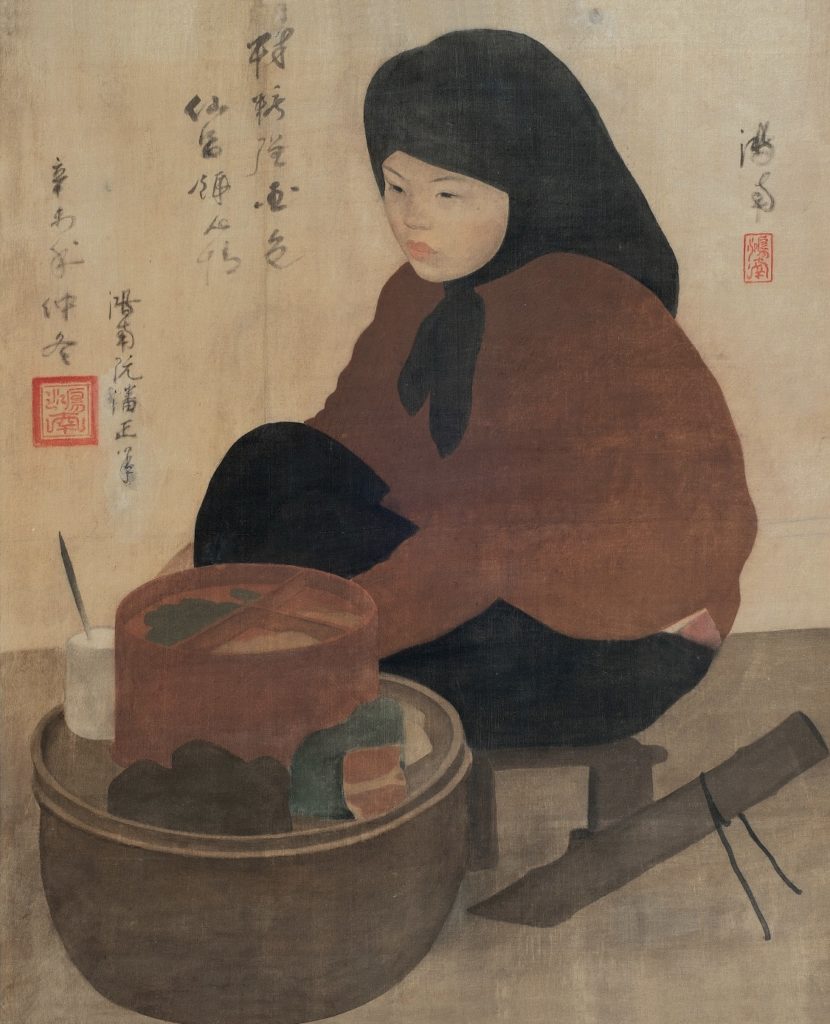 Nguyen Phan Chanh was aged 39, one year after his graduation from cole Supérieure des Beaux Arts de l'Indochine (Hanoi Academy of Fine Art), when he painted La vendeuse de bétel (The Betel Nut Seller). His fellow graduates who included Le Pho, Mai Trung Thu, Le Van De and Nguyen Tuong Tam, were half his age, which set a generational distance between him and them. While many in the younger generation were to find their way to Paris, the art centre of the world, to carve out artistic careers, Nguyen's life and art continued to be centred in and around Vietnam, its people and landscapes.
La vendeuse de betel (The Betel Nut Seller) illustrates the talent of painter at his skillful best, illustrating the simple yet evocative subjects of commoners engaged in small trades or other equally timeless moments in Vietnamese life. One must evoke the lines written in Nguyen Phan Chanh's diary:
« Going out painting at dawn, I usually walked along rivers and canals. Once, I passed by a girl washing vegetables at the water's edge, her white shirt and black trousers only half-glimpsed in the morning mist. It was dreamlike and really beautiful. And I always like misty, dreamlike and poetic scenes. »
Beyond the specificity of the subject, Nguyen Phan Chanh applies a style of his own with strong and solid masses; for example the head gear of the seller or her huge basket, with no superfluous decorations – a style close to the traditional and popular Vietnamese woodcuts of that period. He uses a composition of a dominant brown colour with ink strokes, for example the blouse contrasted against the background and the bowl of wares, giving a mysterious harmony to his work.
This strong, balanced composition so typical to the painter through many of his works combines the water pipe set on a tripod on the right and matches the betel nut vertical scraper on the left. Their opposing forms create a triangular perspective tapering into the big and smaller boxes (with areca palm nuts and betel palm leaves). The excellent quality of the Chinese script shows that Nguyen Phan Chanh is also a perfectionist.
« Year 1931, winter.
Stamped with the artist seal: « Hong Nan ».
« Hong Nan. Nguyen Phan Chanh »

« The nuts show a wine color. The wonderful smell lifts up the mood. »

Signed : « Hong Nan », stamped
with the artist's seal « Hong Nan ».
After 1933, failing to be appointed a teacher at the Hanoi Academy of Fine Art, Nguyen Phan Chanh returned to his native province. He started promoting his work and chose to exhibit at the Hanoi Real Estate Bank as well as in the SADEAI (Socit Annamite d'encouragement l'art et l'industrie ) where some of the early French collectors were able to acquire his works. He distanced himself even further from the Hanoi Academy when Évariste Jonchère arrived in 1937 to succeed to Victor Tardieu after his death. In 1945, Nguyen Phan Chanh became an executive member of Ha Tinh province Association for Salvation of National Culture and was also involved in the war of independence, painting propaganda and campaigning posters (for example "Destroying Saigon Prison" and "Burning Thi Nghe Bomb Depot"). In 1955, he was invited to lecture in the Hanoi Academy of Fine Art.
He died on November 22nd 1984 in Hanoi and in 1996, posthumously received the highest award by the Vietnam Socialist Republic: the Ho Chi Minh prize for Literature and Art.
La vendeuse de betel comes from the Tholance-Lorenzi collection of Vietnamese artworks, comprised of paintings collected by Auguste Tholance, French acting governor of Cochinchina in 1929, and the resident superior in Tonkin from 1930-1937. Along with his wife, the family collected a large number of early paintings by 20th Century Vietnamese masters such as Le Pho and Nguyen Phan Chanh.
Jean-François Hubert