« A cup of tea » by Le Pho
There is little need to remind ourselves that Le Pho loved to paint Vietnamese women, nor to show that this was a constant throughout his artistic life.
The elegant sensuality of the painter increases from 1931-32 to his definite installation in France (1937).
But it is important to identify what makes this masterpiece so extraordinary and important: it is not a portrait of just anybody …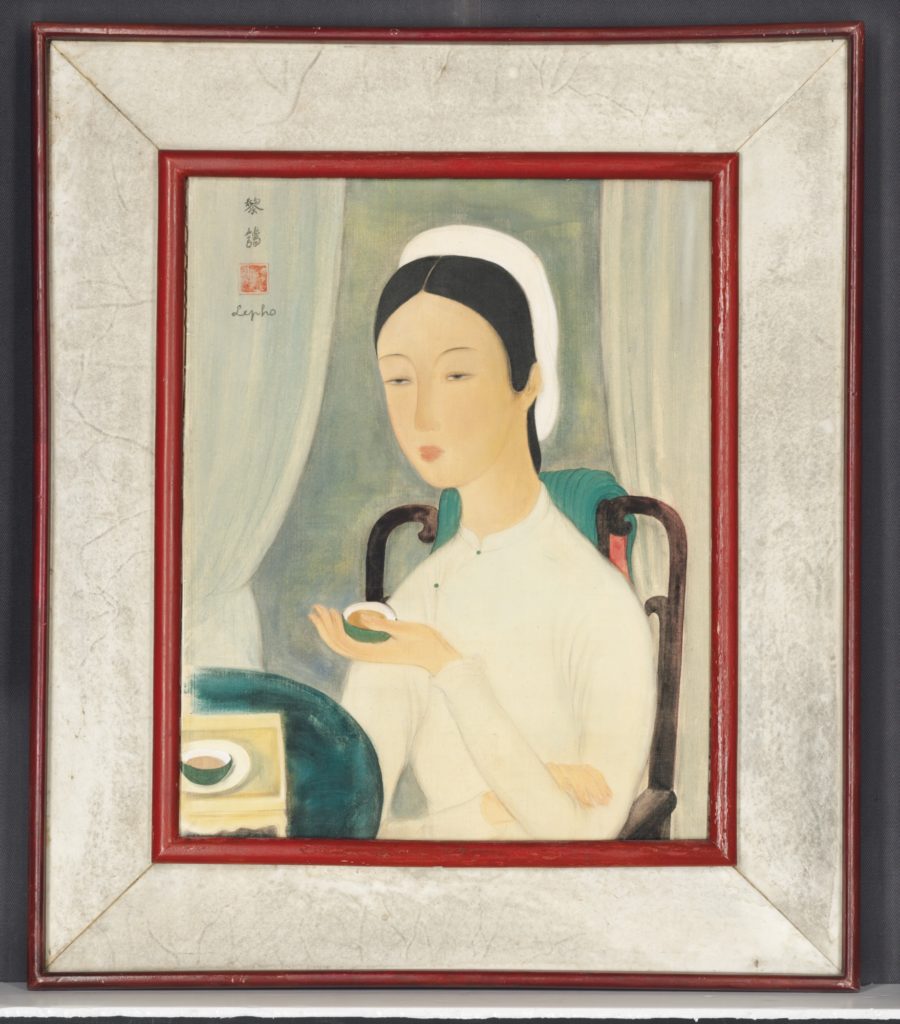 The white ao dai, the doe-like look, the accentuated nose, the gorgeous mouth, all lead us to Jeune fille en blanc. Le Pho had fallen madly in love with her, the most beautiful young lady in Hanoi, but her father refused his offer of marriage. Le Pho never forgot her and sublimated his deep and life-long sadness by painting her after he had left Hanoi for France, where he stayed for the rest of his life. She, too, never forgot Le Pho – but remained in Hanoi where she was never seen dressed in anything but white.
The lady in Jeune Fille en Blanc is a mature woman who, with folded hands, looks resigned to her loss.
The girl in Une Tasse de Thé is younger, fresher, and far more appealing. Apart from the costume and the Hanoi decor, which are classic Le Pho, her posture is very original: she offers a cup of tea to the guest, the painter, in a gesture of sweet invitation.
The soft grey background curtains and the dark chair accentuate her delicate white attire. The unlit room behind could be made private by drawing these curtains. The girl's eyes, misty, evoke a poignant love. Her rosebud-red lips are plump with promise.
Behind her left shoulder a warm pink inner lining in soft silk hints at what might await the invited one. The hint that more than a cup of tea may be offered is as soft, delicate and discreet as the girl herself. The restraint serves to strengthen the impression of hidden passions beneath the surface. Her soft pink mouth and the deep pink silk lining are deliberately echoed in Le Pho's red seal and the red interior frame.
The sensational colours and supreme elegance of this celebration of love and youthful desire make Une tasse de thé an everlasting masterpiece of Vietnamese art. 
Jean-François Hubert