Luong Xuan Nhi – Fisherman's Family. 1940.
The fisherman says: Stay with me
Let's share my poverty and let's live without a worry…
I have my trade and my wisdom, I wander as I wish on the water, intoxicated with the space.

Nguyên Dinh Chiêu (1822-1888)
Luc Vân Tien Saved by the Fisherman
Luong Xuan Nhi played a major role during the 20th Century within the Vietnamese school, having graduated from the Hanoi Fine Arts School in 1937, he was an active participant of the SADEAI (Société Annamite d 'Encouragement à l'Art et à l'Industrie, 'Annamese Society for the Encouragement to Art and Industry' ) established in 1934. He participated in the organization of very successful competitions to gather enough funds to offer grant bonuses to students or graduates up to 1939.
He was also a founding FARTA member (Foyer de l'Art Annamite, 'Home of Annamese Art') with To Ngoc Van, Tran Van Can and Le Van De and others which led to the two Salons in 1943 and 1944 in Hanoi – this sign of a great social life would also come to be expressed in his work.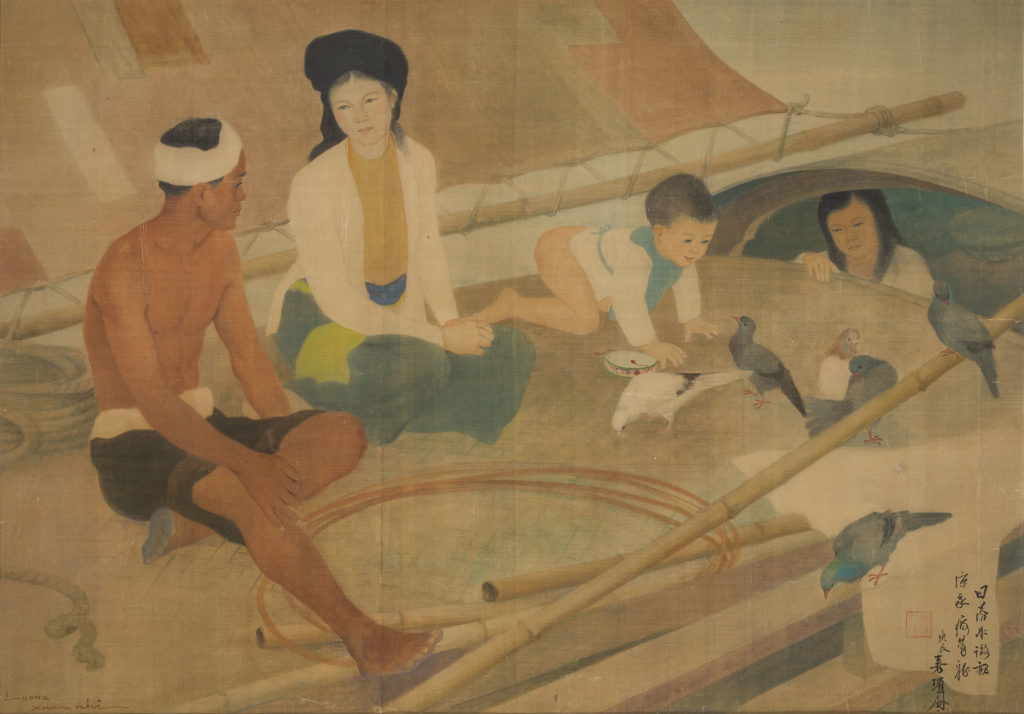 Executed in 1940, Fisherman's Family is a major work in the artist's oeuvre, integrated to the evolution of the ideology of the pre-War period, and elaborated notably by the 'Tu Luc Van Doan' group, a literary movement founded in 1933 by the authors Khai Hung and Nhat Linh.
Disagreements emerge in Art and Literature, sparking many debates which question the 'snobbish bourgeoisie' and the 'mandarin's bigots', and discussing the difficult conditions of the working class, lagging behind economically and intellectually in the rural world. Luong Xuan Nhi, uniquely different to most of the other painters of his time, chose to paint 'reality' instead of beautiful and elegant women clad in the traditional ao dai. The 'reality' depicted here is the simple everyday life of a fisherman and his family struggling in their rough life, far from the contingency of an urban life.
There is a deep sense of community and family reflected here, allowing the painter to use his art as a storytelling medium. Here, elegance is not imbued in the pose, but exists truly in the substance of the subject-matter, the painter inscribes on his painting: 'Waves of water under sunset, refresh my body after a day of labour'.
In the late 1930's, we are still ideologically at a level of social observation and recognition. The revolution, purely communist and more drastic, will happen a few years later, and as such Luong Xuan Nhi will later adopt strong Socialist views – his biography is thus highly typical of contemporary Vietnam – as shown by his numerous trips to Eastern European countries and his constant participation in various official bodies.
Jean-François Hubert