Le Pho, 1947 « La Femme Couchée » (Reclining Lady), or the intermittency of self
It is always tempting and tempted to chronologically classify the work of a painter. Le Pho is no exception and we have already described his three classical periods.  However, some works appear as inflection point, question marks the artist points out as a reminder.  This large (59cm x 73cm) gouache and ink on silk belongs to this type of pivotal work.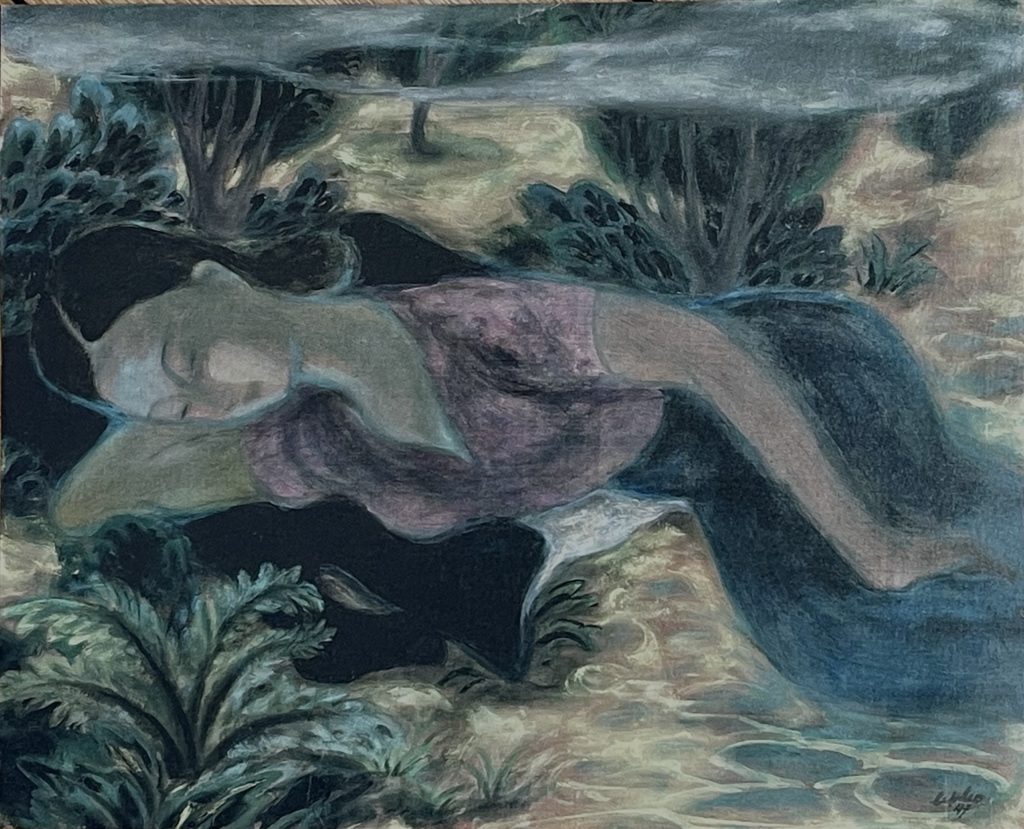 Painted in 1947 (and the painter rarely writes the date in this way) our painting is of high importance to the development of Le Pho's œuvre from three points of view :
First the realism of the face (is almost a portrait which is rare for Le Pho) contrasts with his previous favorite faces all very similar. The pointed cheeks, the curve of the breasts, the roundness of the body shapes, the untied hair, the pose itself, all made of abandonment, contrast with the previous hieraticism: Le Pho describes a free, naturalist woman who has invested her century. There is no doubt that the meeting, the previous year, with his wife to be Paulette Vaux contributed to this « re-staging". Le Pho no longer paints us a Madonna or an ethereal young girl, out of her century or – sometimes – a prisoner of her social rank. No, he offers us a woman of her/his time.
Also, and more significantly, contrary to many of  his former compositions, the figure is positioned horizontally rather than vertically. Leaning her head on one elbow, the figure seems to be floating above a surreal landscape of sand and trees, a mist of grey clouds above her, lost in a deep dream. Eyes closed to dream or to shut off this bizarre world so difficult to grasp.
Also, we may take into account the darker palette of colours found here compared to his usual inclination to use softer pastel hues. Le Pho has here optimised the use of deep blues and greens, giving the piece a more dreamlike and mysterious mood.
This year 1947, the artist was 40, he lived in France since already 10 years. Europe has been ravaged by the war, French gallery owners had difficulty selling art. Vietnam saw a war (with multiple actors) – which will lead to the Geneva agreements in 1954. A war France was also involved in. The quartet of friends will react differently to the hostilities: Le Thi Luu and Vu Cao Dam campaigned for Independence, Le Pho got closer to Emperor Bao Dai and Prince Buu Loc. The real role of Mai Thu still needs clarification.
The "Cold War" settled in. Scarcity reigned supreme even though artists were often spared from.
Le Pho still cherished the "City of light" but it was then a bruised Paris he lived in. Le Pho painted less during this short time but his works were profoundly original and the painter knows it: it is by his art, alone, that he will save his existence.
This reclining woman is a message of hope painted with the reality of the moment.
Jean-François Hubert