Mai Thu, 1956, "Le Pont" or the happiness of the rite
Mai Thu, proud to be Tonkinese, depicts the mountains of the Middle Region in the distance. Set far back in the scenery, a tomb on the left and a Dinh on the right remind us that we are ephemeral and, also, that the sacred and the secular are complementary since the Dinh (the communal house) is the place where the cult of the tutelary genius is honored as well as the place used as a public space for the villagers.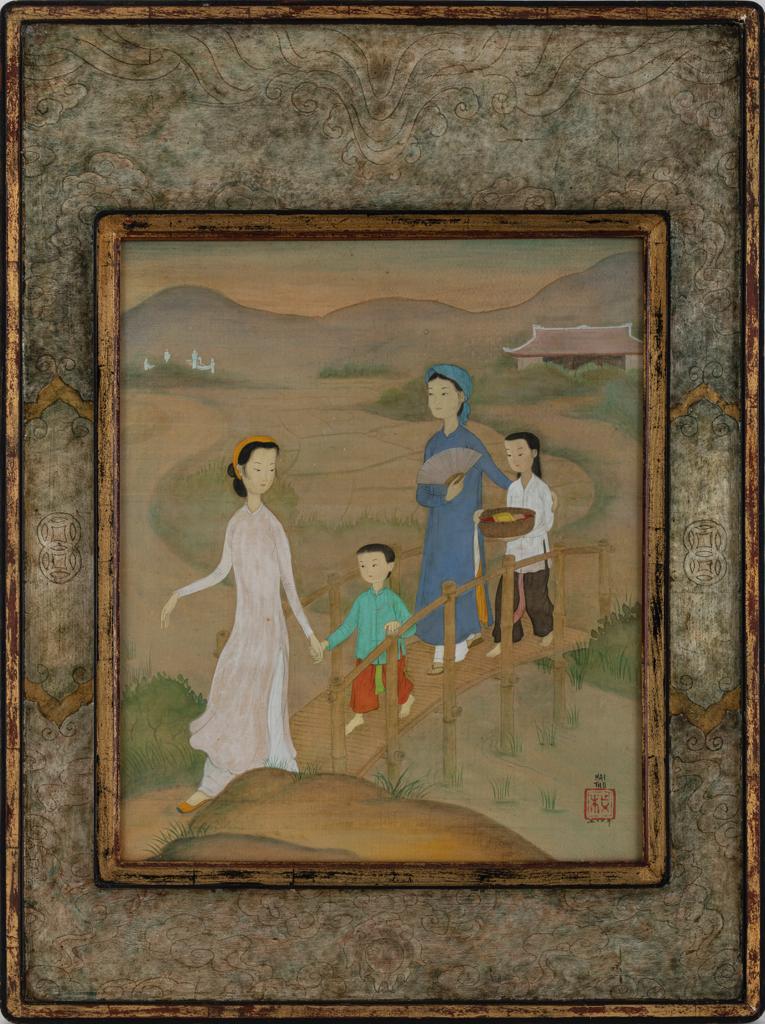 In "Le Pont" (The Bridge), Mai Thu chose a diaphanous background he already used in his earlier works such as "Au Bord de l'Étang' (By the Pond), painted in 1944. But in our painting, the colours are used to distinguish the characters in motion: blue, red, ochre and white are subtly combined to give this group a particular elegance.
They are well-to-do people – as evidenced by their careful dress and posture – who are on their way to a vow ceremony. The girl carries a round wicker box filled with votive paper and offerings. No one knows to which ceremony the group is invited, but one can assume that she participates in these visits (tomb, Dinh, pagoda, temple…) of the first day of the Têt.
The oldest woman, equipped with a fan is wearing the Khăn mỏ quạ worn only in North Vietnam and particularly in the countryside. The younger one wears the "khăn vấn", a headdress the people of Bac Ninh claim as their creation… The figures, two by two, connect with each other in graceful gestures.
The lacquered and incised frame, made with particular care by Mai Thu, shows a rare originality: it is asymmetrical, the upper part being larger than the lower part. This creates an optical effect by amplifying the surface of the sky.
Elegance, serenity and concentration: a whole multi-millennial civilisation straddles the bamboo bridge.
Mai Thu's whole world : rite and voluptuousness.
Jean-François Hubert