Le Pho « Le Printemps », 1955, Or a turn in the artist's work
It is always fascinating to observe in the work of an artist the successive stages of construction (or deconstruction) of his work.
Le Printemps (Spring) by Le Pho allows us to do so.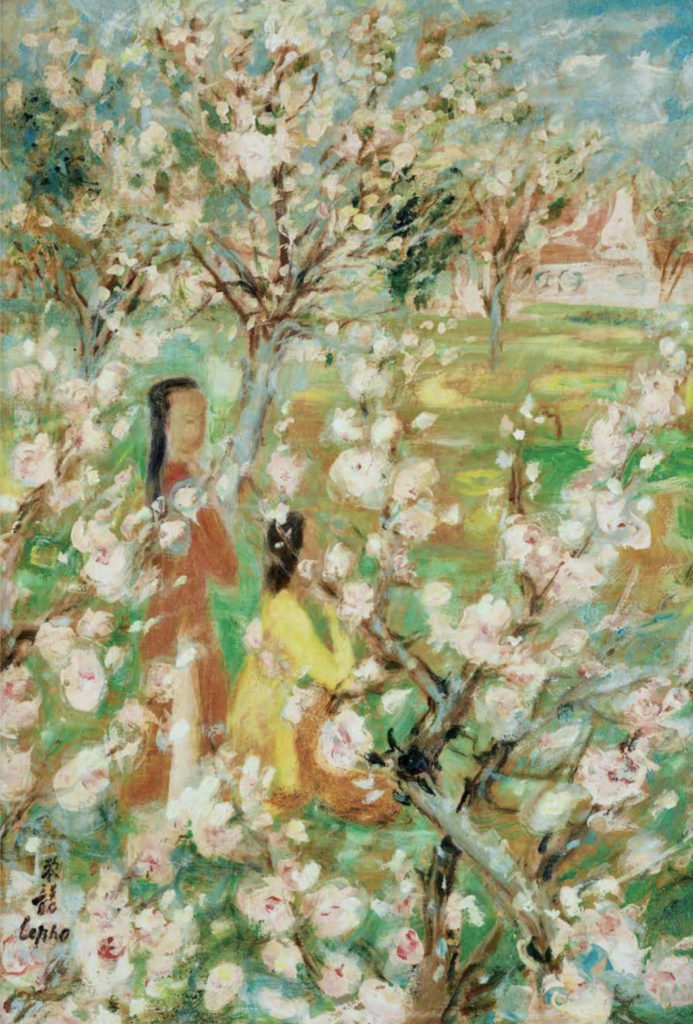 In 1955, Le Pho continued to work with his technique which was proven to be quite successful: gouache and ink on silk glued on strong paper – pigment separated from the support. This is how these typical works of the whole 'Romanet Period' came to be, a period named after the French gallery that since the beginning of the 1940s, continue to promote his work.
This work bears witness to this evolution.
The gouache, Ink and silk are preserved, but to the former two, oil paint was added while the silk was left raw or, on the contrary, covered with clusters of paint. For the painter, the notion of flat pigment seems to be a thing of the past.
However Le Printemps (Spring) differs not just in technique. It is symbolic and means so much more as it announces the start of the oft-coined 'Findlay Period' – named after the American gallery that offered the painter and almost exclusive contract in 1963. This introduced the painter to the larger American market. The future style is already inscribed in this painting: the women are included, almost immersed in a verdant surrounding. The painter will delve into this subject essentially and especially from the 1970s.
The only reference to 'ancient times' are the Vietnamese pagoda at the top, in the background on the right, and the illustration of peach trees in bloom, so typical of Vietnamese Têt, references that the painter will no longer propose when he will want to give his works a more universal style. The palette, light, definitely acquired after his fruitful meeting in 1943, with Henri Matisse – his idol with Bonnard – illuminates Le Printemps (Spring). The large side of the work – for a silk – prefigures the will of the painter (and Findlay) to propose imposing oils on canvas.
Le Printemps (Spring) marks a decisive artistic step in Le Pho's work, the 'Spring' in his new endeavours and brings forth a great sense of optimism and joy.
Jean-François Hubert