Mai Thu, 1940, « Spring Wind » or the demanding breath of freedom
In 1940, when he painted this rare and subtle gouache and ink on silk, Mai Thu was already living in France for three years. He was probably in Mâcon – where he was demobilized after the defeat against Germany. The work bears all the characteristics of his early works: a shaded background, almost unicoloured, large figures taking centere-stage, and the sober tone of the pigment used.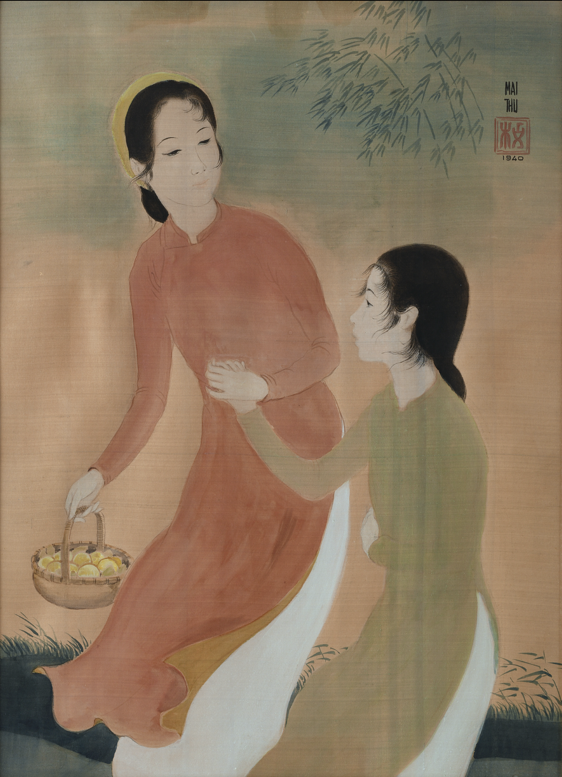 However Le Vent du Printemps strikes by its overall dynamism, very different from the hieratic works often created by the artist. The wind sweeps the work from right to left, bending the bamboos at the top right and the reeds at the bottom, rushing into the woman and the girl's ao dai, ruffling their hair. They do not seem to pay attention to this spring wind and do not seem to care about the close pond. The artist has chosen not to depict their lower limbs because the central and essential element of the painting is the adult holding the young girl's hand tightly while giving her a look of kind authority. In her right hand, the woman holds a basket filled with Lucumas, a fruit very popular in Hanoi's desserts in Mai Thu's times when it was harvested from August to October, and used to make ice cream and cakes. These fruits bring, along with the lady's hairstyle, a modest but bright note of colour in a painting which is meant to have an atone connotation. Subtle allusion of the artist? The Lucuma -originally from South America- imported during the French colonization is set next to the Tonkinese headdress, and symbolises the two major influences on Vietnamese painting. Mai Thu amplifies the meaning further. When the wind of history passes, one must proudly and strongly make it a companion not to give into it, but to be moved while imposing the direction of the path itself. The challenging breath of freedom.
The young girl, questioning but confident and attentive is Mai Thu, this beautiful, mature, elegant and solid woman is Vietnam, and the fresh wind is France, his host country.
Of course, the wind will not always be "spring" as the following harsh years of the German occupation will show, but it will bring fresh air all along his life during Mai Thu's work.
Jean-François Hubert