Pham Hau, 1938. "Stags and hinds in the middle region" or when the real cannot be realistic
This magnificent screen by Pham Hau is a tribute to the splendour and precision of the artform of Vietnamese lacquer. The technical virtuosity found in this creation forces our full admiration and touches our sensitivity through the gentle sweetness of his theme. His signature (Pham Quang Hau) in Chinese characters with seal – adds to the high quality of the work and suggest an executed date circa 1938.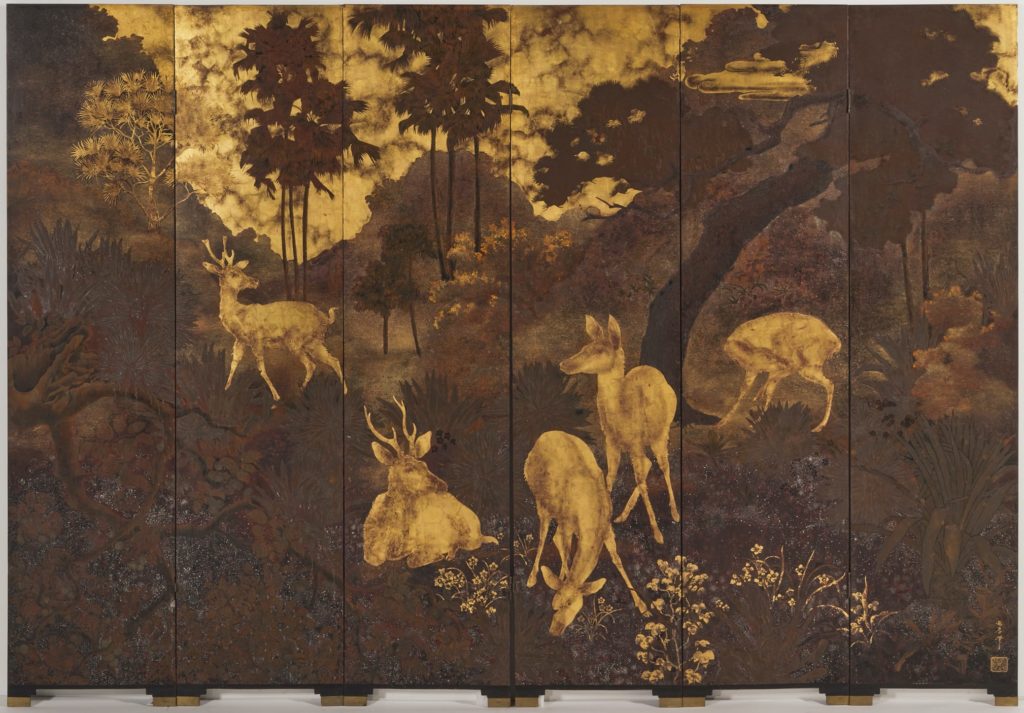 Indeed, later on, Pham Hau – like Nguyen Gia Tri and some others – relied on the assistance of several students and artisans to execute his lacquers, so the quality of later works would be different. Here, the talented hand of the master himself permeates through the entire work.
It is difficult to identify with precision the place represented. One might suggest Tonkin, probably in the Middle Region where the mountains begin to rise. Unlike the usual flora, fauna and even topography of the delta, the surrounding evokes an enigmatic scene depicting an entire mysterious world of animals and plants, some of which are uncommonly found. 
It is also the contribution offered by Victor Tardieu's teaching and by the teachers to push their students to leave behind the city life in Hanoi and discover their country. 
The notion of geography for an artist is never purely based on topography and, in his lacquer, the artist distances himself from realistic description. He illustrates a world of peace where serenity reigns. The two stags and three does take possession of the space at the break of dawn in luxuriant and soothing vegetation. It is a moment that suggests calm and fosters hope.
Vietnamese culture, due to its essentially agricultural nature, gives a privileged place to peaceful animals such as the deer, buffalo or toad, contrary to other cultures of pastoral origin that give more importance to strength and put forward the cult of predators such as the wolf, tiger, eagle or falcon.
One is reminded of the famous Vietnamese popular song:
« Oh forest deer there, 
You nibble young sprouts 
Of va and sycamore 
You have seen me I am not chasing you 
Why flee that way? »
(The Woodcutter)
A great artist paints what he knows subconsciously, inspired by the vastness and spirituality of the landscape. Pham Hau is a great artist indeed, sensitive and highlighting the mastery of his craft.
Jean-François Hubert