La Jeune Femme de Hué, 1937: Mai Thu or the sublime renunciation
In 1937, Mai Thu's two best friends have already taken a leap : Vu Cao Dam settled in Paris as soon as 1931; Le Pho, after a first visit in France and in Europe in 1931-32, was preparing his return for the Universal Exhibition. 
On the other hand, Mai Thu, in this year 1937, had been teaching at Hue High School for several years.
Platonic love or more we will never know but Mai Thu is madly in love.
In love with one of his students.
She appears on this extraordinary oil on canvas presented here.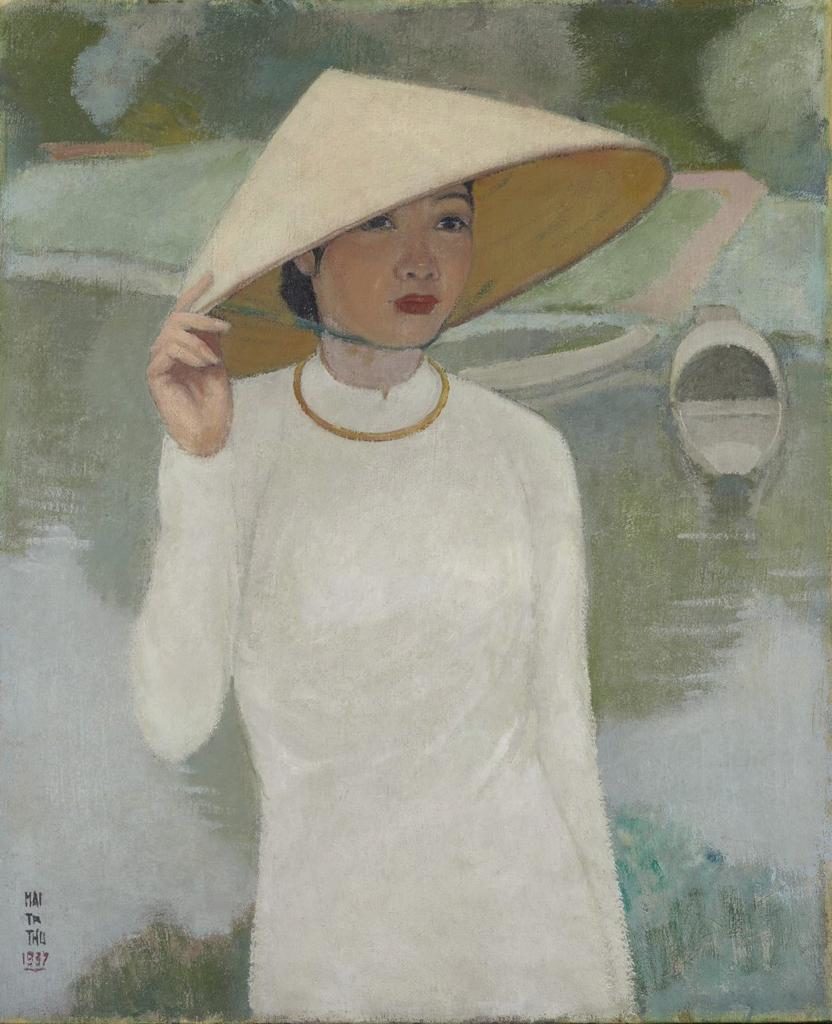 Setting, lighting and the lady herself, all bathed in grace and distinction. 
The place: probably the bank of the Perfume River, not far from the Thien Mu pagoda, where beauty and solemnity compete.
The light, so particular to the River, envelops our beautiful lady.
She is dressed in a white ao dai – the color of respect – usually warn when one goes to the pagoda. Mai Thu uses a luminous white almost scintillating, applied as if it were an extension of the water to also enhance the light sway of the young girl. Her right hand slightly touches her conical hat, reminding it to protect her diaphanous face from the sun's rays. A simple torque enshrines the grace of her neck. With her eyes looking in the distance, she allows the artist to capture her and her distant charm so suitable to the young ladies of the time and place. Her face, full of  absolute determination, expresses a maturity firmly asserted by her crimson lipstick and her made-up eyes.
The small boats are at quay, will they stay here or will they sail towards the middle of the River for the lovers to escape eyes and ears ?
Technically, the absence of flat colours allows subtle shades of tones, thus balancing the composition of the painting.
But La Jeune Femme de Hué, in this year 1937, is more than an absolute masterpiece.
It is the manifesto of an exceptional artist who takes his destiny into his own hands.
Therefore, he will leave all their world behind, his and hers, to conquer the West.
Only taking with him his talent and the memory of this woman here, this Vietnam here.
Alchemy of the universality of art, he will also give up the technique of oil on canvas – imported from France – to devote himself exclusively – in France – to gouache and ink on silk, a Vietnamese technique he takes with him.
To continue his quest without denying himself, to renounce what should have been the perfect dream of an ordinary man: the act is sublime. It will be legitimized by the universal success of Mai Thu. He will be guided all his life by his "Lady of Hue"…
Jean-François Hubert