Vu Cao Dam, « Le Thé » , circa 1930 or the phong-lu'u man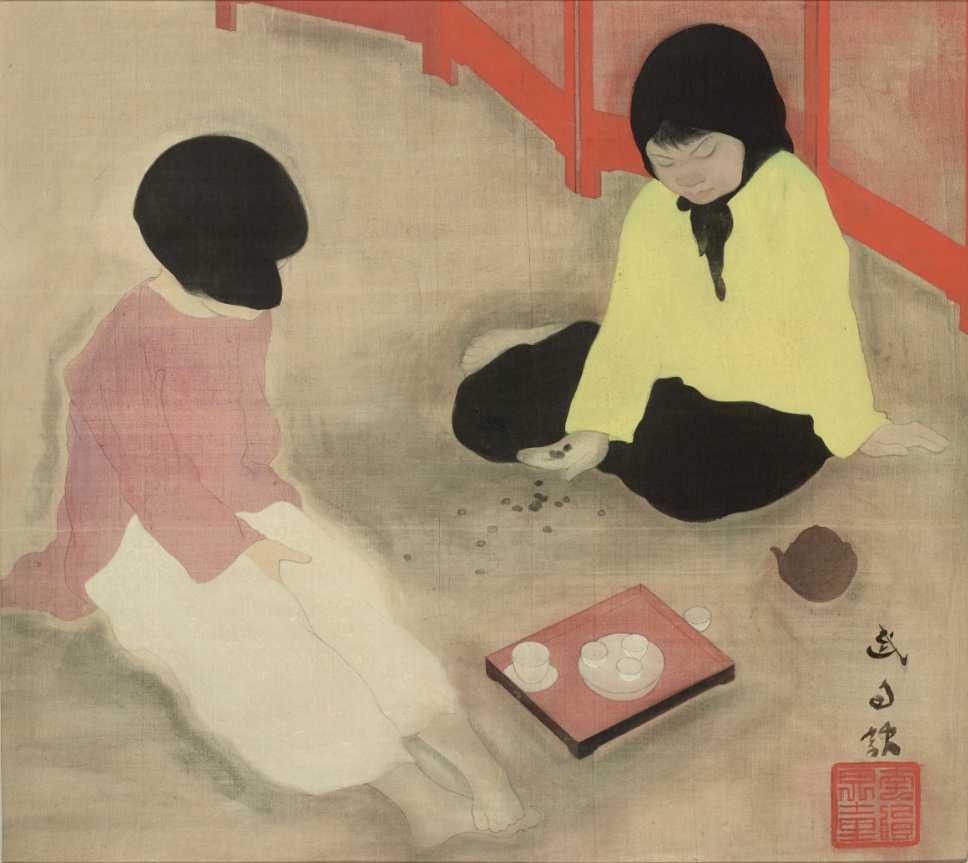 This unique work in Vu Cao Dam's production was probably executed around 1930. A turning point in his life during which he was questioning whether or not he should take the leap and leave for Paris where, artistically, everything was at stake.
A little girl on the left-hand side with her "doll" haircut sits facing an older woman wearing a scarf to protect herself from the cold –as one may deduce from the little girl clutching her hand between her thighs– not from the sun as the wooden screen indicates they are inside.
They do not play « Ô an Quan » – the ancient Vietnamese game said to be invented in the rice field – because there are no lines on the ground. They are playing the game « Lieû » where a skillful hand takes over intellectual strength. Lieû has several meanings in Vietnamese: the verbs « I understand» and « I accept», but also as the noun "willow" tree. The name of the game actually refers to the gentleness of the player's gesture.
Kim-Vân-Kiêu, a book that will accompany Vu Cao Dam all his life, evokes the tree:
« Melancholic silky willows hung their blinds. An oriole on a branch babbled with a mocking air ».
The elder woman seems to teach the younger one -notice her right hand, palm down- the subtleties of the game. Both, barefoot, particularly concentrated.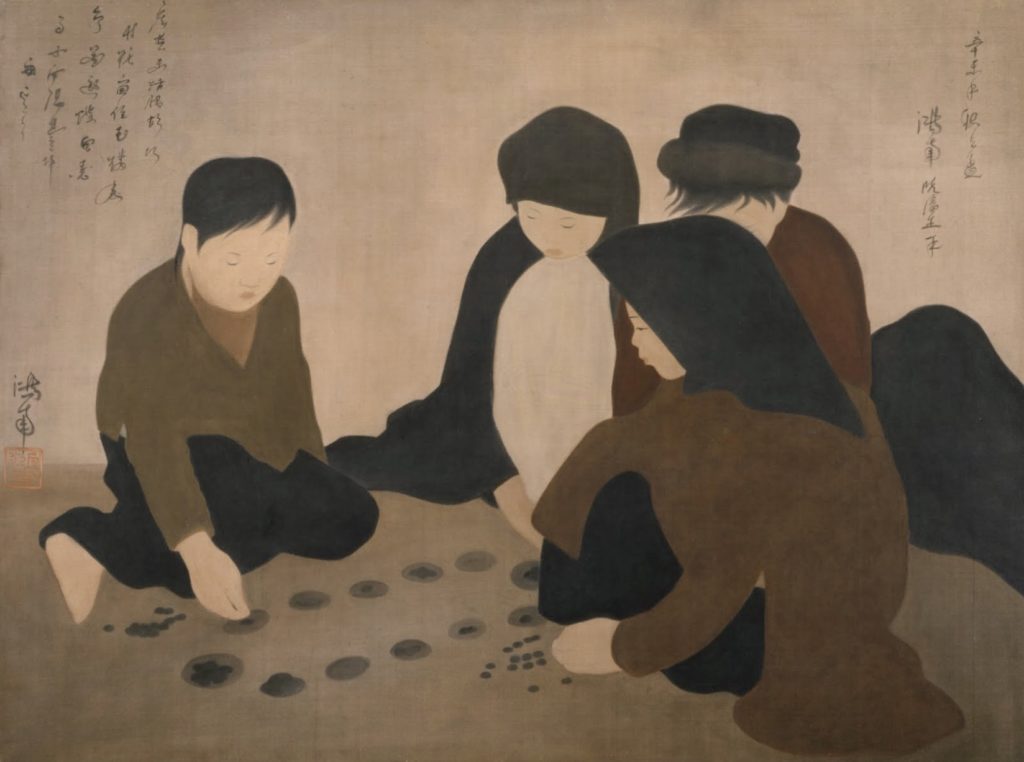 While Nguyen Phan Chanh painted a famous scene from « Ô An Quan », in brown monochrome, Vu Cao Dam dares to use color: yellow for the chasuble on the right, solid black ink for the scarf and pants, pink for the child's chasuble, white for her pants, and black ink for her hair. Furthermore, the screen in vermilion red and diluted pink, the teapot in light black, the two-tone tray, the white cups: a measured celebration of tones.
The artist abundantly uses diluted ink to highlight and specify the bodies by creating sectorial halos. He does not yet use his technique of ink diluted in water in which he dips his silk before sticking it on paper and before applying the gouache and ink in quasi-flats.
This delicate painting conveys the pictorial translation of the phong-lu'u man (a term which has no equivalent in English) by its deliberately light theme, its subtly futile description, its varied but discreet tones, its solemn stamp, and its signature with three voluntary characters. Vu Cao Dam is the incarnation of such man: a typically Vietnamese concept which defines a being permeated by Buddhist tranquility, Taoist calm and Confucian order.
But he already sensed it, Vu Cao Dam will find another kind of humanism, more inquiring, less contemplative but more Western and he will be seduced by it.
For his upcoming trip, he addresses us his own letter of recommendation…
Jean-François Hubert