Le Pho – Les Teinturières. An Homage to the Vietnamese Dyeing Craft
Le Pho, generally known for his ethereal Madonnas and vibrant flower bouquets, surprisingly has decided here to portray dyers and their craft, a beautiful tribute to the labourers of his homeland working with the traditional Vietnamese materials of cotton and silk.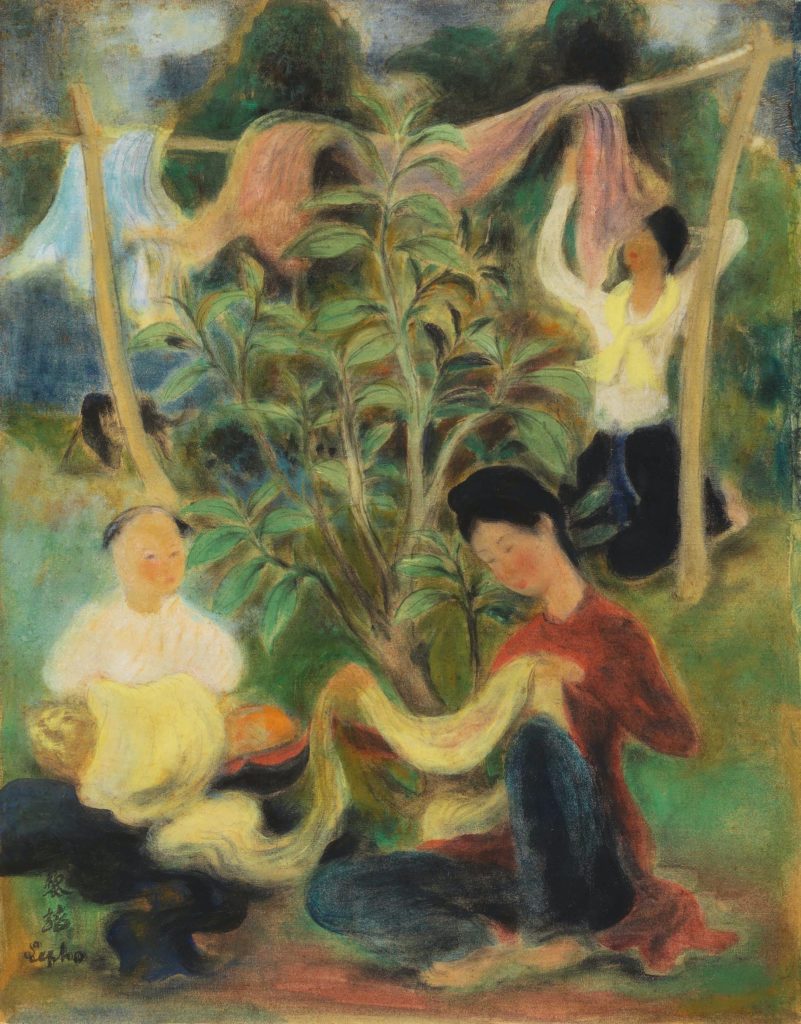 As early as 679 A.D., a Vietnamese woman by the name of Houang Tao P'o imported the growing and the weaving techniques from the province of Guangdong, China. This knowledge comprised dyeing methods and the fabrication of colour dyes which were distinctively Vietnamese through organic extraction. An example of this would be the extraction from the Vang wood (Caesalpinia Sappan) to provide a vivid red colour.
For many centuries after, the Vietnamese spent centuries exploring, developing and perfecting techniques to obtain the finest raw cotton cloth used in all commodities using weaving and dyeing.
Le Pho was distinctly aware and admired this aspect of Vietnamese craftsmanship and skill, and always claimed that one had to fully master the handiwork of their art before any chance of becoming a great artist. It might explain why Le Pho decided to paint un hommage to the Vietnamese artisans' hard work and their dedication to their craft. The dyer's sensibility to the intensity and quality of colour is at the centre of their skill and essential to the technique of silk painting as they needed to have an in-depth understanding of the visual effects of dye on cloth.
The dyer and the painter work hand in hand to generate an art form unique to the Vietnamese aesthetic. Set in lush and abundant green surroundings, one young boy and one lady handle the roll of cloth at hand, while in the background another hangs on a clothesline some cloth for drying.
The portrayal of a real-life observation leads to a simple composition that only serves to highlight and underline the multiple skills and processes required in their craft.
There are no kings without their subjects, as there are no great artists that are not an heir claiming his national identity. Le Pho captures the essence of this, and leaves a strong imprint of his culture, on both national or international levels.
This stunning painting is a perfect illustration.
Jean-Francois Hubert