« Three Young Ladies » by Luong Xuan Nhi, 1936.
Luong Xuan Nhi holds a prominent place within 20th Century pictorial Vietnamese art.
He was a graduate from the Hanoi Fine Arts School in 1937, and a very active participant of the SADEAI (Société Annamite d'Encouragement à l'Art et à l'Industrie, 'Annamese Society for the Encouragement to Art and Industry'). This was established in 1934, and they used to organise a remarkably successful competition in which they would grant bonuses to students or graduates (up to 1939).
Luong Xuan Nhi was also a founding member of FARTA (Foyer de l'Art Annamite, 'Home of Annamese Art') along with To Ngoc Van, Tran Van Can and Le Van De and others which would lead the two Salons in 1943 and 1944 in Hanoi. Luong Xuan Nhi left behind him a body of work particularly attractive even though only a few remain, with some on silk.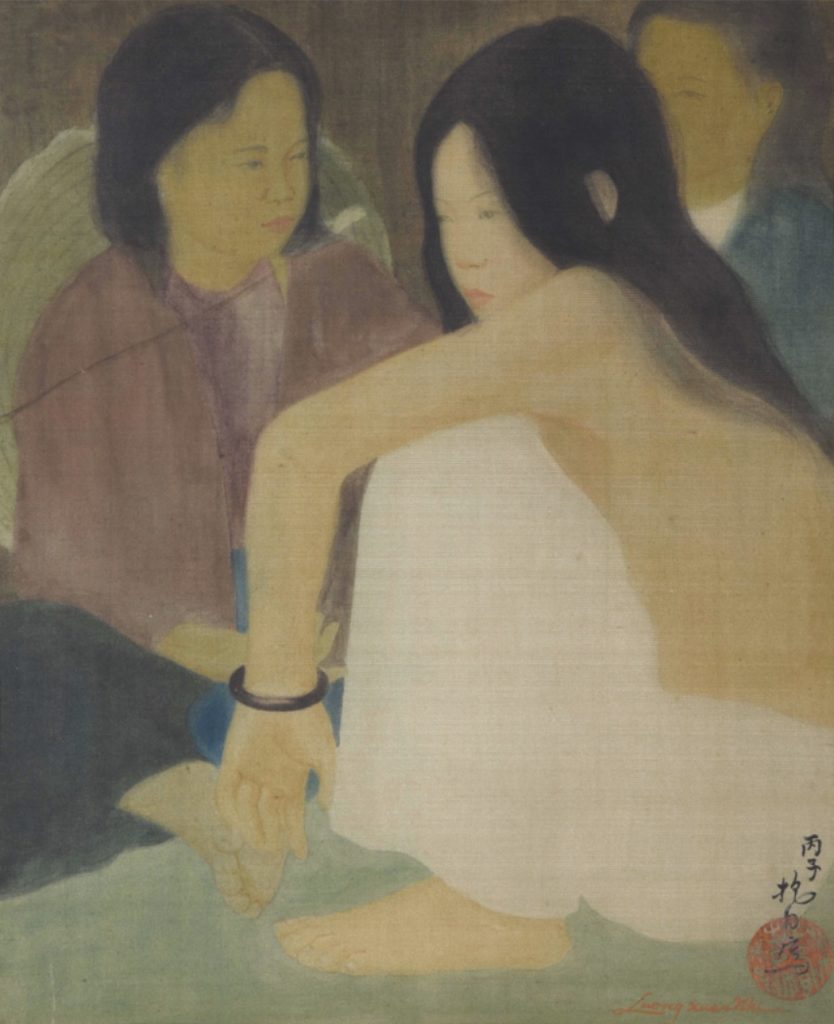 The philosophical thought that was so inspirational to Vietnam at that time and the symbolism which is always part of all the Vietnamese pictorial work in the 1930's and the 1940's, makes us believe that in this painting Luong Xuan Nhi evokes the emancipation that began in the 1930's.
This major work is integrally part of the evolution of the ideology of the pre-War period, elaborated notably by the 'Tu Luc Van Doan' group, a literary movement founded in 1933 by the authors Khai Hung and Nhat Linh. Disputes were expressed in Art and Literature: it is where the snobbish bourgeoisie and the mandarins' bigots were debated. It is where the difficult conditions of the working class, the economic and intellectual retardation of the rural world are denounced.
Unlike most of the other painters in his time, Luong Xuan Nhi did not paint beautiful and elegant women in ao dai but rather the reality of female peasants in simple clothes, their bodies shaped by the hard work and life. The reconsideration purely communist, more drastic, will happen a few years later.
It is worthy of note that Luong Xuan Nhi later espoused strongly Socialist views – his biography thus being highly typical of contemporary Vietnam – as is shown by his numerous trips to Eastern European countries and his constant participation in various official bodies.
No script in Chinese even though the painter would have love using them later ("Late Afternoon Chimes" and "The Fisherman's Family"). You can find here a double signature in Roman characters and in Chinese characters as well as the round seal where the name of the artist can be deciphered.
Jean-François Hubert