Vu Cao Dam – Composition
As a literary man, French was a language Vu Cao Dam mastered perfectly with great ease. It is evident that he chose the title Composition deliberately and carefully for this work.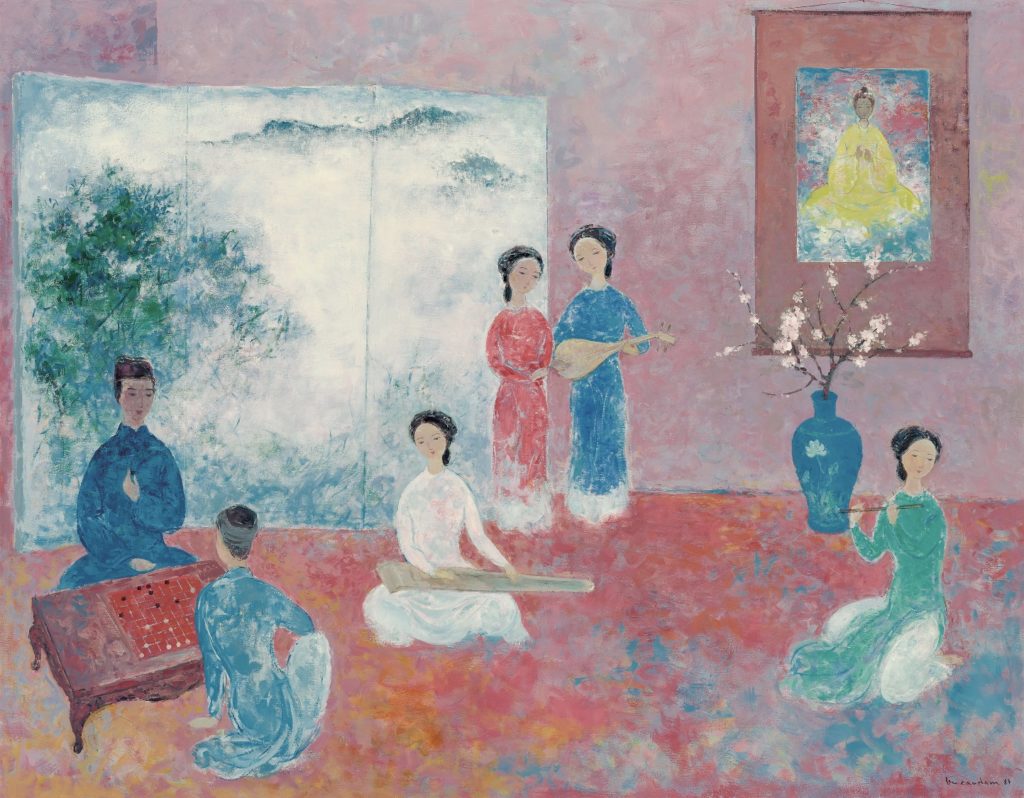 We then realise it could have four different meanings depending if we evoke a montage, a typography, a conception or a trial and according to what aspect of the concept one chooses to emphasis on: constructive, typographic, musical or academic.
In this major work, the painter achieves what only art can successfully create: a synthesis by operating a talented syncretism in a wide format, rather rare in its composition.
Composition, is a true ode celebrating the pursuit of knowledge by its ambitious pictorial construction, by its sophisticated writing, and by the evocation of a concert.
This major work, completed in the painter's Findlay's period, was exhibited in 1985 at the Wally Findlay Gallery in Chicago and was a defining exhibition and a perfect illustration of the master's talent at the highest level.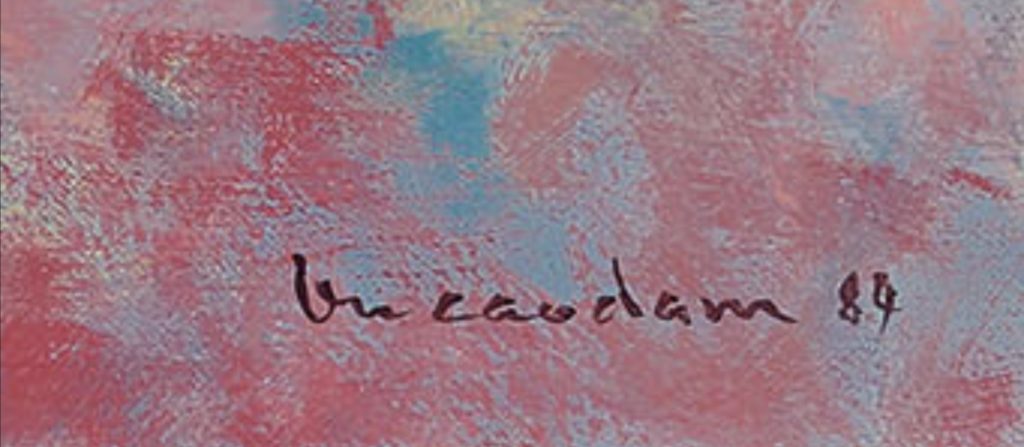 We can see six main characters: a man and a woman, seated playing the abstract strategy game Go; three musicians playing musical instruments – one seated playing the dan tranh (zither), the two others standing one playing the dan ty ba (pipa), the other one the sao (woodwind flute), all traditional Vietnamese musical instruments and one singer, illustrating the câm, ky thi, hoa, which literally means the four abilities one must possess to be considered a cultured person of stature and education. According to traditional Vietnamese social standards this is defined by the ability to play musical instruments, to play Go, to compose poems, and finally to be able to paint.
A lacquer folding screen to the left of the background represents a lasting memory from his years spent in the School of Fine Arts of Hanoi and from which Vu Cao Dam graduated in 1931 (alongside To Ngoc Van), only serves to magnify the entire pictorial scene. Another allusion, as we recognise one of the painter's Divinities painting in the kakemono on the wall behind a large vase, containing an arrangement of hoa dao (peach flower) which blossoms during Tet (Vietnamese new year).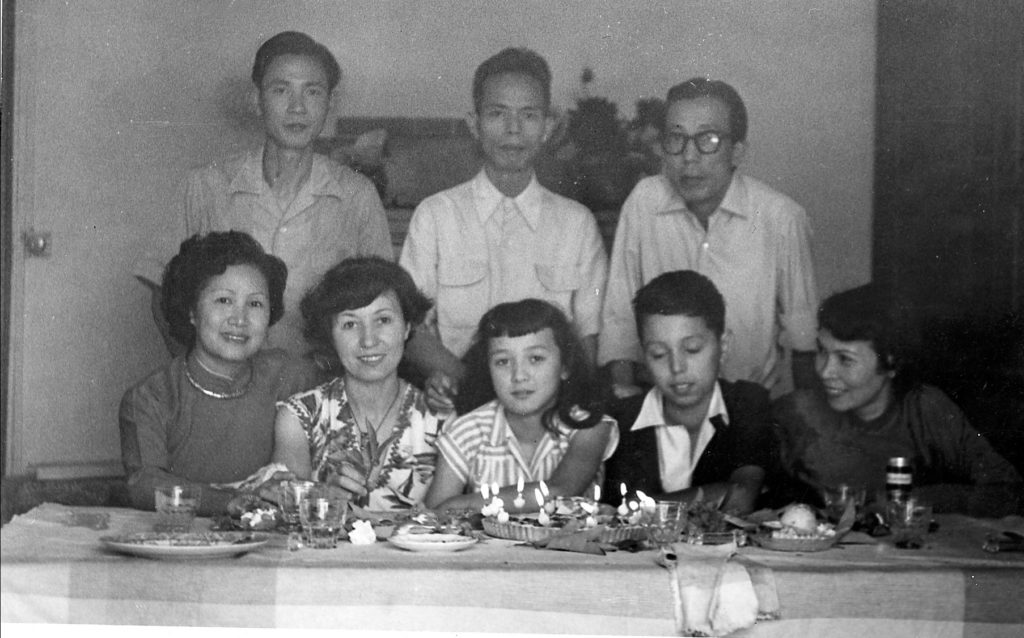 Everything is filled with a highly sophisticated, educated and soft genteel atmosphere, reinforced by the clothing (ao dai and hat) worn by the characters.
Vu Cao Dam captures a mythical Vietnam, celebrated by the great painter fifty three years after he left his native country which he would never see again. A Vietnam of elegance and distinction perceived by a great humanist.
A reminder of Cao Ba Nha (died in 1862), a poet and his verses:
"The nostalgic soul wanders far from the homeland
Thrown around from the crests to the hollows of life."
Jean-Francois Hubert