Nguyen Phan Chanh. « Les cases gagnantes ». 1931
Nothing ever begins, nothing ever ends.
Only the void is absolute.
The truth to understand is that all things are of a same nature

Ngô Chân Luu (933-1011)
The End and the Beginning
Nguyen Phan Chanh (1892-1984) came from the rural village of Trung Tiet, in the region of Ha Tinh some 400 kilometers south of Hanoi. Despite the area being very poor, Phan Chanh was a very gifted scholar, studying Chinese calligraphy with his father.
Later, in order to become a Mandarin, he taught Chinese calligraphy. Fortunately, for us, by the time he was ready to sit the exams they were abolished, and his life took a turn as he became determined to follow his vocation as a painter. In 1925 Phan Chanh became one of the first intake of students in l'Ecole des Beaux-arts d'Indochine in Hanoi; the poverty of the hometown, combined with the learning of Chinese calligraphy, and the cultivation of self-discipline, were all fundamental elements to fertilise his work.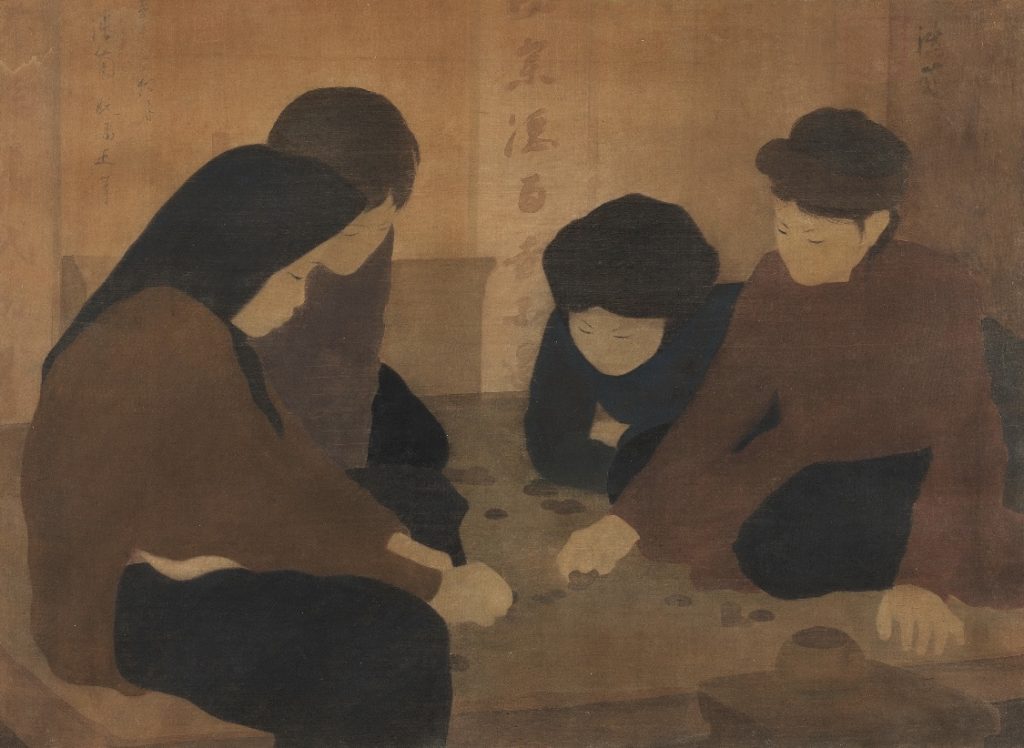 This exceptional work, expresses Phan Chanh's inability to be separated from his roots in traditional Vietnam and his evident love for its inhabitants – whatever (further) teasing he might have had to endure. His style and his choice of medium – silk – perfectly matched his chosen subject matter, which was so dear to his heart. He meticulously and softly portrayed humble people with muted and earthy colours, of greens, browns and blacks and occasional whites and reds, reflecting their simplicity. A serene authenticity gives immense dignity to the innocent folk portrayed, and marked the beginning of a wholly novel branch of Vietnamese art; an art that, in Phan Chanh's hands, was palpably replete with attachment, emotion and beauty.
Executed in 1931, this painting represents the finest skill of a deeply sensitive and talented painter. The subject matter, a popular game, is as basic and as quotidian as can be. The protagonists also remained Phan Chanh's favourites: everyday people going about their day. The intimacy of the group, all concentrating on the game, draws the viewer into this poignant picture. The refinement and elegance of this painting is extraordinary, and employing the use of camaïeu in the browns and greens, creates perfect harmony.
While this painting goes straight to the heart of the viewer, at the same time, the painter did not forget to communicate to us a very meaningful calligraphy:
« If you have high morality then the family keeps the prosperity for generations » inscribed on a vertical panel in the centre of the composition.
Jean-François Hubert