Mai Thu : The Two Ladies. Homeland or Nation?
When Mai Trung Thu painted this sumptuous silk in 1943, he was living in Macon, on the eastern centre of France.
In 1939, he joined the French army voluntarily, and was demobilized in this city after the defeat in the 1940s and would live there until 1944.
During the German occupation, times were tough, there was a shortage everywhere and materials were scarce. Artists only just managed to make a living by painting local personalities.
However, Mai Trung Thu who was already living in France for six years then, chose to come back to his favourite theme: the Vietnamese lady. The painter still saw her as beautiful, elegant, wearing discreet jewellery, dressed in the traditional Vietnamese ao dai.
Here, they are two: one wears a pearl necklace, the other a torc one. The first lady affirms her Vietnamese heritage by wearing the traditional headdress and by carrying a fan. They are also seated on a fine carpet in the middle of a landscape – a reminder of the misty middle region of Tonkin.
One is reading a supple book, rolled, on which we can glimpse the last letter "n" and maybe the top of a "o", the last two letters of "Macon", as the other one seems to remember or dream. One reads, while the other daydreams.
Questions seem to be asked: Is this the present and the past colliding? Is this a representation of the artist's feelings in 1943? Is it a melancholia for his native country or a way to better know the host country?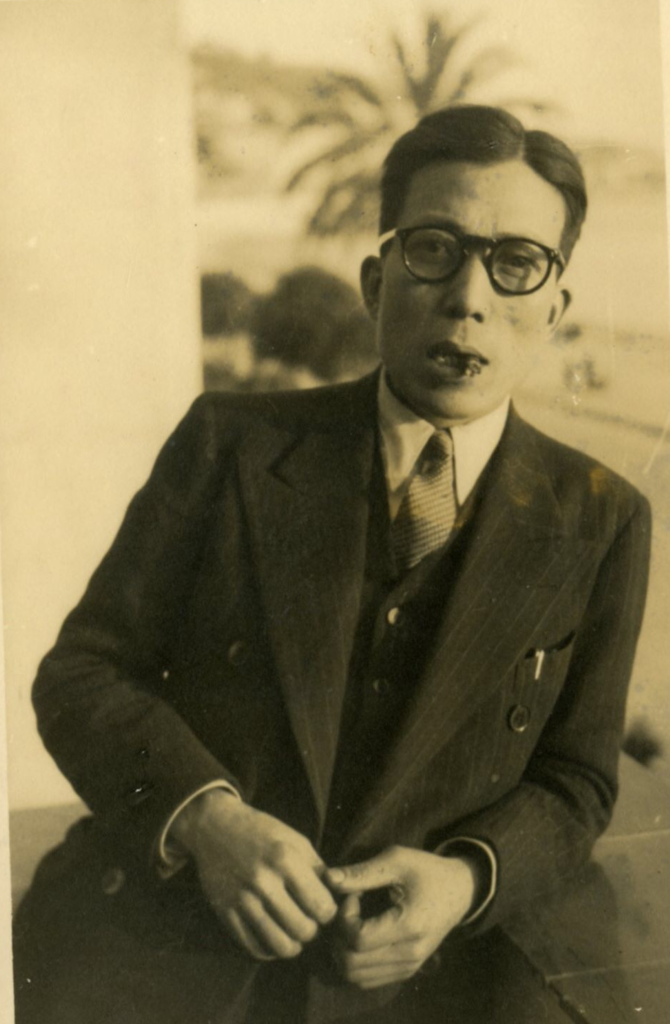 To describe his beautiful "interpreters", Mai Trung Thu uses a great sobriety of tones in the gouache: white, cream, mint green and khaki and tan brown are well harmonized.
Softness and melancholia impregnate this elegant work. Painterly or lovingly? Do you need to paint to love or love to paint? In these moments of questioning, perhaps the artist remembers his love from Hué.
Does he already know and have a sense that his life, forever now, will be in France?
Jean-François Hubert