Mai Thu « Nue » – The Reciprocal Acculturation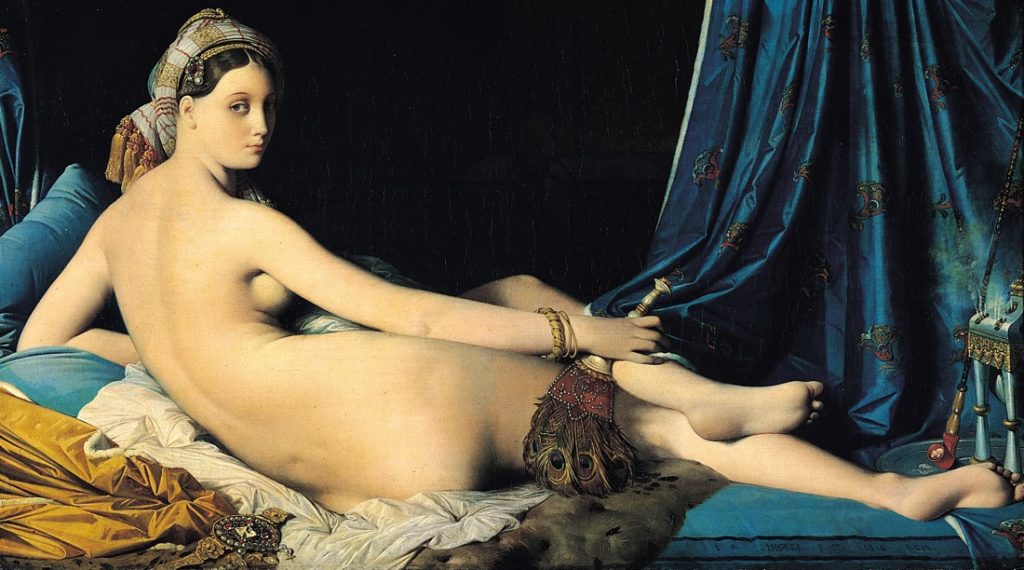 This painting is a 'translation' – a term carefully chosen – by Mai Thu, of Jean-Auguste-Dominique Ingres' (1780-1857) famous painting, executed in 1814 and kept in the Louvre Museum in Paris.
The title chosen by Ingres for his large painting measuring 91 by 162 centimeters, La Grande Odalisque must first be explained. In Turkish "Odaik" means "maid serving the Sultan's Harem".
The Vietnamese version offers a double originality compared to the work created by Ingres.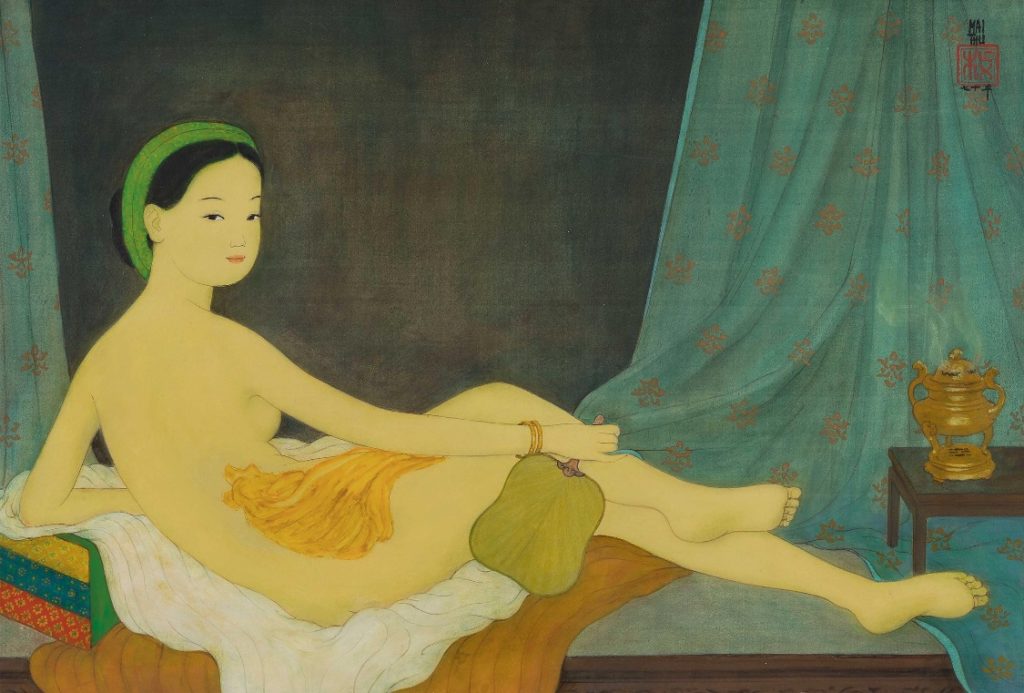 First, Mai Thu modifies the iconography and the technique used for its execution. While simultaneously taking on a new vision on acculturation, a perpetual cultural theme particularly prevalent in the early 20th century.
From an iconographical point of view, the fan, the jewelry, the turban, are 'Vietnamized': the cushion, the bed, the censer, the coffee table, the fan, all these objects are Vietnamese in origin.
We know that Ingres was not afraid to defy the rules of anatomy to create his art. In the Ingres version, the model has an elongated back with three added vertebras. In Mai Thu's version, it is the left leg in particular that is elongated. Also, Mai Thu, more modest, chose to cover the hip of his model with a kind of veil. On the other hand, both chose to privilege line over color. However, the main difference appears in the technique, the choice of medium as gouache on silk laid down on paper, with the gouache directly absorbed by silk and the paper. For oil on canvas, there is an allowance for reworking and transformation, resulting in a strong impact on the outcome.
The iconographical modifications and the differences in techniques allow Mai Thu an adaptive reinterpretation of his version of the Orient.
His dreamlike and idealized Orient, in his "visual Vietnamese language", as well as a non-submissive homage, allows the painter to transcend exoticism: the 'exoticised' becomes the 'exoticiser'.
In 1970, in Paris, Mai Thu has reached universal genius.
Jean-François Hubert