Le Pho – Femme Assise – Farewell to the Chinese Temptation
Femme assise is a majestic and unique work by Le Pho, very different to any of his other creations throughout his life.
In 1934, Le Pho, then a teacher at the Fine-Art School of Hanoi, was able to succeed in everything he did. Since he obtained his diploma in 1930, his talent has been praised and recognized, his influence as a 'right-hand man' to the director Victor Tardieu was substantial, and his collectors were motivated. His trips to France (Paris), but also in Belgium, Germany, Italy-Fiesole, Firenze, Bruges and Koln (1931-1932), further opened his mind and widened his possibilities.
During this trip, he discovered and was impressed by the power found in the European 'Primitives', artists from the 11th to the 16th centuries, and their profound impact, which he considered a revolution in visual arts.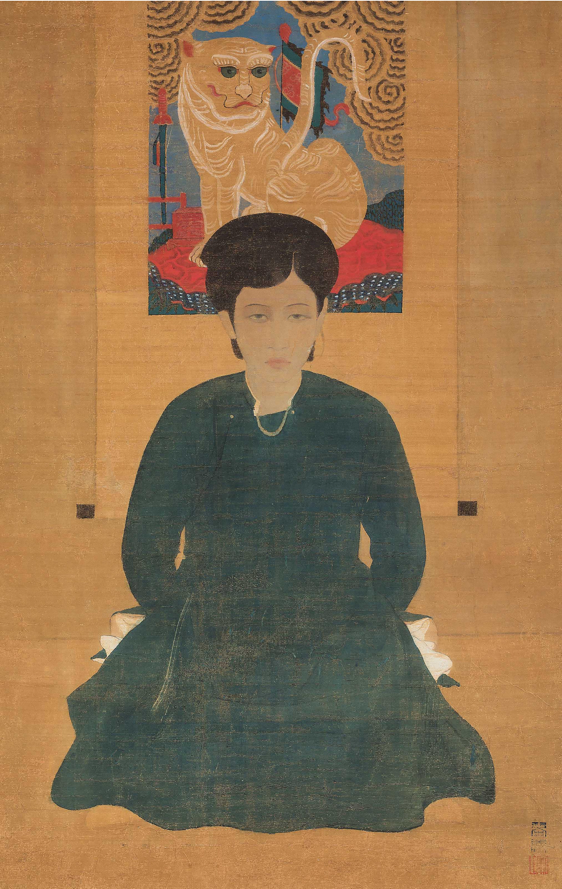 In 1934, the painter went to China, and it is in Beijing that he visits museums (National Museum, Palace Museum) and several private collections.
Le Pho himself confided to me that he painted this particular work at the time of his return from China.
In a way, the painting symbolised a returning to his roots as he pretended to be a descendant (although a bit remote) of the painter Yan Liben (600-673). However, to be honest, I never was sure if he was serious or if he was simply joking. Indeed, Vu Cao Dam confided to me one day 'the friend Pho' has a tendency to claim quasi supra natural origins.
With Femme assise, Le Pho aligned himself with a Chinese pictorial tradition that seems far away from his teaching in Hanoi. A salient line, a hieratic character, the subtlety of the tones in his use of gouache, the signature and the Chinese stamps on the bottom right (the only one signature as he would usually use both, Chinese and Romanised, such as in Young Girl in White (1931-1932), all of this strongly evoking China, even if the camaïeu of browns in the background was characteristic of his 1930-1934 artistic period.
Two clues indicate a certain fidelity to his Vietnamese sensibility: the ao dai and the tiger mural represented. Starting with the ao dai – Le Pho, along with Nguyen Cat Tuong (1912-1946) was one of the creators and exponents of this piece of clothing, a symbol of emancipation and a growing success to this present day. While the image of the Tiger, coloured in a way so characteristic of the large prints of Hang Trong (a street in Hanoî) was made at this time to decorate the main grand salons in the city.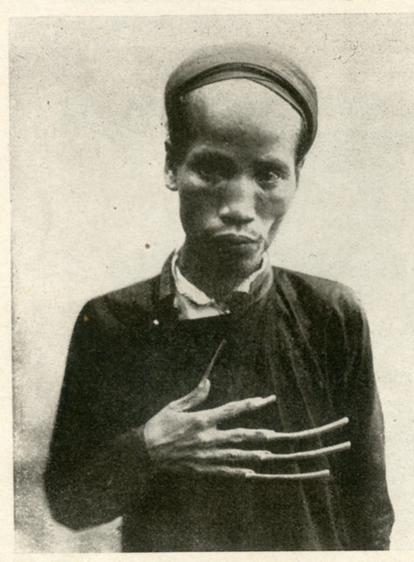 Le Pho would not pursue his 'Chinese temptation' but later on, would lean into the European temptation which the won him over.
Le Pho loved this painting so much that he chose to present this the very same year, to Orsola Guglielm (1888-1968), Auguste Tholance's wife, the Résident Supérieur of Tonkin from 1931 to 1937. After she returned to France in 1937, she would keep this painting in her bedroom in Nice till the day she died.
Three years after this painting, Le Pho will settle definitively in France: the bird once freed never returns to his cage.
Jean-François Hubert