On December 2, 2021, at Christie's in Hong Kong, the "Austerlitz Sun" illuminated Vietnamese painting
Once again the honor of the "white gloves" for the Vietnamese section at Christie's in Hong Kong this December 2nd.
Insiders know that these two terms, an old initiative of our British friends, mean a sale where everything is sold.
Already, the day before, during the big evening sale, a sumptuous Le Pho, "L'Enfant à la Toilette", 1938-40 sold very well at 7.45 million Hong Kong dollars (HKD) or 843,000 euros (€) or 955,000 US dollars (USD).
The next 21 lots in the "Day Sale" were successful: in total the 22 lots of the Vietnamese section (7 Le Pho, 5 Vu Cao Dam, 1 Nguyen Phan Chanh, 1 Luong Xuan Nhi, 1 Hoang Tich Chu, 1 Nguyen Tien Chung, 1 Nguyen Gia Tri, 4 Mai Thu, and 1 Tran Binh Loc) offered to the sagacity of our international collectors totalled 47.5 million (M) HKD (5.4 M€ / 6.1 MUSD) making, once again, Christie's the world champion in the field.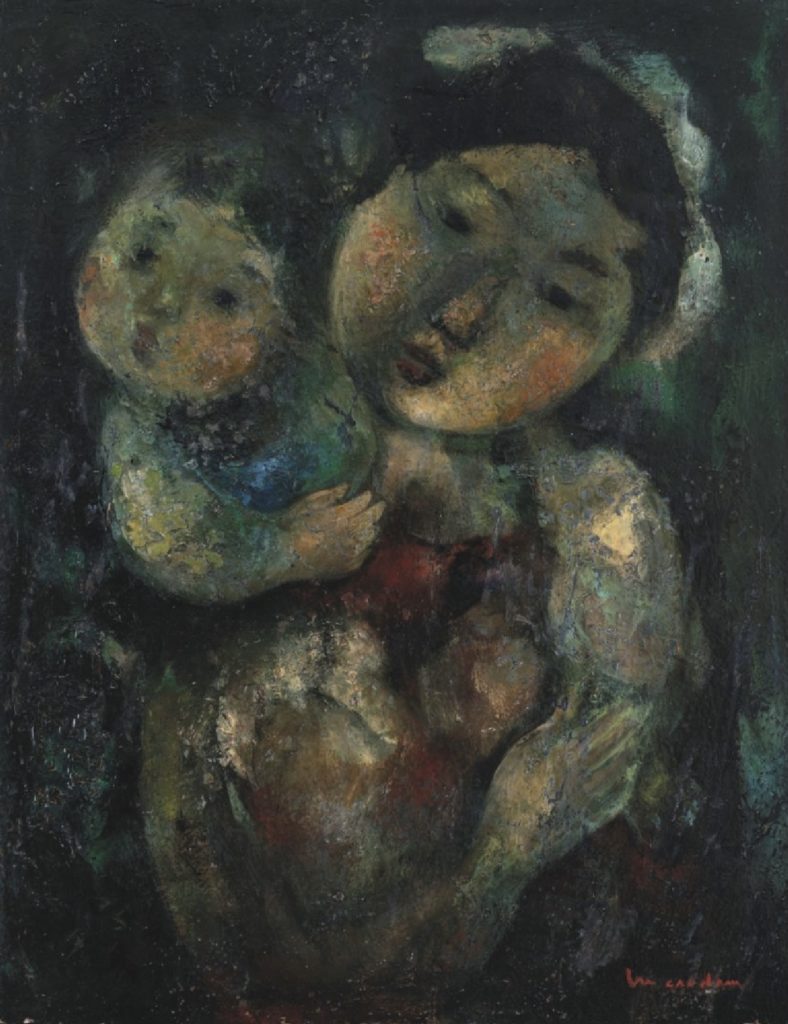 The 5 works by Vu Cao Dam, executed between 1955 and 1969, sold remarkably well above their high estimates (lots 301/302/303/304/321). Most interesting was "Maternité" (lot 302), painted in Vence in 1955: the painter deconstructs his classical models of mother and child, chose a wooden panel and engaged in a quasi-alchemical search for a new pigment. This powerful de-modeling won over a discerning collector at HKD 375,000 (€42,600 / US$48,000) at 2.5 times its low estimate.
Le Pho and his Findlay period with its large-scale canvas paintings in warm colours continued to delight: the 6 works offered shattered their estimates (lots 305/306/307/308/319/329). The very large (195.5 cm) lot 307 ("Dans le Jardin Fleuri"), an oil on canvas circa 1975, set a new world record for the Findlay period at HKD 6.5 million (€738,000/US$833,000).
A Nguyen Phan Chanh, "La Pâtisserie" from 1930-31, a fine example of the master's social asceticism and his perennial ode to simplicity, sold for HKD 4,750,000 (€540,000/$609,000 USD), the 3rd highest auction for the artist.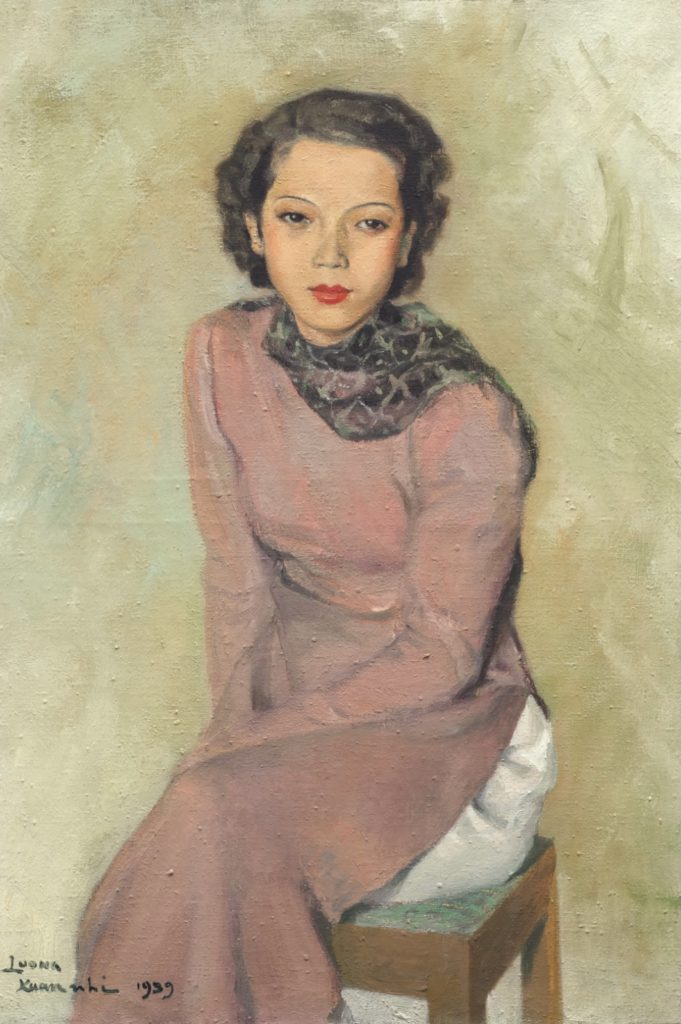 The extremely subtle Luong Xuan Nhi (lot 310), in 1939, a year when the painter was still enjoying his success at the Paris World Fair (1937), expresses – among other things – all the theses of "Tu Luc Van Doan". This woman – with her hair done up "à la garçonne", with a conquering posture, with a graceful but voluntary face, with an ao dai worn proudly and a nomadic scarf – gives evidence of this with grace. The artist has left the background empty, giving the space exclusively to this Hanoian woman and… to her stool, which becomes the pedestal, as the model is calling out for us. Sold for HKD 2,125,000 (€241,000/US$273,000).
The most extraordinary Hoang Tich Chu ever presented in a sale, whose phantasmagoria and sense of detail compete with its ambitious technique, fetched 2.5 million HKD (284,000€/321,000 USD).
Nguyen Tien Chung (lot 312) fetched HKD 1,250,000 (€142,000/USD 160,000).
The two artists – fellow students at the Beaux-Arts and brothers-in-law in life, often working together – obtain here, individually, their world record. We remember the fantastic price they obtained collectively at Christie's, still in Hong Kong, on May 28, 2017, for their lacquer "La Moyenne Région" (4,625,000 HKD, 527,000 €/ 593,000 USD).
After a fine Nguyen Gia Tri (lot 313) went for HKD 275,000 (€31,000/USD 35,000) buyers were seduced by pleasing Mai Thu (lots 314-315-316-317) including "Le Pont" (lot 316) an enchanting 1954 painting and « Au Bord de l'Etang" (lot 317) a suave 1944 work, fetching HKD 3,250,000 (€369,000/USD 417,000) and HKD 3,500,000 (€397,000/USD 449,000) respectively.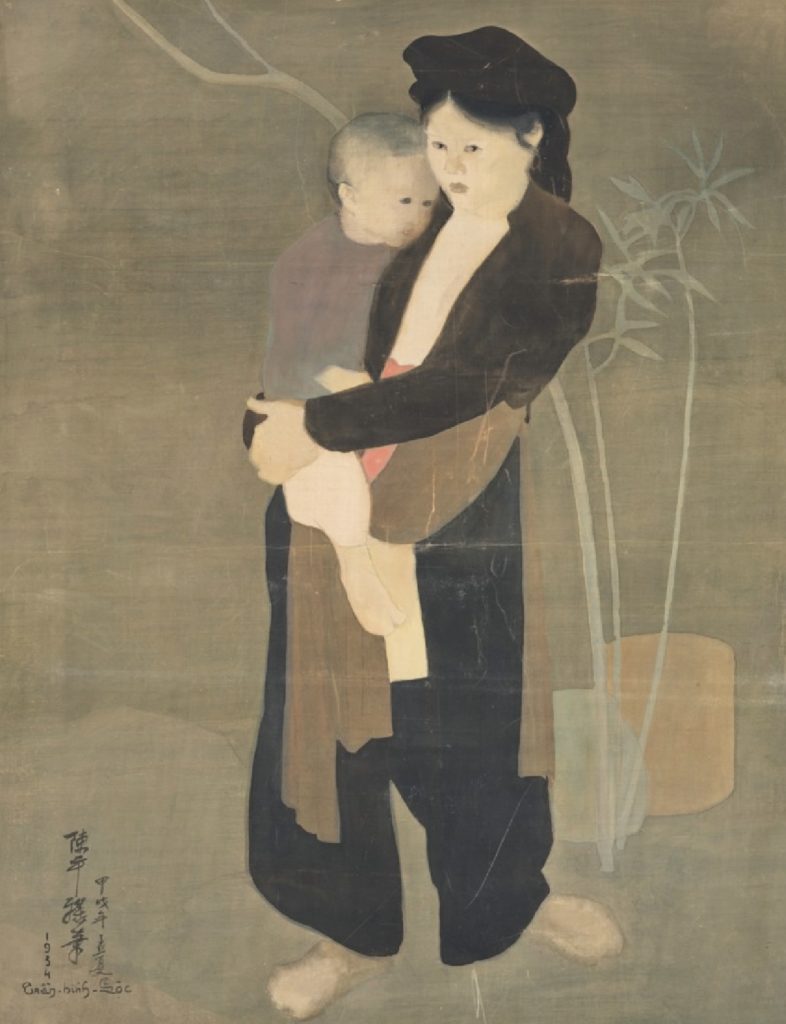 Tran Binh Loc (lot 318) saw its low estimate increase 20-fold to HKD 2,500,000 (€284,000/USD 320,000). True connoisseurs were seduced by this older sister and younger brother painted in 1934 on a diaphanous background. The artist, who died too young at the age of 27, left few works, which are certainly unequal. This one is among his best.
A simple remark and a happy conclusion at the end of this enumeration:
The remark lies in the allusion to the French victory of Austerlitz, December 2, 1805, and the beautiful sunshine that accompanied it. This is not just anecdotal. Indeed Napoleon – a great administrator if ever there was one – had the law of May 10, 1806 promulgated, which provided for a complete reorganisation of the French educational system. The "Beaux-Arts" of Paris, certainly heirs to the Academy of Saint Luc (1391) and the Royal Academy of Painting and Sculpture (1648), were created following a decree of February 24, 1811. The Hanoi School of Fine Arts – created by Victor Tardieu on October 27, 1924 – is itself the transposition in Indochina.
By provoking (what a delight…) one can therefore affirm that without Napoleon I, there would have been no active Victor Tardieu and without Victor Tardieu (this is the historical truth…) no Hanoi School of Fine Arts and therefore… no 20th century Vietnamese painting…
Let us simply specify that the 9 painters mentioned above are all graduates of the Hanoi Fine Arts School.
In 1930: Le Pho, Mai Thu, Nguyen Phan Chanh; 1931: Vu Cao Dam; 1934: Tran Binh Loc; 1936: Nguyen Gia Tri; 1937: Luong Xuan Nhi; 1941: Nguyen Tien Chung and Hoang Tich Chu.
The conclusion is that Vietnamese art currently benefits from high quality, enthusiastic and demanding collectors whose taste is more refined sale after sale. Some of them are building up sumptuous collections.
Vietnamese painting is neither a fashion phenomenon, nor a speculation, and its prices are progressively aligned with its Asian counterparts, even if the quality is equal or superior.
A ray of sunshine in the East: light and serenity…
Jean-François Hubert