Le Quoc Loc, 40's, (Landscape of Tonkin) « Paysage du Tonkin », or the evanescent beauty of the moment
Lê Quốc Lộc opened, in the 1940s a professional workshop at 42, rue Lò Đúc in Hanoi. He then like many artists of the time essentially supplied the "Salle des ventes de la Coopérative des Artistes Indochinois" created in 1938 by Évariste Jonchère, Victor Tardieu's successor at the Hanoi School of Fine Arts. Joseph Inguimberty, assisted by Trần Văn Cẩn, ensured the required level. Lê Quốc Lộc is often cited as a graduate of the 12th class (1938-1943) – lacquer section – of the Hanoi School of Fine Arts which is incorrect but he was obviously immersed in the School's artistic movement.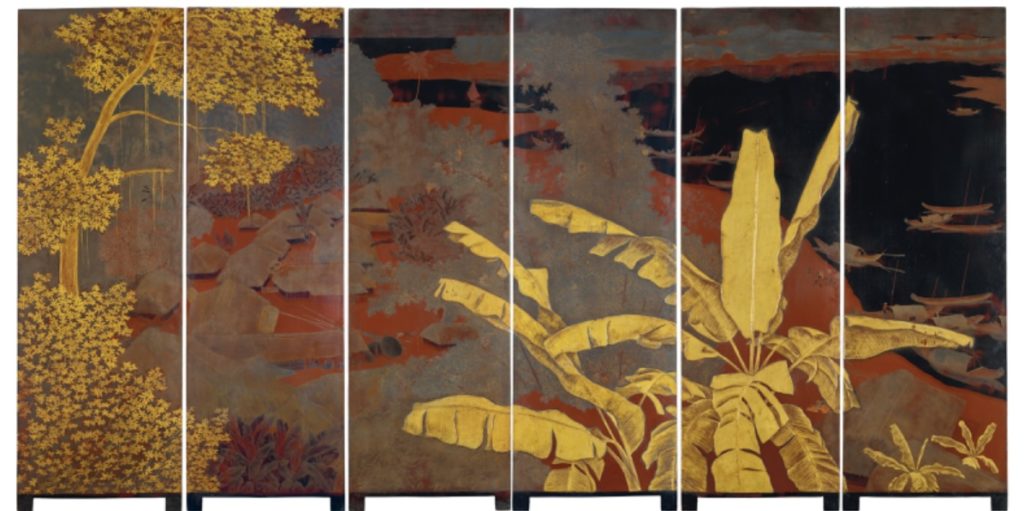 In the foreground of our lacquer are represented, on the left, Barringtonia acutangula, a motif rarely represented in lacquer, whose young fresh leaves delight Vietnamese palaces, and on the right, banana trees – one massive and frontal and two small ones off-center. All in embossed and incised gold lacquer. These two groups of trees enclose the composition.
In the background, the houses of a village, a river with boats, some docked, one with a sail up, and fields hidden by bamboo groves remind us of the power of nature by making the human beings that can be identified on some of the boats or on the riverbank almost incidental. Similarly, in the village, the washing to be dried, alone, translates a human presence.
In the third plane, an evanescence reigns where various mists are mingled.
Throughout the lacquer the colors are deliberately surreal: a profusion of cinnabar red for the earth and black for the water. Lê Quốc Lộc plays perfectly with the mattness and shine of lacquer and is in keeping with Alix Aymé's approach. The former student of Maurice Denis (the founder of the Nabis with Paul Sérusier and Paul Gauguin). Like her, he refuses artistic imitation and is not afraid of color and exaggeration. Creator of his own symbolism, he advocates a convinced animism.
But more than that it is in these 40s that Lê Quốc Lộc's technique is refined and he already revealed himself as one of the best technicians of Vietnamese lacquer.
Let us observe: for the first two shots he takes up the stylistic characteristics of his time, the flat colors and the sharp lines, but in the third shot he innovates with the soft tones of his colors and their use in transparent and graded layers. The artist exacerbates the technique of mixing and superimposing colors until elements of his landscape no longer look like lacquer but almost like watercolor.
Because the world is delicate and elusive, the artist tells us, we must submit to the evanescent beauty of the moment.
Jean-François Hubert