La Toilette (Washing) by Le Pho
In 1925, Vietnam any painting of a nude was the fruit of a clash between two mentalities: on the one hand a national Confucianism in which any such representation is inconceivable and, on the other hand, the imported teaching model of the École des Beaux-Arts de L'Indochine (Hanoi, 1924) in which representations of nudes were indissociable – by the required difficulty of execution (drawing, colouring) – from any genuine apprenticeship in painting.
Very early on, under the aegis of Victor Tardieu, during the first three years of their apprenticeships the students were called upon to practice drawing nudes for several hours a day.
To achieve this, (voluntary) prisoners were released from their humid prisons to "pose". Needless to say, no female models were ever invited then. Furthermore, nudes are rare not only in Vietnamese art in general but also in the case of Le Pho's vast oeuvre.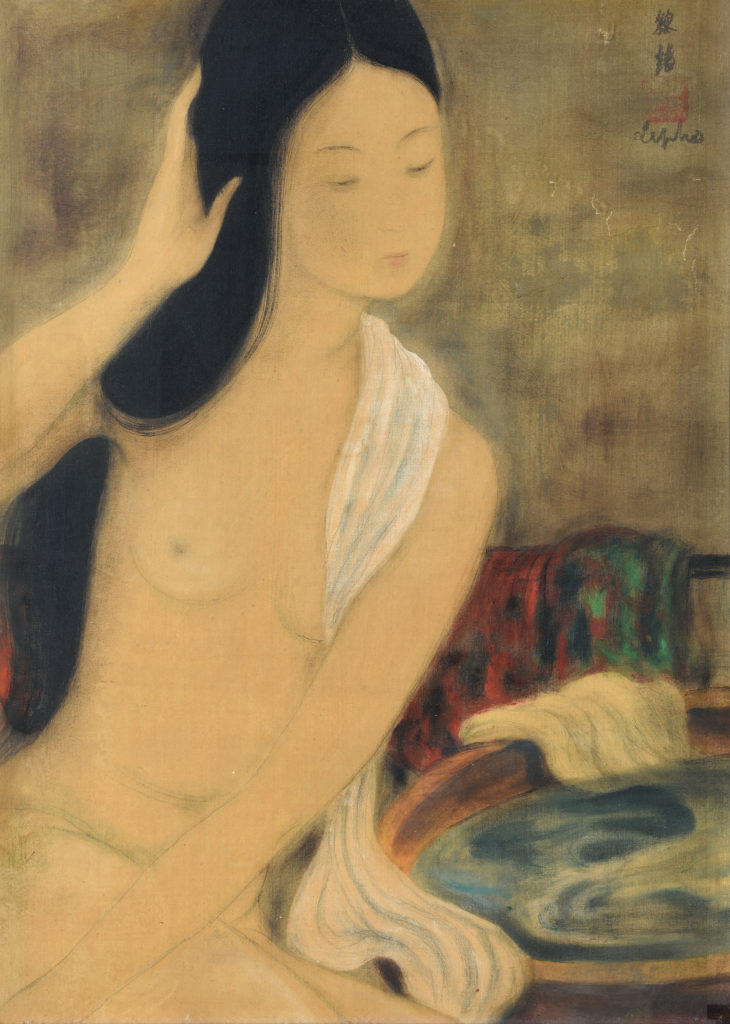 The painter confided to me that one of his motivations to return to France in 1937 was to deepen his knowledge of the two painters whom he always considered to be his real influencers: Matisse and Bonnard. One can well see that in this work that Le Pho "cites" both post- 1907 Matisse by subduing the colours to the composition, and post-1910 Bonnard by painting a naturalist and carnal nude.
Le Pho loved this picture which he had painted during a difficult year. Three years earlier, in 1939, he had volunteered to join the French army to fight the German Nazi army. From his second and definitive arrival in France in 1937 (after his first stay in 1931-31, notably as assistant to Victor Tardieu at the 1931 Exposition Coloniale Internationale in Paris), the artist had observed with anguish the rise of Nazism and the fundamental racism that accompanied German military victories.
Demobilised after the defeat in 1940, the painter exhibited in Nice where he based himself. Other exhibitions followed, but the atmosphere was heavy and the German Occupation was terrible: raids, deportations and hunger were inherent in this accursed time which he shared with his friends Mai Thu, Vu Cao Dam, Le The Luu or Doctor Doan – to whom he offered this painting (see Introduction).
It was in Paris in 1943, on year later, that Le Pho met Matisse in person, and through his knowledge of Matisse's paintings he was able to have a direct discussion with Matisse that led him to lighten his palette.
One can therefore understand the historical importance of this work, a fountain of youth in this heavy atmosphere, a marker in the oeuvre of this artist who loved women (a sentiment that was reciprocated), which brings to us an extraordinary representation of elegant sensuality and radiant grace.
The deep black of the ink-drawn hair in the upper left of the painting contrasts with the soft and deliberately swirling colours of the bathtub and the furniture – forcing us to amply discover the nude's body, with its sweetly drawn bosom and alluringly curved stomach. The nude's bashfully lowered left hand is counterbalanced (upper left) by the nude's right hand which, with a subtly seductive gesture, draws back her hair so that, as if this was necessary, her body could be better exposed.
The white towel or shawl, which accentuates more than it hides, acts to complete, in a Tonkinese allusion, an utterly sensual painting which ranks as one of the artist's masterpieces.
Jean-François Hubert