Le Pho : the emancipated confucian
The representation of a couple remains rare in the work of Le Pho.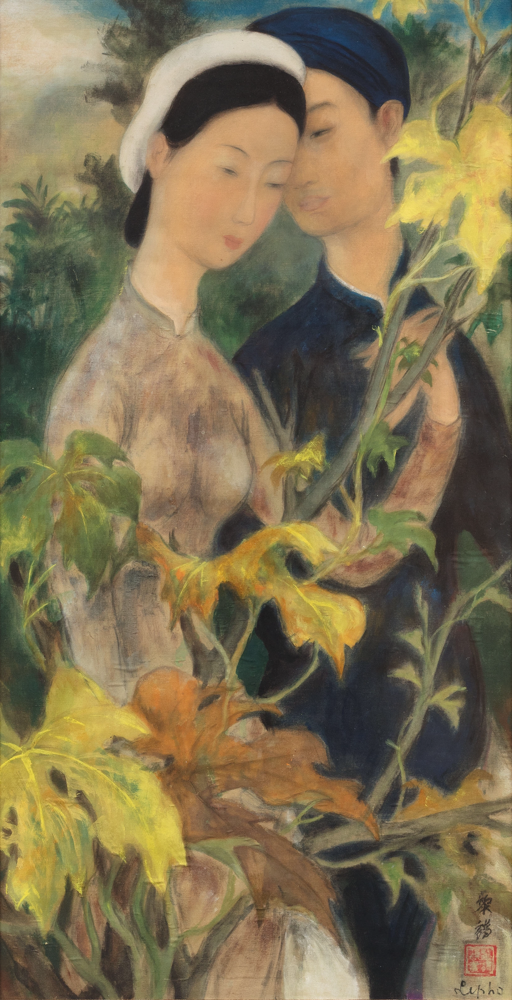 Himself an orphan at a very young age, he was an adulator of women, a nature lover and many of his representations were essentially soft maternities (maternity hospitals), beautiful and elegant women, bunches of flowers (just picked, according to his own testimony).
This very beautiful work on silk depicts two lovers among a scenery of fig tree branches. They positioning and environment are not indifferent: if on one hand the clothes and the hairstyles for both are traditional, on the other the painter refuses to limit this woman in a strict Confucian role even though it used to be Le Pho's mandarinal own environment : submission is no longer appropriate so he places her as the central figure with a soft face face but a firm presence, salient breasts under the ao dai, quick in her movement to enclose the foliage creating an hedge of separation with the observer. One can notice – as if the painter did not want to distract the observer – the absence of flowers and the neutral background. The man, holding back, is more captivated than he is confident, searching for reassurance : he needs the woman more than she needs him.
Le Pho's message is clear: love exceeds authority, the woman is the equal of the man and the individual is more important than society.
More generally for Le Pho the old mandarinal society is dying and the artistic revolution is more important than the political reform. The painter votes with his brush. And when he paints Le Pho already anticipates that he will never return to his native country. A few years later, always in Paris, he will meet Paulette who will offer him 55 years of happiness…
A man of conviction, Le Pho is a reminder of Cao Ba Nha (died in 1862) – who, contrary to him, remained faithful to the confucian principles, suffering the stigma:
Sadness in my heart, dear fatherland, dear family

The site remains the same but the men are no longer

Cao Ba Nha, excerpt from Tu Tiny Khuc
Jean-François Hubert