Pham Hau, or The Elegant Triumph Of Fervor And Humility
Acquired by Maurice Colin (1906-1994) residing in Vietnam during the colonial period, this set of works, brought back to France in the 1950s, has been preserved by the same family until today.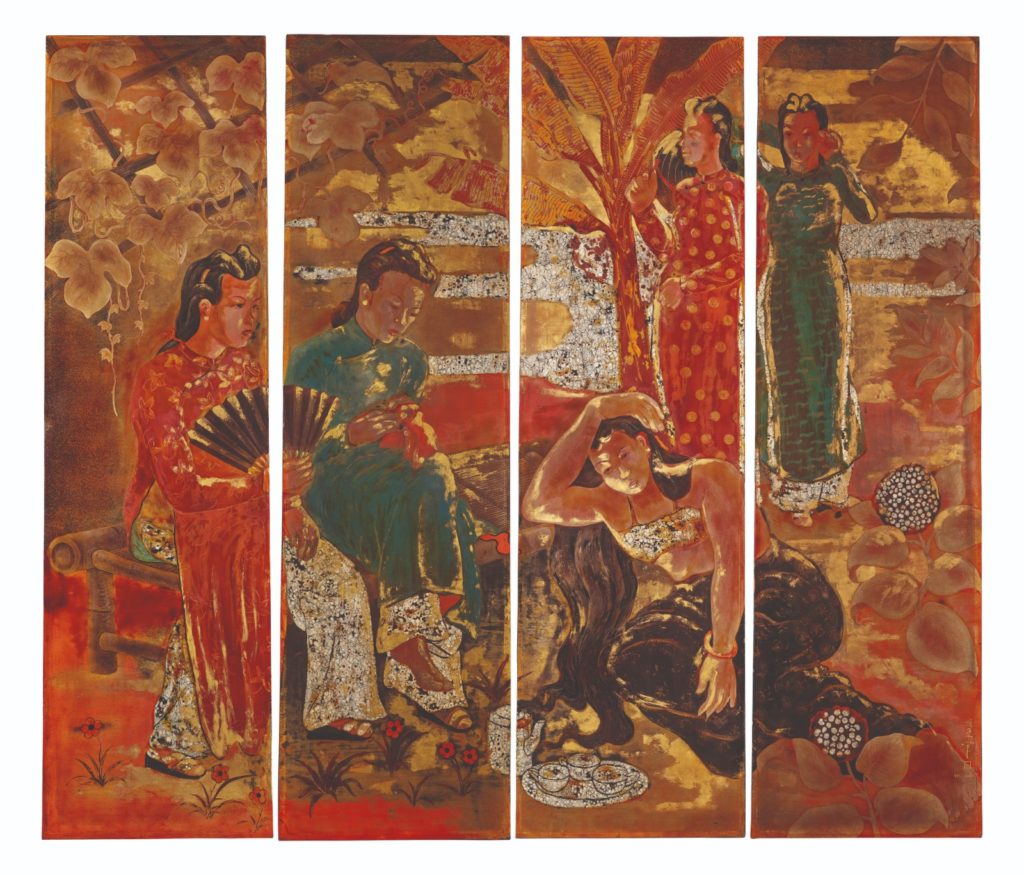 Historically, artistically, technically, it illustrates Pham Hau's essential contribution to Vietnamese art of lacquer.
Historically, it bears witness to the journey of a singular painter
Pham Hau (1903-1994) lived a singular life that marked his artistic project. He was born in 1903 in Dong Ngac, a beautiful village near Hanoi. Orphaned from both parents at a very young age, he entered the Hai Phong Vocational School (founded in 1913) in 1920, where he became familiar with various processes (foundry, turning, milling, etc.) which gave him a technical rigor that he would never abandon. He then worked at the Hanoi railway station as a reception clerk and then as a train driver…
During this time, the artistic Hanoi was in turmoil: the Indochina School of Fine Arts was created on October 27, 1924, and the first admission competition was organized in 1925 throughout Indochina. Advised and trained by Nam Son, Pham Hau was accepted in 1929 in the 5th promotion with, notably, Tran Binh Loc and Nguyen Do Cung. His fierce will and his certain gift – which defines a vocation… – will be stimulated by the swarm of talents that he will rub shoulders with: those who had entered the School for four years, from Le Pho to Vu Cao Dam, passing by Nguyen Phan Chanh and To Ngoc Van among others… and extraordinary teachers (Tardieu himself, Inguimberty, Goloubew…).
Moreover, in this year 1929, Victor Tardieu has received approval for the participation of "his" school in the Colonial Exhibition planned in Paris for 1931 and, just admitted (in October), Pham Hau is immediately entrusted with the study of "wrought iron grills and consoles" (with Vu Tien Chuc, Luu Dinh Khai, Tran Binh Loc and Tran Quang Tran) realized later by the craftsman Nguyen Van Nhung.
After graduating in 1934, he returned to his native village where he opened a workshop and hired help. Success was immediate. The awards obtained at the SADEAI in 1935 (Gold Medal) and 1936 (first mention) established him for good. Orders poured in and collectors were won over. Pham Hau sells and shines. He exhibited with Nguyen Gia Tri in Hanoi in 1944 and was decorated by Emperor Bao Dai. After a short interlude in Phu To, in 1947, he settled in Hanoi. In 1949, with Tran Van Du and Tran Quang Trang, he founded the National School of Crafts.
Sharing knowledge, his credo.
Artistically, it certifies a rare pictorial talent
All his life – dedicated to honoring his native Tonkin – the artist has represented mainly landscapes, pagodas, animals (deer, birds, horses, fish …). Less characters, which are usually inserted in these same landscapes as in "Les enfants bouviers" (Christie's Hong Kong, 25 May 2019 n* 53) or in our box, "Scène villageoise".
This shows the rarity of "The Five Young Girls" (dim: 120 x 146,8 cm)probably the most beautiful lacquer (unique, subject to inventory) made by the artist, in any case the most significant but also one of the cornerstones of Vietnamese art. These young girls display a strength and determination that the artist transmits to us through an abundance of gold, an omnipresent eggshell, like a fusion of mores and customs in this year 1937. The expressive faces, the magnified ao dai, the assumed postures, fill the atmosphere of a conquering freedom.
"The Thay Pagoda " (46 X 62,7 cm) which the artist will enjoy painting several times in his work, is seen here from an unusual angle, from above rather than from the front. Pham Hau offers it to us embedded in the vegetation, framed by the "sugar loaves". He preserves its haven of wisdom, honored by a soft ochre.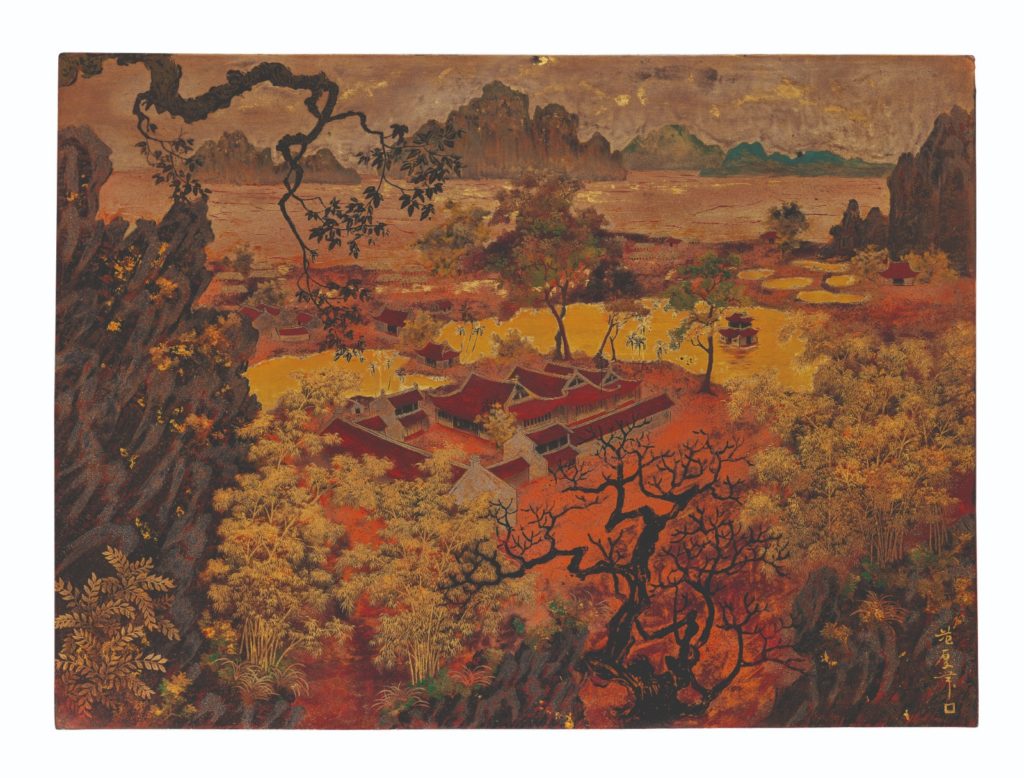 The "Hoa Binh scenery" (100 X 200,7 cm) where vigilant boatmen, water and mountains question each other from a distance – is magnificently served by a powerful composition and a subtle aggregation of colors.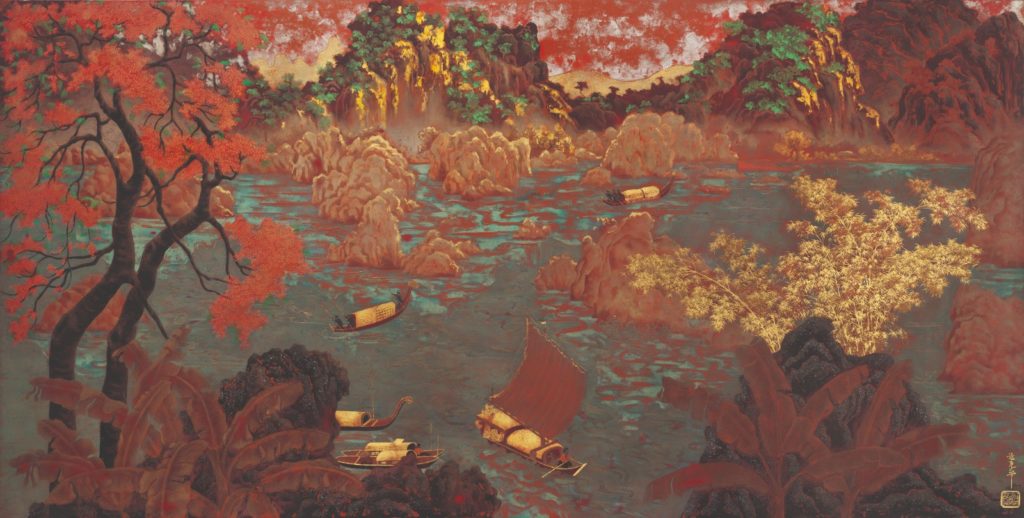 "The Village by the Water" (76,5X120,5cm) saturated in cinnabar red and gold, asymmetrical in its composition, beautifully conveys the proud austerity of Tonkin.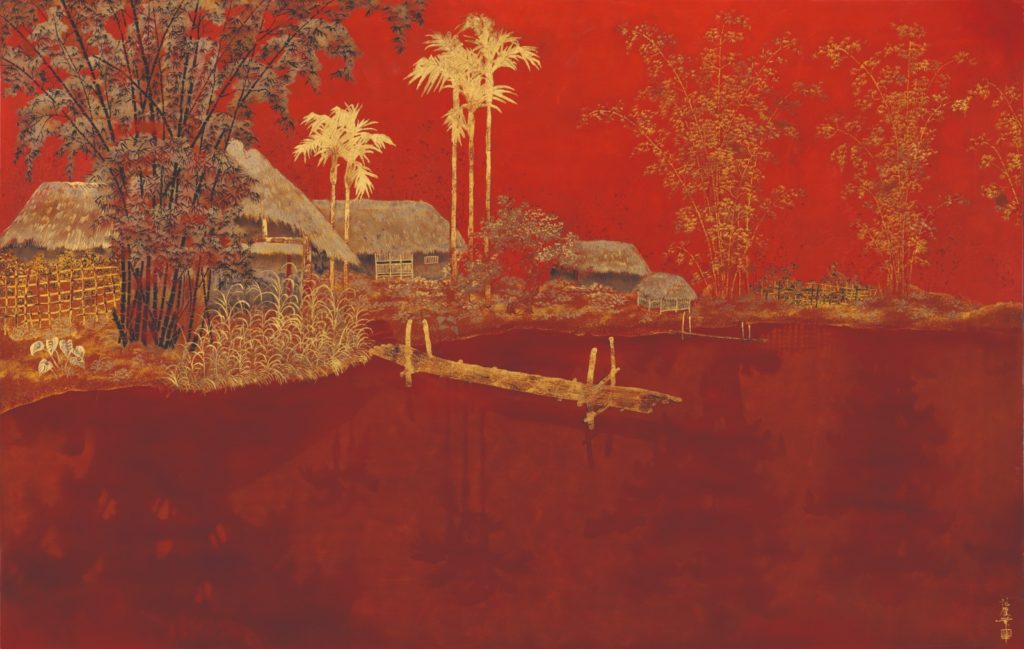 "Village Scene", (8X23X46cm) this large exquisite box, also shows that beyond the immortal landscapes there live some modest characters attached to the material necessities.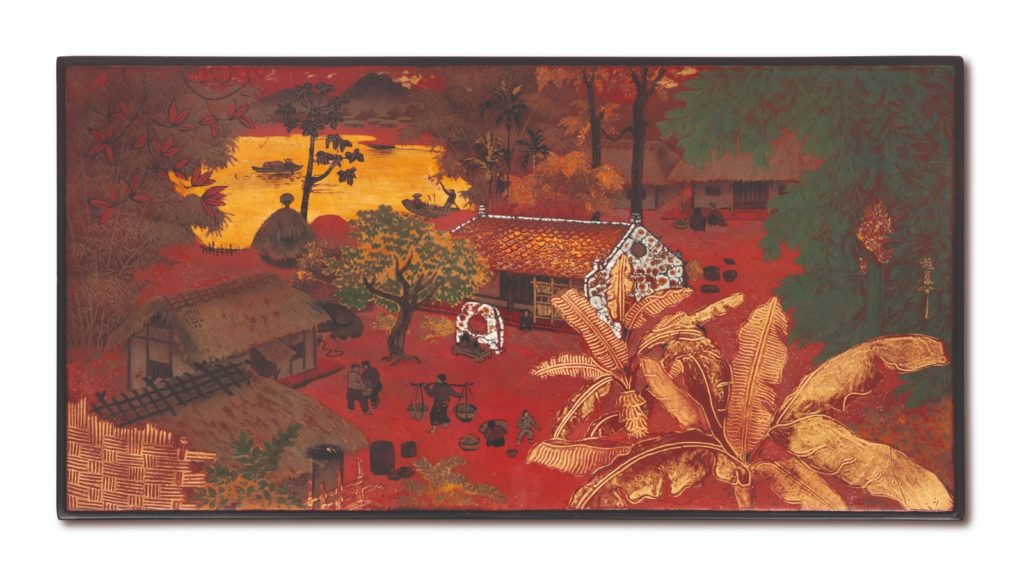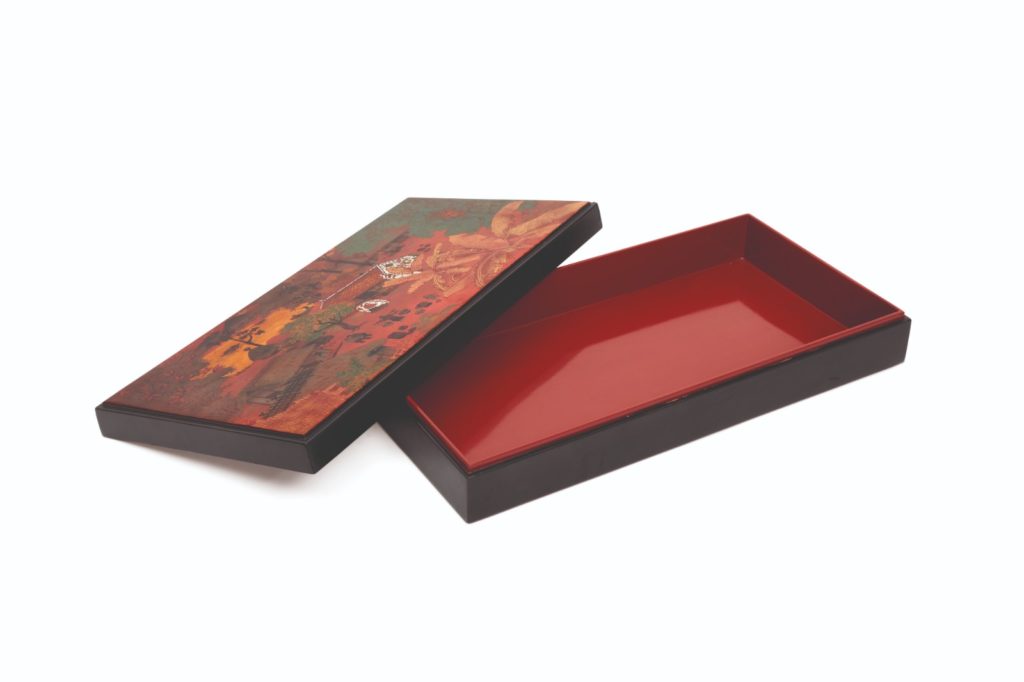 Pham Hau's work is not emphatic, but a humble celebration of the stunning beauty of reality.
The painter was pleased, probably driven by the abundance of commissions received, to remake his works. Hence, a certain disparity in quality, sometimes, and a certain difficulty in dating them.
Those presented here all show an excellent execution. One must see the respect between these French collectors, faithful buyers and their favorite Vietnamese artist… A mutual respect that guarantees a beneficial exchange.
Technically, it testifies to the quality of the work of a great master
This screen, these three panels, this box, concretize the high demands of an artist at his peak: an ambitious drawing, an art of composition, served by the delicate choice of colors: vermilion red, auburn, gold, amber and ochre. Pham Hau was, like Nguyen Gia Tri, not only a great actor but also a great theorist of lacquer. He also left strong writings, always with an educational vocation, advocating the respect of technical standards essential to the expression of talent. Everything is important. Not only the choice of pigments or eggshell, but also the choice of the type of wood, the thickness of the panels, the mixture of sawdust, clay powder and raw lacquer which he then applied to the polished wood. It would take lines and lines to evoke all the work of collection, treatment and preparation that lacquer postulates.
A humble work, invisible to the layman. A craftsman's work at the service of the artist. These are the qualities that explain why the edges and backs of all the works, the inside of the box and its lid are admirably covered with careful and… expensive pigments.
Simply and always, humility and fervor.
Jean-François Hubert