Mai Thu, 1977: Conversation or the fundamental charm of distance
1977: two years earlier, the Vietnam War ends with what some will call the "fall", and others the "liberation" of Saigon – which will become "Ho Chi Minh City"… Mai Thu forever condemned this war, systematically taking sides with the victims, never with the protagonists.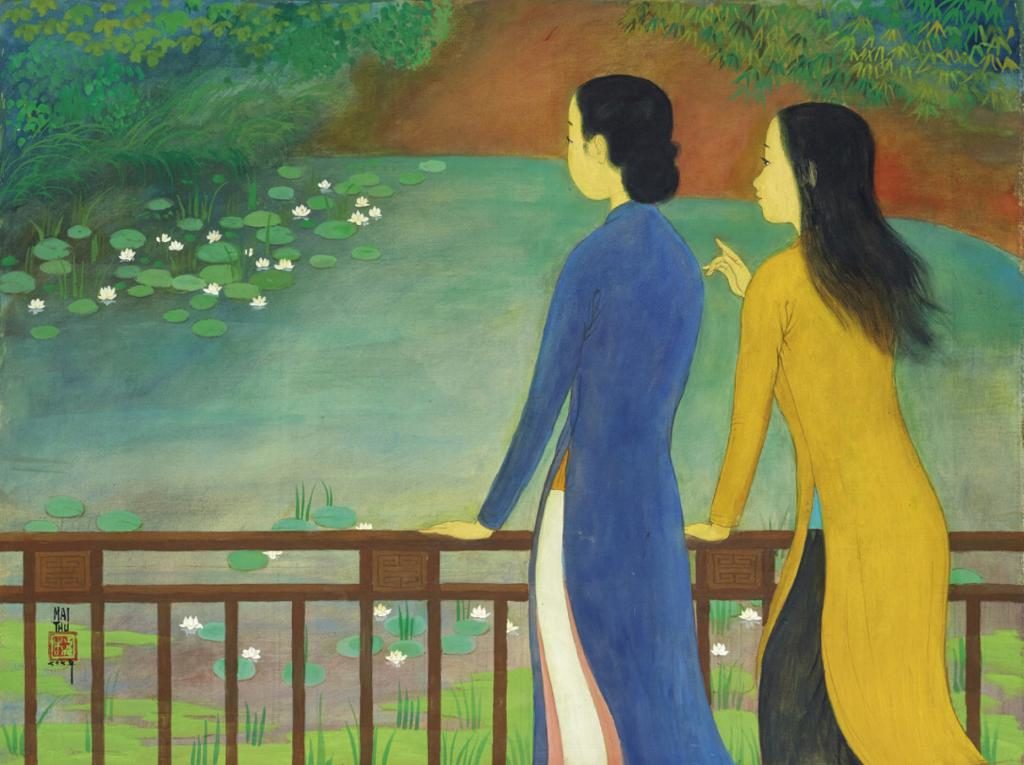 Here, he lets us in a conversation between two women. The place is so evocative of Hue, the Tu Duc's tomb's atmosphere with its railing, its pond, that it just cannot be a coincidence. Hue is a city so dear to Mai Thu…
The austere Tonkinese bun for one, the untied Western hair for the other, both wearing an ao dai.
It is a conservative stand, a throwback to an old style as the triangle of naked skin usually exposed at the level of the hips is here covered for both by an undergarment: orange for the one in royal blue, light blue for the one in ochre.
One, hieratic in front of the railing on which she probably places her hands, consents to listen to the other, swaying. The latter appears to evoke the white lotuses on the pond. She might be explaining how more difficult it is to cultivate them compared to the pink lotuses, the reason why they are so prized at the Festival of Buddha, the 7th day of the 4th lunar month. No matter, one can feel her willingness to engage in a dialogue.
They ignore the artist. La Jeune Femme de Hué, 40 years earlier, was facing him… close and attentive. However, Mai Thu grasps their grace and eternity.
He wants us to understand that they represent North Vietnam and South Vietnam, and that this hand, aiming to charm more than to designate, symbolizes the South worried and questioning its future. Mai Thu shares this growing concern but wants to convince himself that the North will keep the traditional common values. This is why our Northerner is in traditional dress, far from the reality of the moment…
In this magnificent work, Mai Thu also takes a step back to review his life far from his homeland – which he only returned to once in 1962 – since his departure for France in 1937.
He uses warm tones as if to cajole a memory, magnified on a large silk. He surrounds it with a frame he has built himself with delicacy, like a close-up of the filmmaker that he also is. He could have accompanied the scene with an air of Đàn độc Huyền, which he played perfectly, smelling the delicate scent of the pines present in Tu Duc's tomb site…
He is 71 years old and has 3 years to live.
Jean-François Hubert