Mai Thu, 1946, La Femme au châle rouge (The Woman With The Red Shawl) or the eyes and the heart
In 1946, Mai Thu has been living for the past two years in Vanves, a commune bordering Paris, in an apartment close where Vu Cao Dam and his family were living. With peace restored, the time was more optimistic even if the privations of the war persisted. The artist exhibited a lot, with success, during the war and his fame grew.
That same year, Ho Chi Minh went to Paris as part of the "Fontainebleau agreements". Mai Thu, Le Pho and Vu Cao Dam met him there. A fresh wind seemed to blow from Vietnam. The man fascinated the entire Vietnamese community, which was lulled into a sweet euphoria where passionate nationalism took precedence over political analysis… less than 5 years later, an expeditious land reform was launched in North Vietnam…
Time seems suspended.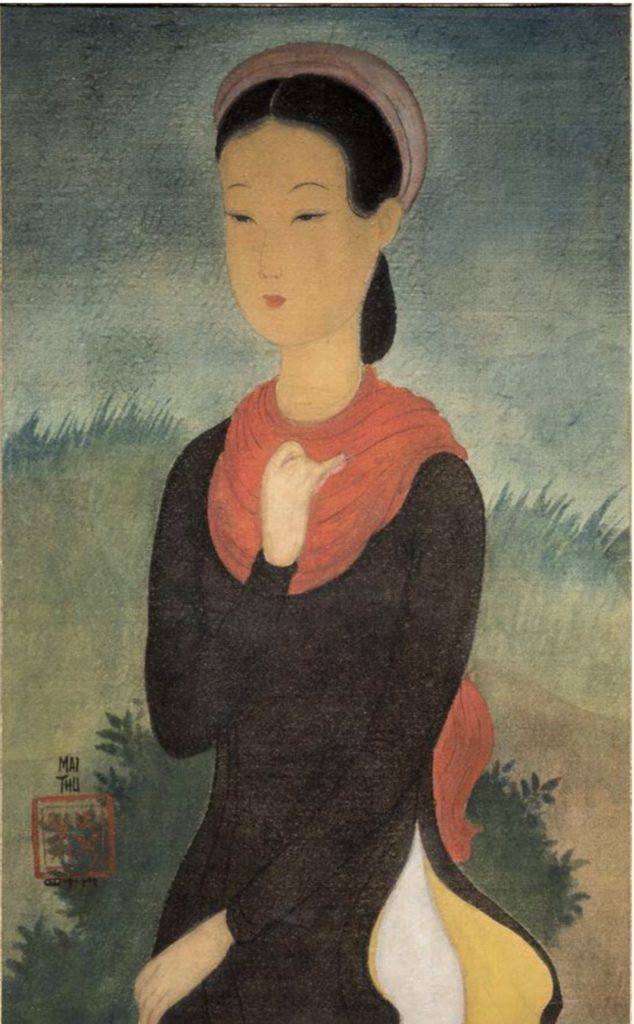 Our painting is part of this intermittence of meaning that makes great works. It is a pivotal work in the creation of the painter.
The distinguished young woman elegantly wears the silk ao dai of the 30s, the black tunic and white pants expressing a particular classical chic. Her red shawl, to which no political significance should be attached, brings a note of fantasy. It reappears in her back bringing a double chromatic punctuation to the painting.
It is a modern woman freed from the social and aesthetic constraints of Confucianism that Mai Thu paints for us: her face has make up, her eyebrows are plucked and her lipstick supports the modern ao dai: all signs of contestation of the Confucianism that still dominated Vietnam when Mai Thu left it in 1937. A little haughty, she poses for us, slightly at an angle, without looking at us. With her hands, one grasps the shawl, the other wanders. Attachment and wandering symbolized by the painter, like a contradictory posture.
Here, no interior scene where the house and furnishings identify the Vietnamese character. No typical landscape where bamboo, lotus, or mountains of the "Middle Region" geographically situate the place. A landscape of bushes and tall grasses, a bit phantasmagorical, more neutral, normally attributed to Asia or to Europe, to Vietnam or to France constitutes the background of the work.
The message is clear: universal is the place, Vietnamese remains the individual. While his two companions will take the step of integration, Le Pho, drastically, Vu Cao Dam with restraint, Mai Thu will remain an exile from within.
Using black ink massively, the main identity attribute of Vietnamese artists of the 1930s, Mai Thu places freedom in the person more than in the location. To be enriched by a place without being take by it. This is what he did in Vietnam until 1937, this is what he did in France until his death in 1980, in France where he rests.
Out of sight or out of mind?
Jean-François Hubert