Vu Cao Dam – Head of a Young Woman, 1946 or the enbodiment against attenuation
This sumptuous head, of rare elegance, (high: 26 cm with the stand) is modelled – not moulded. A unique piece that preserves in its recess the imprints of the artist who patiently created it.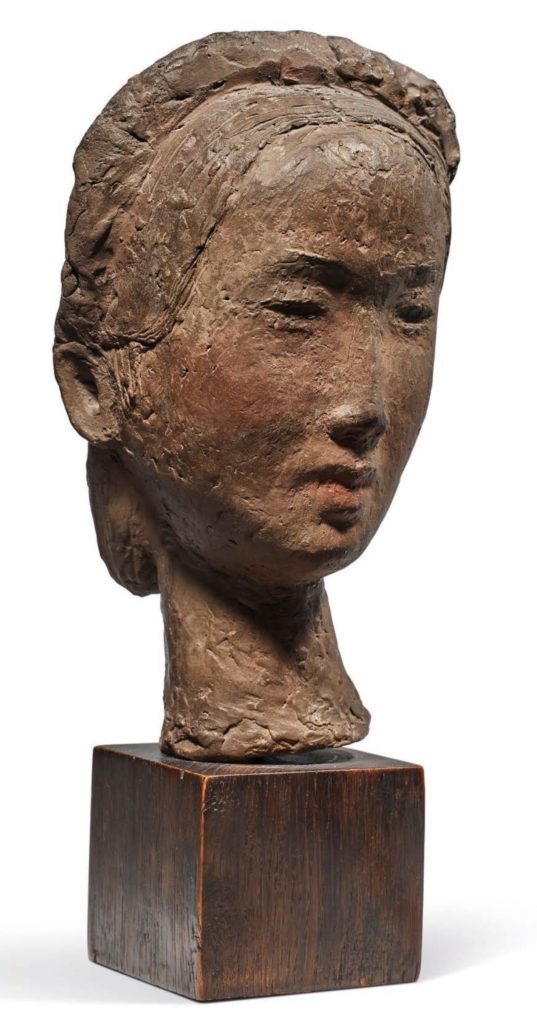 It is provided with its original cubic base in wood, made by the artist himself. A rough, original screw, which alone testifies to the post-war scarcity in France, joins the base and the head.
Vu Cao Dam, the Hanoian, lived in Paris for 15 years before moving to Vanves, a neighboring town, where this head was sculpted. The painter, his wife Renée and their children Yannick and Michel were reunited there after the privations of the war, and the artist, more serene, devoted the beautiful light of the apartment to his art.
His son, Michel, in a private communication (19-20/10/2022) kindly gave us his comment:
"This head seems to me to be more "embodied", fuller than the very idealized ones of the 1930s or even the early 1940s."
In fact, Vu Cao Dam, taking advantage of the greater plasticity of the clay and choosing to stick less to the masses, moves away from his earlier style, as shown by this head executed in 1930 and exhibited at the Colonial Exhibition in Paris in 1931: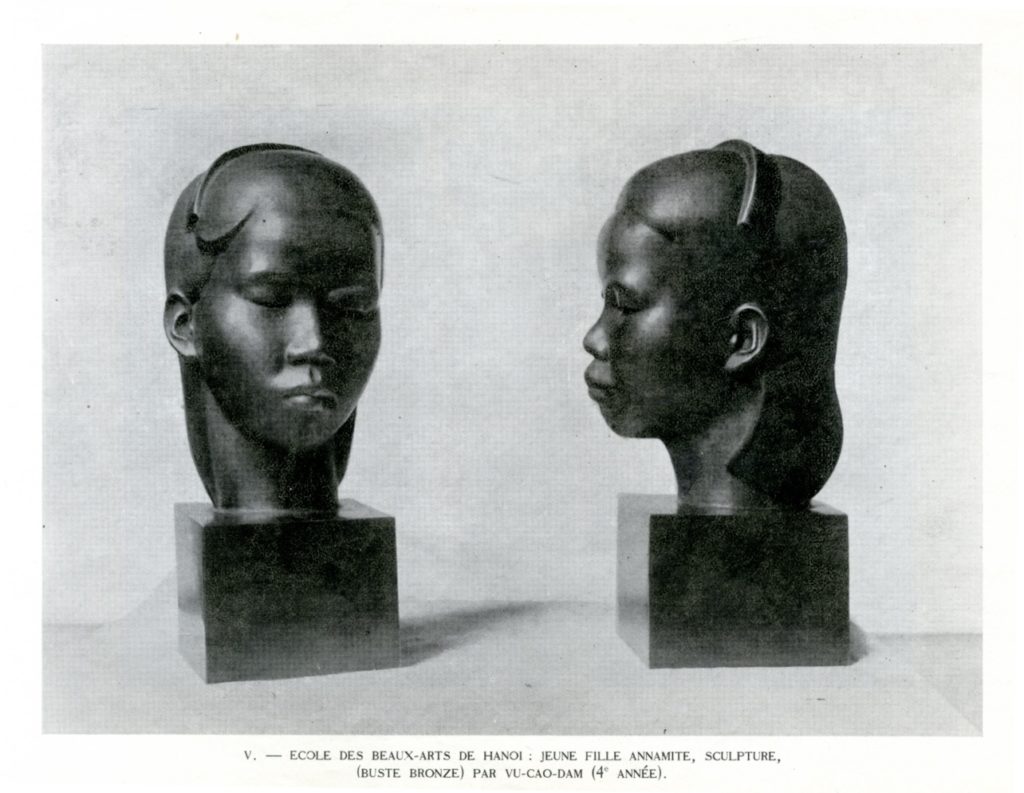 Our head, with a much clearer incarnation, shows a different style.
Soliciting the material as a support for the memory.
Incarnate, to reduce the oblivion that gradually sets in and to revive the memory of a face that is fading.
Vu Cao Dam operates by modelling but also by incisions and striations to achieve the softness of these eyes no longer closed, this subtle smile, all in charm, these fine noses, half-open mouth and long neck. Vu Cao Dam builds this seductive woman with his bare hands sometimes with the help of wooden spatulas, some of which have a wire end.
"He sometimes used his saliva to make the little clay balls adhere, adding them while explaining to me that I had to be careful not to let any air bubbles get into the clay," Michel Vu explains. An unusual dabbling certainly but which translates the passion of the artist…
After his departure for Béziers in 1949 and then to Vence in 1952, before settling permanently in Saint-Paul de Vence in 1959, Vu Cao Dam returned to sculpture. He will among others execute, in 1956, "Two young girls", in bronze, in an edition of 6 copies, in a still different style (Christie's Hong Kong , 24 Nov 2019 Lot 139).
My father often said to his visitors to "Saint-Paul", Michel Vu recalls, "I will return to the earth", which made his interlocutors smile.
But this sublime head makes us better understand his desire.
Jean-François Hubert