« Nu Debout » (Standing Nude), c 1937 or the joyfull farewell to the past
Nudes were rarely painted in the history of Vietnamese Modern Art.
The Confucian culture and social mores of the 1930s and 1940s deemed nude representations inconceivable except within the walls of the École des Beaux-Arts, where the models were mostly male prisoners.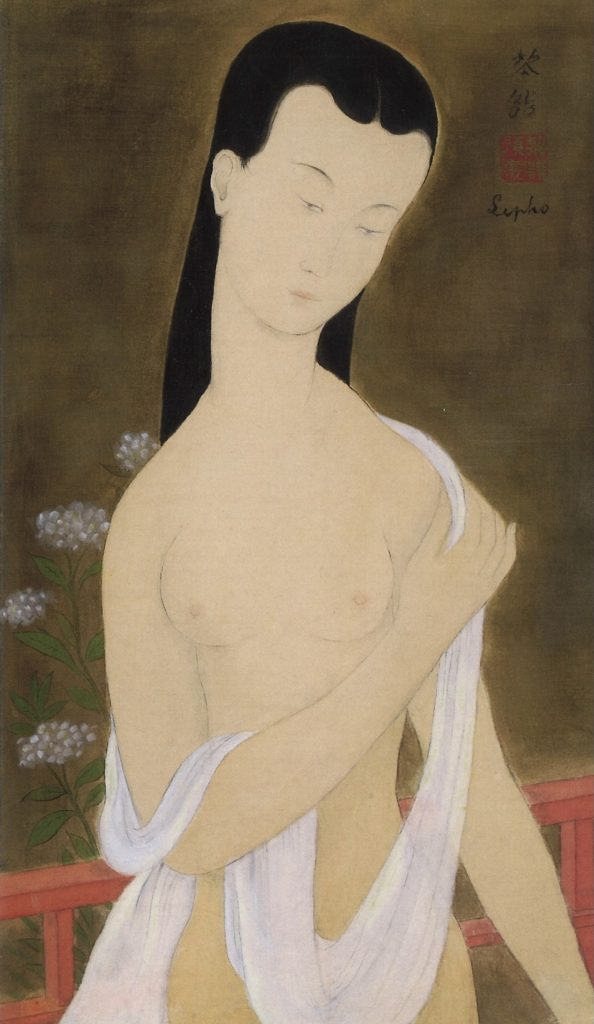 Unveiling a portrait of a female nude, therefore, would have been considered nothing less than radical.
Le Pho truly proved his modern spirit and audaciousness in 1931, one year after his graduation, when he completed an oil on canvas painting of a caucasian woman lying down on her back, completely bare with only her hands covering her breasts. The painting was Le Pho's earliest known depiction of a nude and was a groundbreaking feat in its time.
The present one « Nu debout » (Standing Nude), was executed circa 1937 the same year Le Pho moved and settled in France, and was likely to be an expression of his impending – or perhaps newfound – artistic freedom. Unlike his previous painting of the subject matter, however, the lady depicted in « Nu debout » is Vietnamese. She is standing against a railing with only a flimsy white chiffon scarf to partially conceal her while her raven-black hair is loosely flowing – a characteristic that Le Pho rarely repeats in his other works. This work is perhaps different in that it is the only painting in which Le Pho boldly painted his subject's entirely bare breasts. His other nude works, a depiction of a partially nude Asian young woman in a later silk painting, entitled « La Toilette » dating from 1942, and a chalk drawing of a European lady from 1932, were comparatively chaste.
This very beautiful young woman is not observed naked by the painter. On the contrary, she displays her nudity, mistress of her body, of her nudity. She is no longer submissive, even freed. She is a conqueror. As if her freshness were all right for her, she hides the heath white flowers – typical hanoian flowers – that grow behind the wooden railing. These bloom in the late fall in Hanoi, mostly in early November.
We know how attentive to symbols Asian art is, and Le Pho's painting is full of them. This choice of flowers, imported from Italy by the French, which have become Hanoian… testifies on the one hand to the fundamental influence of Italian Renaissance painting in Le Pho' body of work and the – always reciprocal – acculturation which nourishes the progress of humanity.
Note that, with her right hand, in a gesture of great sensuality, the young lady is preparing to push back her scarf, to offer us her nudity. From now on, only her hesitation or even her refusal, very unlikely, could delight us with this vision.
Almost colorless background of the work enhances the young woman's soft complexion. This type of background could lead, considering the large seal in the center of which is inscribed, in Chinese, « Le Pho has executed this painting », to an earlier dating of the work but the features of the young woman's face and the shape of her head lead us to keep our dating around the year 1937.
« Nu debout » truly celebrates Le Pho's will and virtuosity in breaking away from his Confucian past, which in his opinion contributed nothing to Vietnamese art. In the same spirit as the great Neoclassical artist Ingres « La Grande Odalisque » a work that created a furore among critics in 1814, the present small (32 by 19 cm gouache and ink on silk) is historical for its bold subject matter and composition. It is interesting to note that Mai Thu will paint, much later, her version of the beautiful odalisque that we have analyzed elsewhere.
By opposing – thanks to his learning at the « École des Beaux-Arts d'Hanoi » the conservative local academic styles – of his generation, Le Pho proved once again that he was ahead of his time.
It was the ideal beginning to his spectacular new life and career in Paris, where the promise of hope and freedom prevails.
Jean-François Hubert