Le Pho, c.1938, « La Femme Au Panier » Or the post card and the visiting card
In 1938, having been in France for a year, Le Pho shares what is for him the essence of Vietnam using just a few strokes and shades of gouache enhanced by ink. 
With a determined step and a serious face, the beautiful young woman walks swiftly to join her family for the celebration of the New Year. No joy is expressed on her beautiful face as any effusion would appear vulgar in the Confucian doctrine.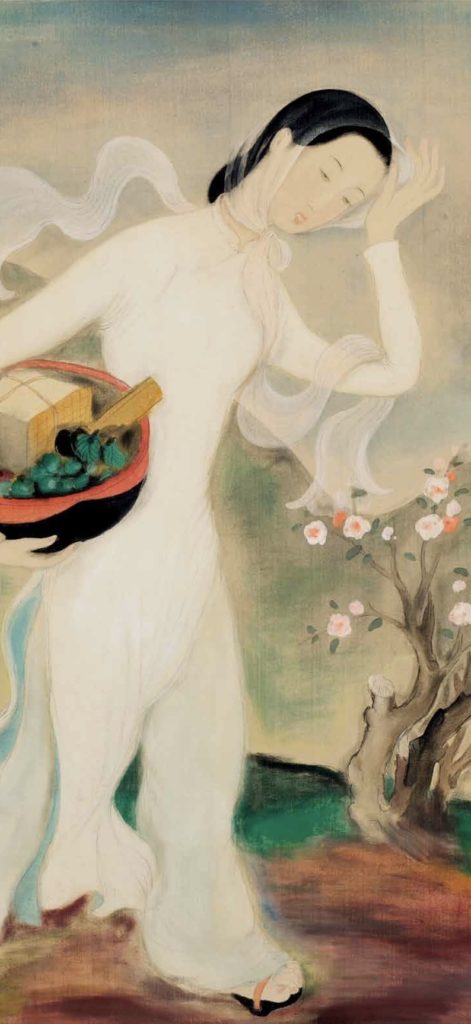 She carries betel leaves and arech nuts – essential elements along with lime to chew betel, in a tied box that could contain tea or cakes and incense sticks. All the ingredients are there for the celebration of Têt, quite clearly seen by the peach tree in full bloom on the right. The ao dai the female subject is wearing is white, along with the ethereal scarf and headscarf which symbolizes virtue and purity. The classic footwear both completes and complements her outfit, enhancing the graceful elegance of this beautiful young woman. 
One must note as well the gentle gesture as she controls and readjusts her veil on her hair, lending forth a charming note, and at the same time a soft sensuality and gentle evocativeness.
In the background the mountains of the Middle Region are visible, an area which Le Pho approached when he left Hanoi and its delta to go on the road to Hoa Binh.
Despite all this, Le Pho celebrated this Têt in France, as he celebrated all the others thereafter. France, he knows is necessary for the recognition of his talent, because never a memory, whatever it is, can serve as a viaticum for an ambition.
One must see La Femme au panier as a postcard that Le Pho sends to himself.
But does he know that she will be for him his future visiting card? 
Jean-François Hubert