Watercolors by Thang Tran Phenh (1895 – 1972)
This series of nine watercolors is absolutely unique in Vietnamese painting: they can be dated around 1930-1935 when the painter who graduated from the Fine-art School of Hanoi in 1931 and became successful the same year during the Colonial exhibition in Paris, continued his work painting in a very typical Hanoian style.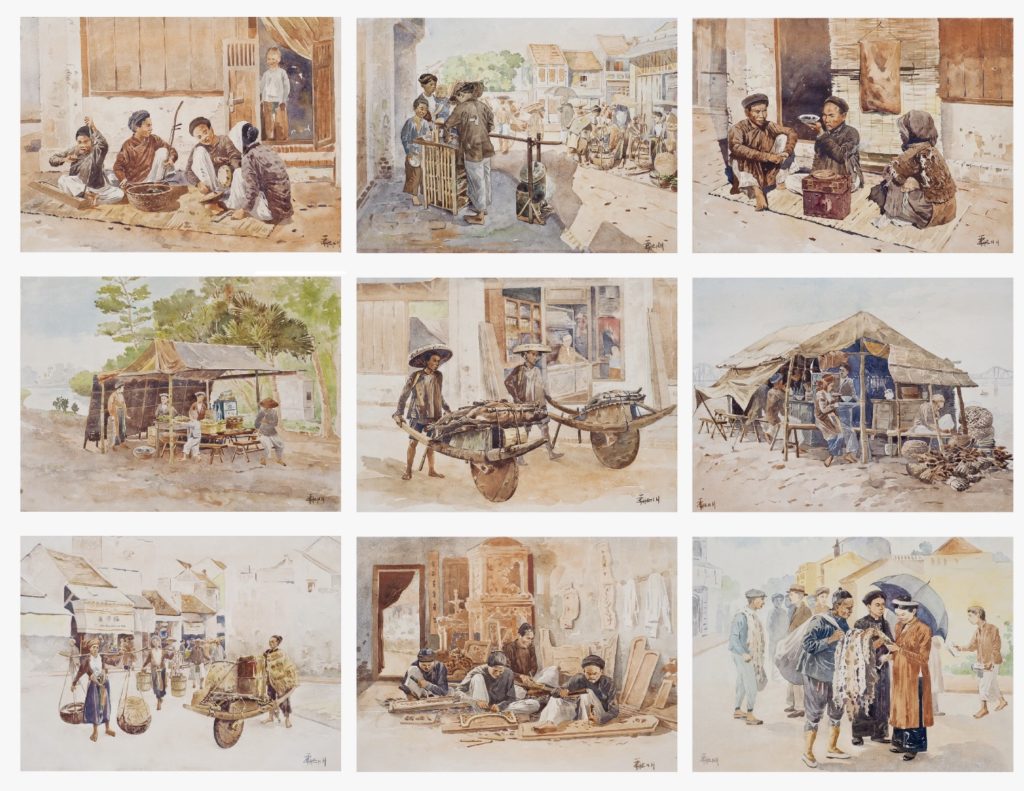 He was known for his photorealistic technique of painting. When he entered the Fine art School in 1926, he kept enriching his techniques using watercolors instead of laquer or gouache on silk to pursue his work and faithfully captured the old Hanoi atmosphere, specifically the northern district of Hoan Kiem.
One can notice the odd jobs of old Hanoi – a seller of Pho, a fortune teller with coins, transporters, wood carvers, traders selling different utensils in the colorful world near the Long Bien bridge or the Dong Xuan market.
Thang Tran Phenh, although a graduate of Beaux-Arts d'Hanoi and one whose work was exhibited at the 1931 Exposition Coloniale in Paris, will only go down in history as a sympathetic illustrator. He lacked the stamina of a Le Pho, the depth of a Nguyen Phan Chanh, and the technique of a Nguyen Gia Tri.
Let us rather consider him as an honest observer of his time. But however acute observation and scrutiny may be, it will not amount to a conquest – and a great artist must be a conqueror.
Jean-François Hubert
« Playing Cards »
Exposition Coloniale de Paris. 1931.

listed by Victor Tardieu himself.

The Pork Seller

« Calligraphy Lesson »
« Knowledge is the best way to establish oneself in society. Learning is the noblest of human pursuits. »